Bea Collins '19 Ascends to Meet Her Ambitions
International studies student loves the view and her family ties, studying abroad in Scotland.
By: Shelley Drozd Monday, April 9, 2018 00:17 PM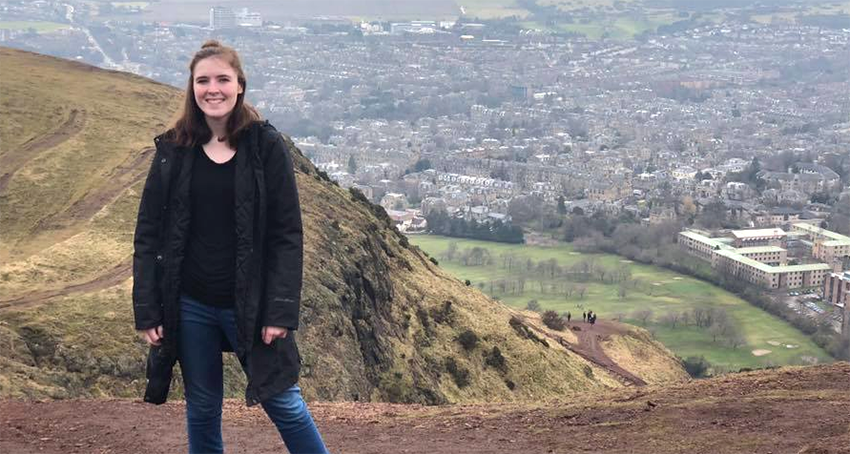 Bea Collins '19 at Arthur's Seat in Edinburgh, Scotland. All photos provided courtesy of Bea Collins.
Even before she started applying to colleges, Bea Collins '19 knew there would be a big trip in her academic future. The international studies major chose Muhlenberg for a "laundry list of reasons," but chief among them was its strong study abroad program.
That Bea found many kindred spirits at Muhlenberg was heartening, too. "It was good to know that such a large percentage of the junior class chooses to participate in the program," she says.
Over 52 percent of the Class of 2017 graduates studied abroad during their time at Muhlenberg. This year, Bea is one of as many as 300 students studying abroad throughout the school year.
Given the heavy competition for spots in many international programs, Bea reflects gratefully on the support she received from Muhlenberg's office of global education.
"I really appreciated that they wanted us to get our applications and forms in so early," she says. "It saved a lot of stress and provided extra planning time for me, having that work out of the way."
Tracing a family tree with transatlantic roots
Bea arrived on campus with her mind made up: For her study abroad experience, she was headed for the United Kingdom.
Her DNA was drawing her across the pond. "Both sides of my family emigrated from Scotland and Wales, so it was a part of the world that I really wanted to get to know better," says Bea.
Come spring semester 2018, Bea settled in the Old Town segment of Edinburgh, Scotland, not far from the Royal Mile and city center.
"I chose Edinburgh because it is a gorgeous and richly historic city. As the capital of Scotland, it has been a seat of power in the country for hundreds of years," says Bea. "Edinburgh is also very cosmopolitan and international. It offers all the fun of a big city, but is still small enough that I can walk everywhere I need to go. I never even needed to buy a city bus pass."
Bea, who is Scottish on her mother's side, also has several cousins living just outside of Edinburgh.
Their emigration story still rings familiar today.
"My grandfather's family, the Wands, came to the United States shortly before he was born," says Bea. "His grandfather was one of four siblings, all of whom came over with their parents. They stayed too, all except for his sister Nellie, who went back to Glasgow, married into the Lang family, and had children
over there. They're the branch of cousins I've been spending time with."
On Brexit, breaking bread and one breathtaking climb
The weather in Scotland is frequently rainy, but the political climate suits Bea well. In the wake of Brexit passing last summer—against the almost universal vote of the Scots—Bea has found herself in a ringside seat for the ongoing brawl between the British and Scottish parliaments.
"There is some talk here of the independence referendum, which was brought to vote but did not pass several years ago," says Bea. "That makes Edinburgh a real hotbed of political thought at the moment. It is a really fascinating time to be a student here."
In her downtime, Bea is a frequent guest at her Lang cousins' home. Weekly dinners together are decidedly Scottish. Culinary highlights have included haggis and a Christmas pudding soaked in rum and lit on fire, both to burn off the alcohol and for the sheer spectacle of it.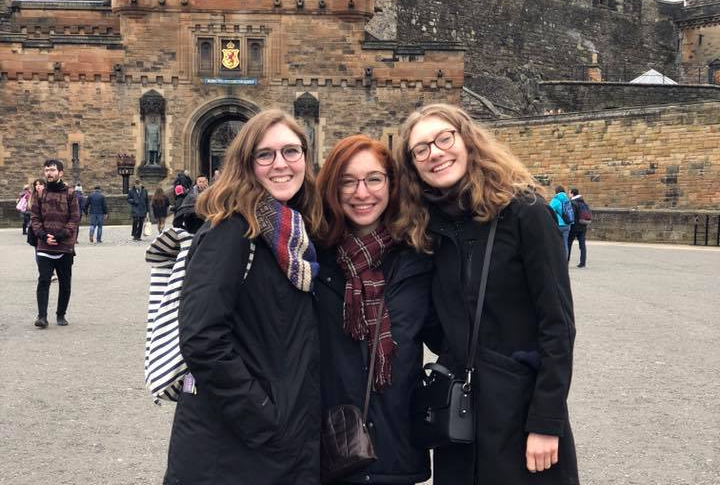 Bea meets friends Isabella Randazzo '19 and Brigid Deegan '19, both of whom are studying in Siena, Italy this semester, in front of Edinburgh Castle.
For all the rich food, it's a good thing that mountainous Edinburgh is as scalable as it is walkable. One of Bea's most memorable Scottish experiences was hiking Arthur's Seat with some Muhlenberg friends visiting from their study abroad program in Siena, Italy. The extinct volcano is 822 feet high at its summit.
"My apartment backs up to Holyrood Park, where Arthur's Seat is located, giving me a beautiful view of it every day. It was such a breathtaking experience to finally climb it and get a view of all of Edinburgh below," she says.
This summer will bring Bea much closer to sea level. She'll be returning for a second year as a paralegal intern for Drinker Biddle and Reath LLP in Florham Park, N.J. After Muhlenberg, Bea hopes to become a paralegal herself to gain some experience before going on to law school—and new heights to climb.
Additional reporting by Donna Fahringer.