Fielding Their Dreams, Following Their Faith
How the Mules baseball community rallies to help two observant Jews pitch for the team
By: Shelley Drozd Thursday, May 24, 2018 02:02 PM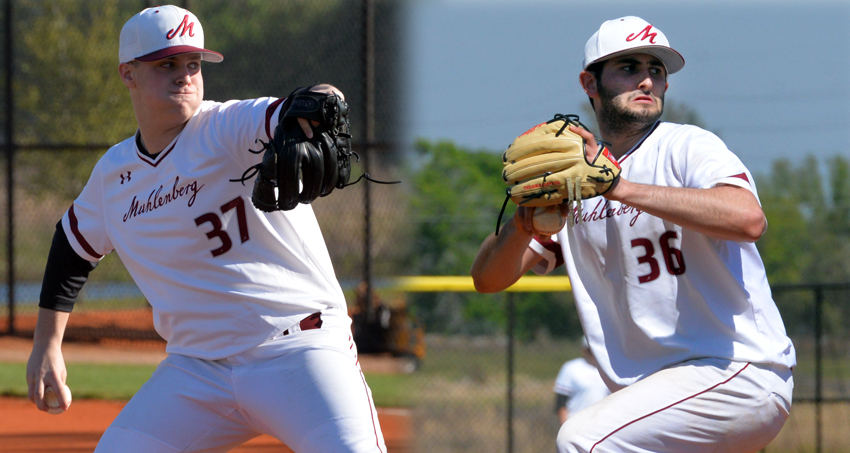 Jake Lebovitch '21 and Isaac Spiegel '21 are both Orthodox Jews who pitch for the Mules.
Jake Lebovitch '21 and Isaac Spiegel '21 are young men but old friends. They both hail from Englewood, New Jersey, where they played Little League together since somewhere around the tender age of 8 or 9 years old. They're both right-handed pitchers—Jake's specialty is his curveball, Isaac's is his fastball. They went to different high schools, but at Muhlenberg, they're roommates who've yet to declare majors, although both are leaning towards business (in case they don't get a shot at their beloved New York Yankees). And they're both Orthodox Jews.
After high school, Jake headed straight into higher education. Isaac took a gap year to live and study in Israel. For both, Muhlenberg was their best-choice college. As aspiring collegiate baseball players, it was effectively their only choice.
Both Jake and Isaac attended Jewish day schools, so they were accustomed to learning in small-class settings. They liked that Muhlenberg's size and close-knit campus provided a natural extension of their academic experience.
Then there was the cachet of a college where the student population was nearly 30 percent Jewish. From the diverse, vibrant community to the all-day kosher dining options, Jake and Isaac knew they could come to Muhlenberg and continue to live their observant Jewish lives.
Ultimately, it was a baseball coach willing to accommodate their religious needs that landed the two promising pitchers on the Mules' roster. It was an offer no other school matched.
"Over separate summers we had the opportunity to see Isaac and Jake pitch at a camp in Long Island, and thought both of them would fit right into our pitching staff here at Muhlenberg," says Tod Gross, head baseball coach. "Both are talented arms that we felt could help our program be successful."
Jake wears #37 on his jersey. Isaac chose #36 because it's double the number 18, or chai—the numerical equivalent of the Hebrew word for life.
Getting them out to the ball game (no mean feat)
During the week, it's easy for Jake and Isaac to practice and play in games, unless it's a holiday. (Think Hank Greenberg and Sandy Koufax, two Jewish baseball players who famously didn't play in their respective World Series games on Yom Kippur, the Jewish Day of Atonement.)
The weekend, however, brings the Sabbath, a 25-hour space in time during which Jake and Isaac follow a different rulebook than the rest of their team.
Although religious law allows the two pitchers to play baseball on the Sabbath, the logistics can and do get complicated.
For example, there's no driving or riding in other vehicles permitted on the Sabbath. That means Isaac and Jake need to be within walking distance of their Saturday playing field before sundown Friday night.
For home games, Jake walks to Cedar Creek Field and back. Isaac travels by Razor scooter (why one coach calls him "Scooter.")
For away games, walking distance often means finding a place to stay at a nearby hotel or at a Jewish organization on the home team's campus. If the whole Muhlenberg team is staying at a hotel that's driving distance from the field, the College covers the cost of a closer room that Jake and Isaac share. But if the team can do the away-game round-trip in one day, the athletes then either pay to stay at a local hotel or search out a place on the host campus.
Having kosher food to eat is yet another big challenge. Case in point: During a spring break trip to Florida, Isaac's parents shipped more than $300 worth of kosher provisions to get him through the week. The overnight package took days to arrive. "Fortunately, my parents were down there with me, so we were able to go out and find kosher restaurants," says Isaac. "But if they weren't there, I'm sure the other parents would have helped me out, for sure." Parents like "Mrs. Riebs," the mother of catcher Matt Riebesell '19, one of the moms who prepares food for the team's lunch breaks. She made kosher peanut butter-and-jelly sandwiches just for Jake and Isaac.
"They accommodate us very well," says Jake.
Both athletes agree there's no one more accommodating than Coach Gross. "He's the best. Anything we need, anything that would prevent us from going to a game or practice, he's very understanding," says Isaac.
"He helps us work around it," says Jake.
This is their coach's first experience with students that had rules for the Sabbath. "I have learned a lot from both Jake and Isaac over this past year," says Gross. "They are both extremely hard workers and great people. They bring great dedication to everything that they do, and I believe they have a bright future here at Muhlenberg."