Ready at a Moment's Notice: Inside the Life-Saving Operations of Muhlenberg EMS
Hands-on experience and camaraderie serve as a strong draw for the students involved in this critical campus safety response team.
By: Bill Keller Tuesday, March 6, 2018 08:00 AM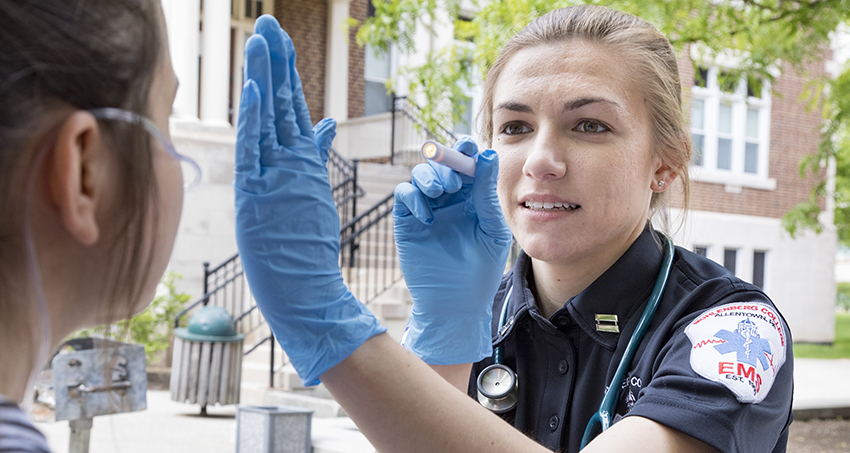 MCEMS officers like Melissa Edgar '18 act as first responders for the entire Muhlenberg community.
An acute stress response—what we colloquially call "fight or flight"—is a reflexive reaction. It's our body's way of getting us moving when we perceive an action or event that might hurt us. And often, that response serves as the pivotal moment our bodies and our minds say to each other: "let's get out of here." But for some individuals, that rush of adrenaline is the start of a reaction to run towards danger, to reach out and offer help to those who need it most. That's especially true for members of the Muhlenberg College Emergency Medical Service (MCEMS) team. The group serves as a quick response service for medical needs on campus and serves an essential role in the safety and health of Muhlenberg's campus community.
For MCEMS students, every response— from a need as critical as performing CPR or delivering shocks with an automated external defibrillator to more routine care like minor injuries or sudden illness—is treated promptly and with courtesy.
It's that professionalism that makes them sought after for Muhlenberg events. You'll see MCEMS students at Master Choreographers dance performances, at signature College events like Commencement and President Williams' 2015 inauguration and at once-in-a-lifetime visits by national figures, like the 2016 visit by vice-presidential candidate Tim Kaine, where over 20 members worked alongside the United States Secret Service.
As for the type of student drawn to the duties and responsibility of this type of service? While there's no academic requirement for service in MCEMS, patterns do emerge.
"A lot of us want some sort of career in the health field through service as doctors, nurses or physician's assistants," says MCEMS captain Melissa Edgar '18. "Most of us want a future where we end up doing something that's going to impact people, either on a patient-provider level or through policy work and broader public health fields."
Melissa arrived at Muhlenberg as a certified EMT in her home state of New Jersey before obtaining her Pennsylvania certification. Her experience is a common one, but some students obtain their EMT license after serving as a "shadow" for two semesters with senior members.
That training period acts as a helpful indicator of the scope and breadth of responsibilities MCEMS students can be expected to fulfill. Members like Greg Kantor '18 found the training program that MCEMS provided to be a way to become involved with the group while working towards the certification that would enable him to serve as a first responder. The structure gave a network of peers he could learn from while introducing him to the vital role of an EMT.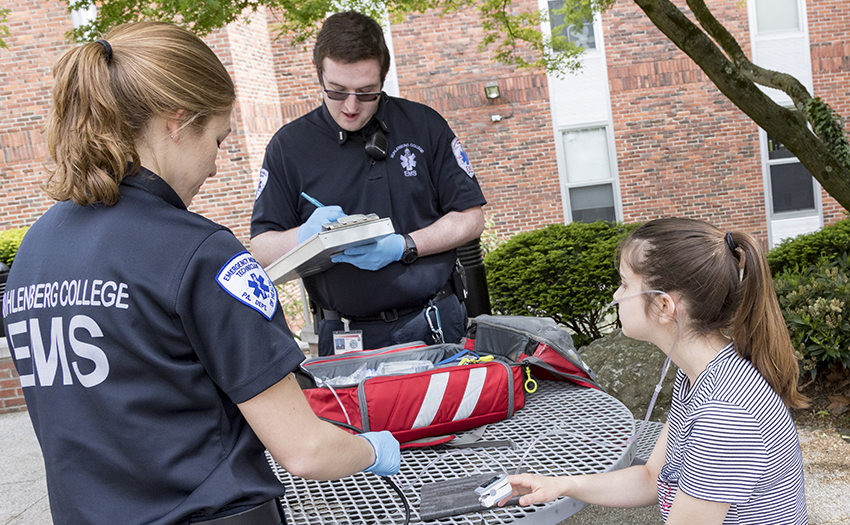 "We act very much like a family," says Greg (pictured above with Melissa Edgar '18), a public health major and MCEMS lieutenant. "We consider ourselves, in some sense, like any Greek life chapter. We get meals together, hang out on the weekends, conduct trainings and teambuilding exercises—we've had an opportunity to build out a social sphere beyond the responsibilities of MCEMS membership."
Greg and Melissa credit that camaraderie as one of the reasons the group has had such a rich membership over the years, regularly surpassing 50 active members each academic year. The students tend to think of themselves as a family unit, an analogy that strikes even truer when you consider the close bond still present with the group's founder, Frank Caria '01.
When he first arrived on campus as a student in 1998, Caria advocated for a campus EMS program in a presentation to President Arthur Taylor, who asked him to work with campus safety director Ken Lupole, health services director Sam Miranda and dean of students Rudy Ehrenberg.
As a result of his efforts, the fledgling group obtained the necessary insurance, equipment and authority to serve on campus. With the donation of a retired 1991 Chevrolet Caprice campus safety vehicle—soon upgraded to a retired 1996 Chevy Blazer— MCEMS was up and running. In that first year alone, MCEMS answered over 400 calls for medical assistance, including the successful revival of a referee who went into cardiac arrest during the 1999 Homecoming soccer game.
Within a few years, Caria built the program into a structured campus organization that has since served as a model for other colleges and universities. Current Muhlenberg students attend annual collegiate EMS conferences where Caria—officially designated "Life Captain" by MCEMS—is a regular presenter. His leadership and involvement with the group continues strong to this day, and he never passes up an opportunity to meet and advise with the current student leadership that carries his mantle forward.
And the group has seen significant progress since those first years on campus. For nearly two decades, students have served with campus safety officers as uniformed first responders during weekend shifts. Now, with the access made possibilities by smart phone technology, students can utilize an app to coordinate immediate plain-clothes response during the week as well. All members receive immediate notice of a report from their peer dispatchers and can notify the other members when they're available to respond.
Still, some find it tough to welcome fellow students when they arrive to a call with campus safety. And Melissa acknowledges that she understands some may be apprehensive to call for help, especially if that call involves a drug-, alcohol- or behavior-related incident. But most students quickly realize that their safety is everyone's top concern, and the College has made that clear with their support of MCEMS and through adoption of an amnesty policy that sets aside judicial repercussions in favor of increased reporting that can save lives.
"As EMTs, we want our community to know we do what we do so they remain safe," says Melissa. "That's the draw to emergency medicine in the first place; when people really need us, we'll always be there to do what's best for them."
This article originally appeared in the Summer 2017 issue of Muhlenberg Magazine.