Muhlenberg's Distinguished Guests
A recent graduate dug into the College's archives to create an interactive timeline of the most significant visitors to come to campus in the 20th century.
By: Meghan Kita Monday, June 25, 2018 02:28 PM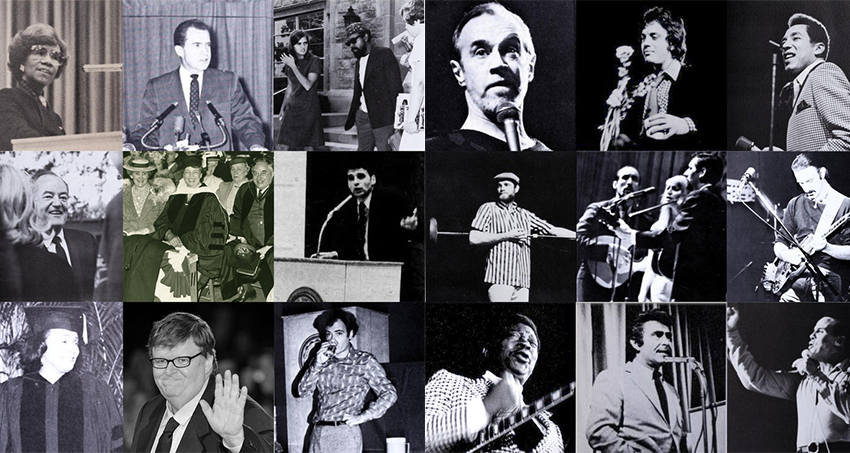 These well-known people are among those who came to campus in the 20th century. Photos from the Muhlenberg College Archive.
What do Muhammad Ali, Eleanor Roosevelt, Billy Idol, Maya Angelou and Carrot Top have in common? Not much—except that they all came to Muhlenberg during the 20th century (in 1970, 1942, 1983, 1991 and 1993, respectively).
The Muhlenberg College Timeline of Visitors, a new digital exhibit on the Trexler Library's website, catalogues nearly 800 visits in five separate timelines: academic, arts, politics & civil rights, popular culture and religion. Click on a visitor's name and it calls up an image of that person, usually from the student newspaper (The Muhlenberg Weekly) or the yearbook (The Ciarla), as well as a paragraph or two detailing their time here.
All told, the student behind the Timeline of Visitors—Maddux Pearson '18 (right), a history and music major from West Chester, Pennsylvania—wrote 76,830 words. For a sense of scale, that's a few thousand more than "The Catcher in the Rye."
"His writing is just amazing," says special collections and archives librarian Susan Falciani Maldonado, who supervised Pearson's work. "I'm lucky to have found a student with the writing and research skills to create these detailed descriptions. There were so many of them that I couldn't proof them all."
Upon the recommendation of associate history professor Mark Stein, Pearson approached Falciani Maldonado about an internship for the fall of 2017. Pearson's long-term goal was to become an archivist, and Falciani Maldonado had plenty of archive-related projects for him to choose from.
"I get frustrated when I have so many ideas and there's only so much time," she says. "I hold onto them and hope that eventually the right person will come along to bring them to life."
Pearson, who is especially interested in 20th-century history, was the right person for this project. He began with the 1970s and 1980s, scouring the Weekly and Ciarla and, when in doubt as to a visitor's significance, searching the internet for more information.
"They aren't all the most 'wow' visitors," Pearson says. His rule of thumb was to check Wikipedia and, if the person's entry was fairly substantial (with photos, references and/or multiple paragraphs), that meant they were worth including.
Within months, it became clear that a whole century wasn't going to be finished in a single semester, so Falciani Maldonado hired him as a student worker to continue the project this spring. He completed the 20th century and made it up to 2002 before Commencement. (Falciani Maldonado hopes to find another student to bring the timeline up to date in the future.)
The best part of the project, Pearson says, "was the sense of wonder I got from going back into these old issues of the Muhlenberg Weekly and reading old issues of the Ciarla. In sequence, they read as a history of the world viewed through the lens of Muhlenberg College. You see the influence of external events on the campus." For example, he says, starting in the 1960s and continuing through the 1980s, Muhlenberg's Russian studies professors invited several representatives from the Soviet Union to visit campus as part of a friendship initiative during the Cold War.
And, through the archives, Pearson also witnessed the College's evolution from a rural, entirely male, predominantly Lutheran institution to the suburban, coed, diverse place it is today.
"It gave me a deeper appreciation for the College," he says. "I was able to see how much it changed from its early days. It made me feel a part of something greater than just my four years there."
Pearson's long-term goal is to end up as an archivist either at the National Archives or the Rock 'n' Roll Hall of Fame. He'll take the first step in that journey this fall as he begins a three-year, dual-degree program to earn a master's in history from New York University and a master's in library science from Long Island University.
"For his letters of recommendation, I was like, 'You need to take this guy because he's fantastic," Falciani Maldonado says. "He's going to be giving keynotes someday at archives conferences."