Ninth Annual Innovation Challenge Highlights Student Entrepreneurship
The winning student is creating a platform to connect refugees in need of legal services with lawyers.
By: Iulia Tibrea '18 Wednesday, June 20, 2018 03:40 PM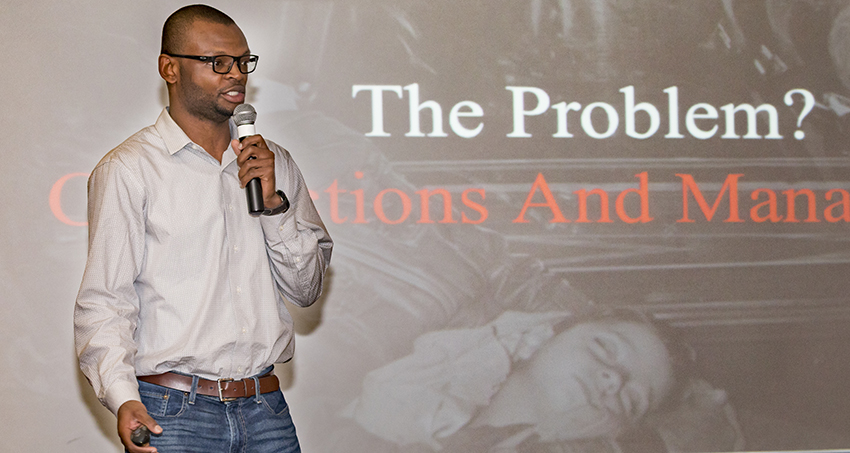 Joshua Ajamu '20 presents at the 2018 Innovation Challenge. Photos by Paul Pearson.
Last year, somewhere around the world, a person became displaced approximately every two seconds. According to a new report just released by the United Nations High Commissioner for Refugees, violence, war and other forms of persecution forced a record 68.5 million people to flee their homes in 2017.
Josh Ajamu '20, a native of Nigeria, has been pondering this growing humanitarian problem for several years. In response, he's creating a web-based platform called Ithaca that connects refugees in need of legal services with lawyers from around the world. It took first place this year at Muhlenberg's Innovation Challenge.
"We did a lot of research to learn what refugees need most, and we found that often the biggest problem was not knowing what the next steps would be in the legal process," says Josh.
"There are many issues—not having food, not having clothes, not having shelter. There are no health services provided to women, kids are threatened by smugglers. Many refugee needs went beyond our sphere, because it falls in the hands of the government or the United Nations High Committee for Refugees to provide these services. So it's kind of hard for us to help when we are just students. And so we asked ourselves what we could create to connect lawyers who might want to help with the people in the camps who need legal assistance."
Josh, an accounting major and Wescoe student, had been working with two teammates on developing the idea for Ithaca and searching for the connections needed to make it a reality. That's when Rita Chesterton, director of the innovation & entrepreneurship program, recommended he participate in the Innovation Challenge. This opportunity helps students connect with College mentors and alumni and learn how to refine and present their business ideas. Knowing that Josh was also searching for a web designer to create a minimal viable product—a platform that would help showcase how Ithaca works—Chesterton recommended the competition as a way of reaching others who may be interested in helping him.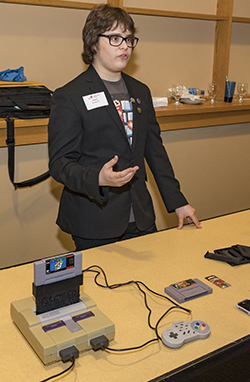 Students have the opportunity to explore and improve their entrepreneurial skills and interests at Muhlenberg, not just by enrolling in coursework such as the innovation & entrepreneurship minor, but also through special programs like the Innovation Challenge, which began 2010.
The competition launches at the start of each spring semester and culminates in mid-April with a pitch contest. But making it to the final pitch show is no easy feat: All teams had to submit an "Idea Brief," and only the top 10 teams, as selected by the committee, were given mentors and the opportunity to pitch for prize money.
This competition allows teams of students from any major to have the chance to present their business ideas in front of an experienced committee as well as their peers.
Case in point: Ana, a widget for phones, iPads and iWatches, which took second place in the contest, was developed by a team of four students with no business background. (Tom Littrell '18 was a media & communication major; Laura Styer '20 and Patrick Kantner '20 study neuroscience; and Kendrick Weingast '20 is a theatre major.) In fact, they credit their diverse backgrounds, as well as the mentorship of Muhlenberg alumnus Mitch Hanna '14, who joined them during the competition, with the strong concept and presentation of their project.
The Ana software uses three modes to help users discipline their browsing behavior: The first mode, Focus, includes applications such as Notes and email; the second, Relax, is geared toward games and social media; while the third, Go, uses apps like Yelp or Maps to help users navigate to various destinations.
Littrell, who had returned to campus in spring after spending the fall in D.C. as part of Muhlenberg's Semester in Washington program, says the inspiration for Ana came when he could not find another app that functioned the same way.
With little time to go before the kick-off of the competition, he turned to Pat Fligge '10, director of alumni & parent engagement, who recommended that he reach out to Chesterton to get involved in the Innovation Challenge.
"All presentations were followed by a Q&A session by the jury; we were the last group, and we focused on creating a mindful experience and design to present our software," says Littrell. The outcome? They won a $500 prize and, of course, the benefits of mentorship and exposure.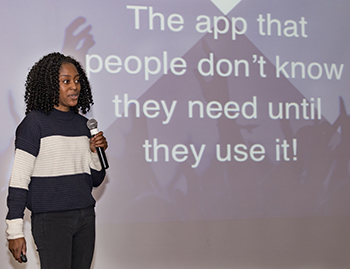 The winner of the third place, as well as a $250 prize, was Retro Renovations—an adaptor that helps save battery life in retro games, created by Jordan Curtis '21 (above left).
After spending an entire week working on the logo, writing and rewriting the script and designing the presentation for the 3D device that he printed himself, Jordan says the outcome was worth all of the hard work and sleepless nights.
Party DJ, an application developed by computer science major Michael Kovach '18 and computer science and art major Shana Joseph '18 (right) that helps partygoers collaborate on a playlist, won the Audience Favorite Award.
The Innovation Challenge is sponsored by the innovation and entrepreneurship program and Office of Alumni Affairs. Interested students should plan to submit their proposals for the annual event by March 1 and can learn more about the Challenge here.