A Broad Spectrum of Interests
Assistant Professor of Psychology Jonathan Lassiter's research primarily deals with spirituality in the LGBT community, but he's also a dancer, choreographer and clinician.
By: Meghan Kita Friday, November 8, 2019 02:20 PM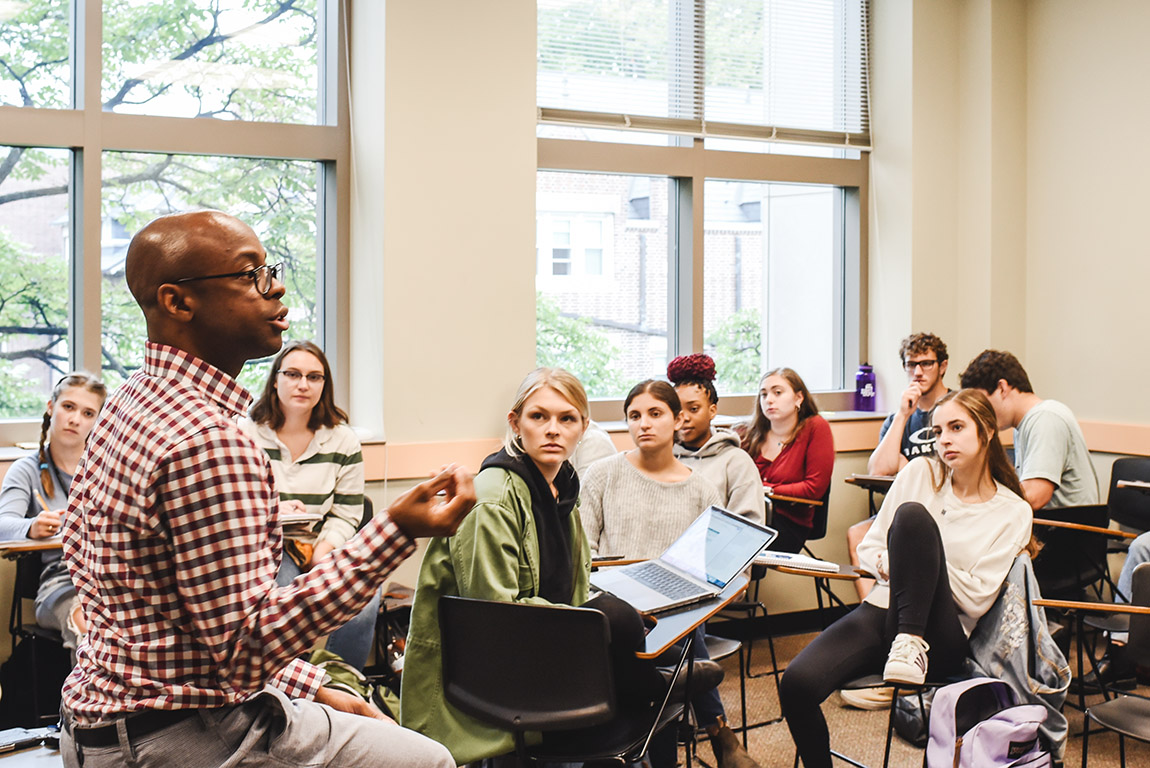 Photos by Littlewing Photography
Jonathan Lassiter grew up a devout Christian in Augusta, Georgia, and he describes himself as "a Southern boy all the way, through and through." It took leaving the South—first to be part of AmeriCorps in New York City, then to get his doctorate in clinical psychology in San Francisco—to fully appreciate where he came from.
"I missed the direct racism of the South," he says. "In other places, it's like, 'We love everyone,' and then people deny you opportunities. That's harder to combat." And, he adds, people from the rest of the country don't appreciate good food: "People share fried chicken. People don't eat sweets. Southerners don't do that," he says.
His formative years had other challenges. "I started to have struggles with my own sexual orientation in late adolescence," Lassiter says. "I knew I was different from a very early age, but I didn't have the language for it. I would continue to pray about it. After 12 years of praying, and I still felt this way, it was like, 'Um, what's going on here?'"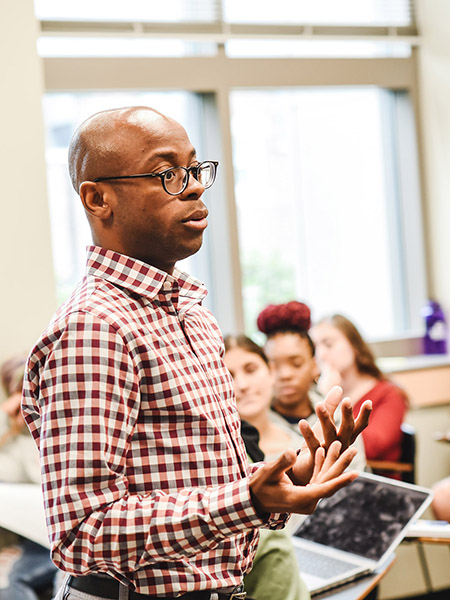 His movement toward self-acceptance began during undergrad at Georgia College & State University, where he had mentors who were gay male professors. By the time he began his postgraduate work at the California School of Professional Psychology, he had made peace with his identity as a black same-gender-loving man. At the same time, he was reading a lot about HIV in black communities.
"I thought to myself, 'Why would anyone use a condom if they believe God hates them and they're going to hell?'" he says. "It was a 'duh' thing to me, and no one was talking about it at that time. I thought, 'This is what I want to study.'"
That research became "Extracting Dirt from Water: A Strengths-Based Approach to Religion for African American Same-Gender-Loving Men," which was published in the Journal of Religion & Health in 2014. Since then, Lassiter has continued to study the intersection of spirituality and health in the LGBT community, primarily in black men. His most recent research deals with "how black men who have sex with men understand and define spirituality for themselves." The first paper to come out of that research has been accepted for publication in the Journal of Black Psychology; Lassiter plans to collaborate with the students working in his Spiritual and Psychological Intersectionality in Research and Thought Lab to complete and submit two more papers by the year's end. He's also recruiting participants for his Spirituality & Stress Study, which seeks to examine how spirituality helps respondents "cope with culturally distinctive stressors, like police interaction, racist events, microaggressions and racist threats."
While that's his main project, he's also involved with several others. In July, in partnership with Allentown's Bradbury-Sullivan LGBT Community Center, Lassiter studied how the American Diabetes Association could "culturally adapt their diabetes prevention program for LGBT people in the Lehigh Valley." He's hoping to start work on his second book this spring, which will be geared toward a general audience and will address issues around race and mental health in America. (His first book, Black LGBT Health in the United States: The Intersection of Race, Gender and Sexual Orientation, which he co-edited, was an academic text.) And, he's looking into partnering with organizations in his hometown of Augusta to present mindfulness as a stress intervention.
In addition to all that, and to the three psychology classes he's teaching at Muhlenberg this fall, Lassiter is a licensed clinician in New York State who sees clients remotely. He specializes in working with artists because he is one—a dancer since age 12, specifically. When he lived in New York City before and after grad school, he took classes at The Ailey School, founded by famous black choreographer Alvin Ailey, and in 2013, Lassiter started his own dance company. One of the dances he showcased during that time was called "Spectrum." "It was about being on the spectrum in a lot of ways. Part of it was autism spectrum; part was the spectrum of emotional expression," he says. "I carried the spectrum theme out also in the costumes, white into charcoal, gray, black, the rainbow. The colors changed throughout the dance. That's the way psychology comes into my dance work."