Beyond Basic Research
His experience as a scientist and as an entrepreneur allows Peter Alff '02 to help bring newly developed biotechnologies to the public.
By: Meghan Kita Wednesday, April 3, 2019 04:38 PM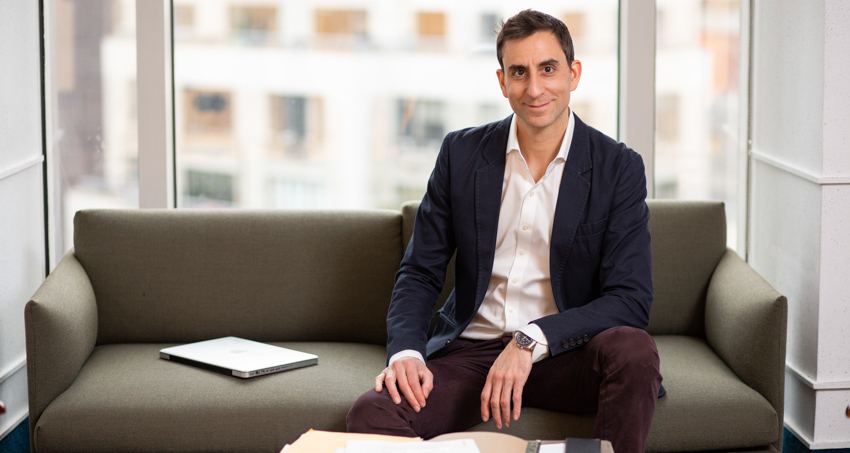 Peter Alff '02 has a background as a scientist and entrepreneur, which helps him succeed in his current role with a technology-focused venture capital firm. Photos by Brooke Slezak.
In the not-so-distant future, the war on many chronic illnesses could be fought by precision therapies designed, not by chemists or computer algorithms, but by nature itself. The idea is to harness the power of evolution—to look at the microorganisms present in the healthiest individuals and to use that information to find treatments for people who are suffering. Scientists have been exploring how so-called microbiome-derived therapies might help patients with autoimmune diseases such as multiple sclerosis as well as lymphoma and other cancers. And individuals like Peter Alff '02, executive in residence at the technology-focused venture capital firm Kairos Ventures, have been helping bridge the gap between what happens in the lab and what's available in the real world.
Alff, who was a biology and anthropology double major at Muhlenberg, went on to earn a doctorate in molecular and cellular biology from Stony Brook University and to complete a postdoctoral fellowship at The Rockefeller University. There, he teamed up with a scientist who'd developed a technology that, together, they realized could be applied towards the creation of vaccines for HIV and other viral infections. They went on to co-found Calder Biosciences, a biotechnology company that received funding from the Bill & Melinda Gates Foundation, the International AIDS Vaccine Initiative and, later, the U.S. government.
Alff's background as a scientist and entrepreneur helps him succeed in his current role, which involves helping to bring technologies developed at top research universities to market.
"The culture of basic research is a little bit resistant to the idea of commercializing technology, but at the same time, there's a desire to have the fruits of that research help people and the world," Alff says. "Having worked in an academic research setting and understanding that culture, and having worked at a startup and understanding both how difficult and rewarding that work can be, I'm able to generate enthusiasm for entrepreneurship amongst academic scientists who might otherwise be wary of this process."
Alff came to Muhlenberg with a general interest in the biological sciences, but his experience in the lab of Biology Professor and Chair Bruce Wightman was pivotal in his decision to pursue research seriously. Wightman's lab examines microscopic worms called C. elegans, an organism scientists often use in research to gain an understanding of biological processes that might be applicable to other species.
"I knew some students had been working in his lab and had enjoyed the experience, and I thought he was a fantastic professor, so it became an attractive idea to join this research group," Alff says. "Without that experience, I never would have pursued a Ph.D. or even felt prepared to do so."
Wightman remembers Alff as a perceptive, thoughtful student who was patient and deliberate in the lab.
"Since graduating, Peter has demonstrated an entrepreneurial spirit—making his own way in science," Wightman says. "Not everyone who gets a Ph.D. needs to or wants to become an academic. Peter's successful career shows that a liberal arts science education can lead to various outcomes."