"Sleeping Beauty," an Exhibition by Photographer Lydia Panas, at Muhlenberg College
Two upcoming events—a faculty panel discussion and an artist talk—are being held in conjunction with the exhibition by the renowned photographer and Muhlenberg faculty member.
By: Kristien Yahna Todaro Tuesday, March 5, 2019 11:32 AM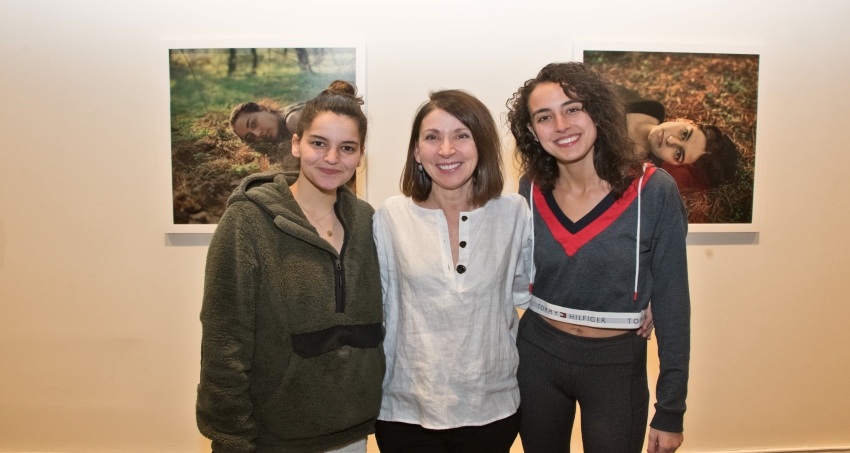 Lydia Panas with Gal Behiri '19 (L) and Danielle Chaluts '19 (R), two Muhlenberg students featured in "Sleeping Beauty," at the exhibition's opening on February 27.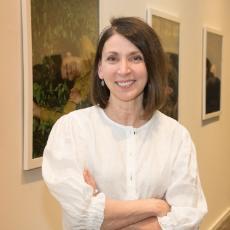 "Sleeping Beauty," an exhibition by prominent artist and College art lecturer Lydia Panas, runs through April 13 at Muhlenberg's Martin Art Gallery, Baker Center for the Arts.
An interdepartmental Muhlenberg faculty panel discussion, "Feminist Perspectives: Sex and Gender in the Creative Economy and Beyond" will take place at 7 p.m. on Tuesday, March 12, in the Recital Hall, Baker Center for the Arts, in conjunction with the exhibition. Panelists include Francesca Coppa, professor of English; Margo Hobbs, associate professor of art; Dawn Lonsinger, assistant professor of English; Lydia Panas, art instructor; and Kate Richmond, associate professor of psychology and director of women's & gender studies.

In addition, an artist talk with Panas will be held 5–6 p.m. on Wednesday, March 27, in the Recital Hall, Baker Center for the Arts.
"The women and girls in 'Sleeping Beauty' lie or sit outdoors on the ground in a vulnerable position, yet they are alert and aware," writes Panas on her website. "The portraits highlight the capacity for strength and knowledge that lies below the surface, unseen, and unsettled, contradicting the viewer's tendency to see the individuals as helpless damsels. I explore the roles of power and trust on both sides of the camera, paying attention to what I bring to the photographic encounter. I want to describe what it feels like to be a woman, to be human, by experiencing fully the range of emotions we have the capacity to feel."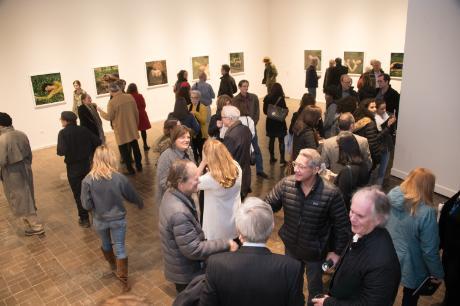 Panas, who works in photography and video, explores our collective societal relationship to women. Her work has been exhibited widely in museums and galleries in the U.S. and internationally. She has degrees from Boston College, School of Visual Arts, and New York University/International Center of Photography. She is the recipient of a Whitney Museum Independent Study Fellowship and a CFEVA Fellowship. Her photographs are represented in public and private collections including the Brooklyn Museum, Bronx Museum, Museum of Fine Arts Houston, Palm Springs Art Museum, Allentown Art Museum, Museum of Contemporary Photography Chicago, Museum of Photographic Arts San Diego and the Sheldon Museum, among others. She has two monographs, "Falling from Grace" (Conveyor Arts 2016) and "The Mark of Abel" (Kehrer Verlag 2012), which was named a best coffee table book by the Daily Beast. She divides her time between Kutztown, Pennsylvania, and New York City.
For more information, please contact Paul Nicholson, director of the gallery, at paulnicholson@muhlenberg.edu or 484-664-3467.