Growing an Idea
The Seed Box, a four-week pilot program, brought together sustainability studies and innovation and entrepreneurship faculty and students to come up with a concept that would offer a solution to a sustainability-related problem.
By: Meghan Kita Wednesday, July 10, 2019 01:31 PM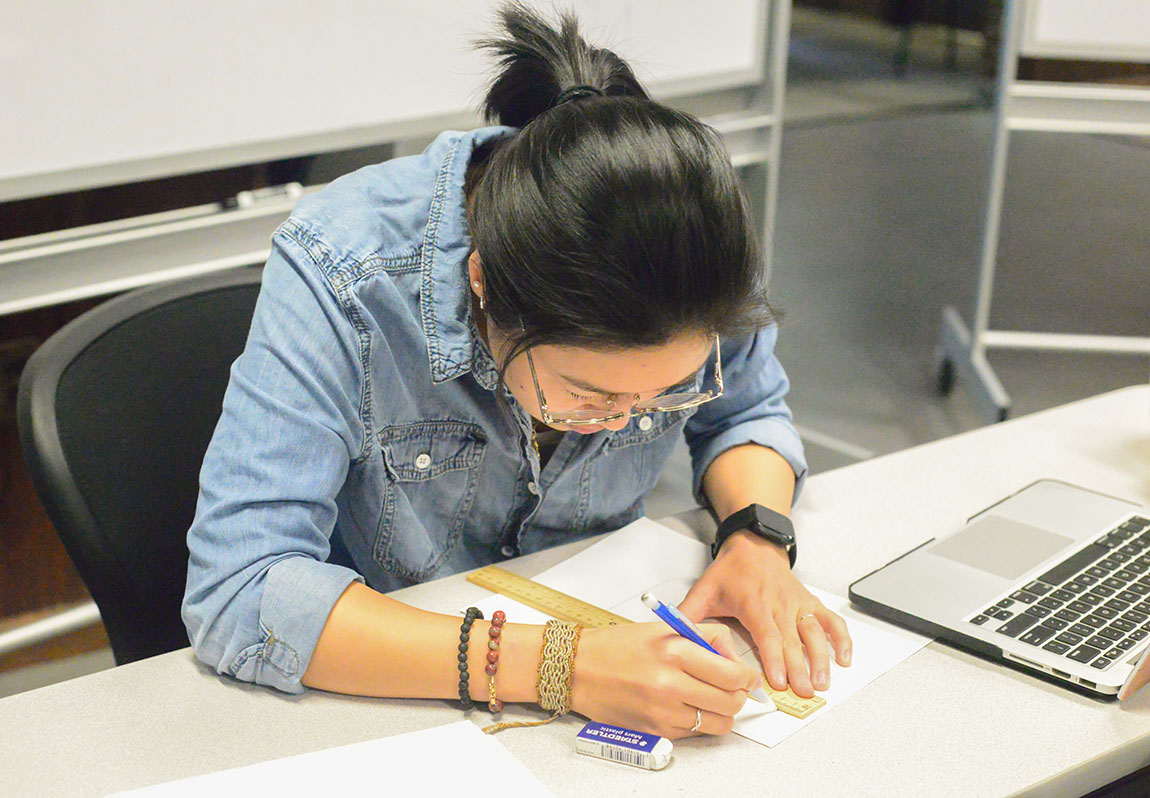 Ji-In Friess '20 works on sketches of a rain collection system with interlocking water tanks.
Last year, the world's largest refugee camp received more than 40 inches of rain in June and again in July, with more than 18 inches falling during its wettest single day. Residents of the Kutupalong camp in Bangladesh suffer from flooding and landslides—and also, water scarcity. The camp's lack of infrastructure means water for drinking, cleaning and bathing is frequently hard to come by and possibly contaminated for the more than 600,000 refugees from Myanmar who've settled there since August 2017.
Last month, three students—Ji-In Friess '20, Grace Imanariyo '20 and Jeff Pennington '21—looked closely at the issue of water scarcity in refugee camps and came up with an idea: a rain collection system with interlocking water tanks, for better stability. Each pair of tanks is tall and narrow, to fit between huts, and each individual tank can hold 415 gallons, enough to last a family of five about 90 days. The students' final task was to come up with a list of everything they'd need to do in order to bring this innovation from sketch to prototype.
The students' idea began to sprout in The Seed Box, the four-week pilot program conceived by Rita Chesterton, director of innovation and entrepreneurship, and Rich Niesenbaum, professor of biology and director of sustainability studies (pictured below). The program was funded by a $9,000 pilot grant from VentureWell, which supports entrepreneurship education with an emphasis on social value.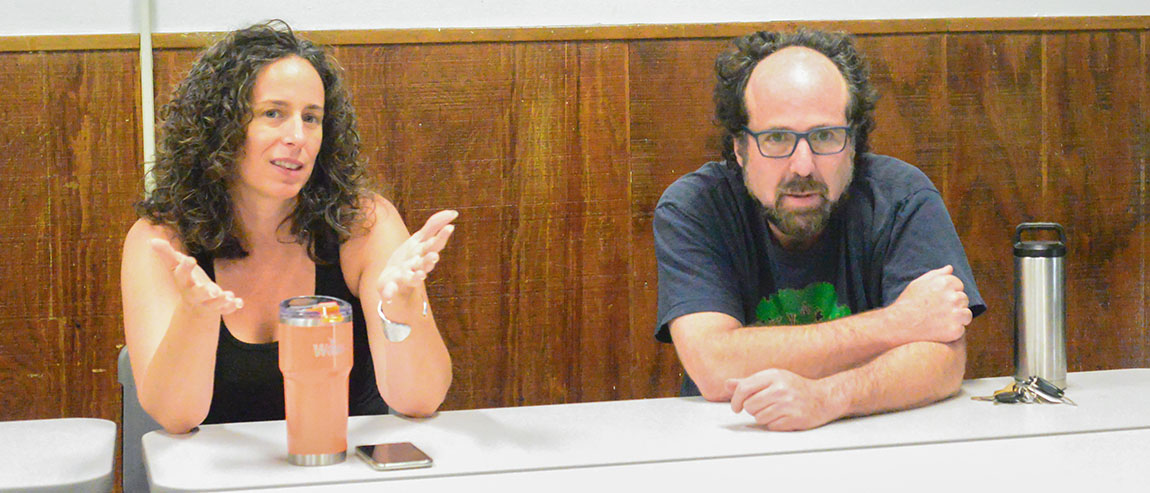 Chesterton and Niesenbaum wanted to bring together students from their two academic programs—which frequently overlap in terms of curriculum—in pursuit of one of VentureWell's E-Team Grants. These go to student entrepreneurship teams collaborating with faculty to bring an innovation to market. The goal of The Seed Box, Chesterton says, was to form a team that could create a sustainability-focused innovation concept to potentially use for an E-Team Grant application.
"What the application requires is the solution itself be feasible: You have to be able to say 'this is something we could do' or 'the science behind it is proven,'" Chesterton says. "You don't have to have the business model part completely figured out."
The students had only four weeks to come up with a specific innovation they could all get behind. In the first week, each student presented a sustainability-related topic they were passionate about as a potential starting point. Imanariyo, an international student from Rwanda, brought up a refugee camp she'd seen in her home country as well as one she'd researched in Kenya, where residents also struggled with both flooding and water scarcity. The group rallied around that issue and began researching specific sites and reaching out to experts who might know more about on-the-ground conditions. They employed techniques such as design and systems thinking, and within a couple weeks, the students had come up with the rain collection system.
The next step would be to actually apply for the E-Team Grant, which the students will do only if they're interested in pursuing the project come fall. Imanariyo and Friess, rising seniors who'll both need to complete a capstone project to graduate with innovation and entrepreneurship minors as planned, could use this concept for that purpose. And, as Imanariyo points out, if they follow through and bring this product to market, it could be used anywhere water is scarce.
"It can start as one idea to solve one problem in a specific community, but you never know where that might go," she says. "It might end up helping more people than you anticipated."
Given the successful piloting of The Seed Box, Chesterton and Niesenbaum plan to apply for full funding from VentureWell to further launch their program so that they can offer more students this type of creative and meaningful experience.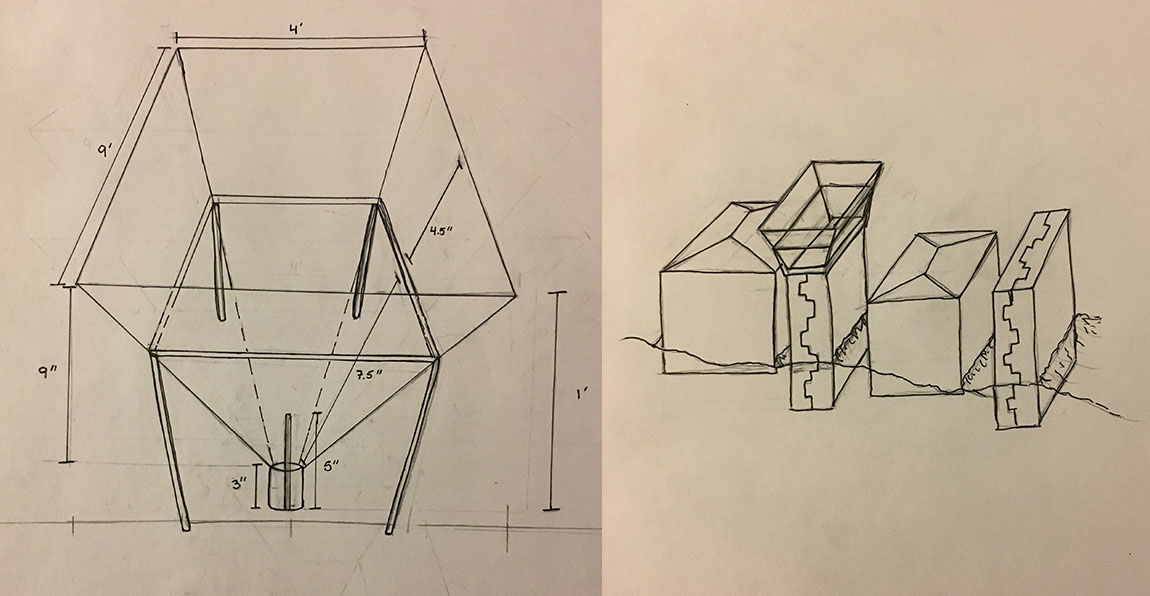 Rough sketches of the rain collection system with interlocking water tanks concept