Muhlenberg Interim President Kathleen Harring Named to Two-Year Term by Board of Trustees
Harring, who had previously served as provost and has been a faculty member in the Department of Psychology since 1984, was appointed interim president in June.
By: Kristine Yahna Todaro Monday, December 9, 2019 08:48 AM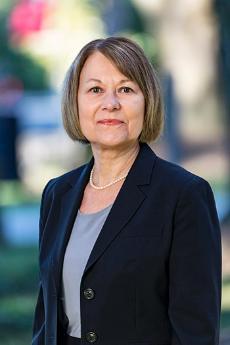 Muhlenberg College Board Chair Richard C. Crist Jr. '77 P'05 P'09 recently announced that the College's Board of Trustees had formalized Kathleen Harring's role as interim president with a two-year agreement.
Crist writes, "We are very fortunate that [Harring] is willing to serve the college in this important leadership role. In addition, we have a strong, experienced senior staff capable of leading their areas of responsibility in a collaborative and inclusive manner. The Board is pleased with the effective and intelligent approach to leading the college this semester."
"The Board had tremendous confidence in [Interim President] Harring's ability to lead when she was appointed in June," he added. "The early months of her presidency have only served to strengthen our confidence."
The email from Crist says the two-year agreement provides the opportunity for Harring to continue progress on the College's strategic plan. He added that her steady and effective leadership enables the board to conduct a presidential search at a time of its choosing rather than rushing into the process.
A member of the Muhlenberg College faculty since 1984, Harring has served in a number of leadership roles at Muhlenberg, most recently as the College's provost. During her tenure as provost, Harring was instrumental in guiding a number of important initiatives, including serving as co-chair for Muhlenberg's 2017 strategic planning process, implementing procedures to support the College's diversity initiatives and overseeing planning for new post-graduate programs.
About Muhlenberg College
Founded in 1848, Muhlenberg is a highly selective, private liberal arts college offering baccalaureate and graduate programs. With an enrollment of nearly 2,000 students, Muhlenberg College is dedicated to shaping creative, compassionate, collaborative leaders through rigorous academic programs in the arts, humanities, natural sciences and social sciences; selected preprofessional programs, including accounting, business, education and public health; and progressive workforce-focused post-baccalaureate certificates and master's degrees. Located in Allentown, Pennsylvania, approximately 90 miles west of New York City, Muhlenberg is a member of the Centennial Conference, competing in 23 varsity sports. Muhlenberg is affiliated with the Evangelical Lutheran Church in America.