Uppinder Mehan Joins Muhlenberg as the First Dean of Graduate Programs
Mehan, who began his new role on November 4, will oversee the graduate and post-baccalaureate certificate programs offered by the College's Wescoe School of Continuing Education.
Monday, November 11, 2019 09:00 AM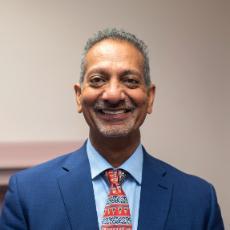 The teaching and administrative career of Uppinder Mehan, the first dean of graduate programs at Muhlenberg's Wescoe School of Continuing Education, has taken him from the Northeast to the Southwest and back again.
Mehan joins Muhlenberg from Moravian College where he was the Dean of the School of Arts, Humanities, and Social Sciences and helped launch several new degree programs including online and hybrid formats. He began exploring administrative work at the University of Houston-Victoria where he served first as the Chair of Humanities and then as Associate Provost, which provided opportunities to enter into wider institutional dialogues and to work on projects central to the university.
Prior to that, Mehan had been an assistant professor at Emerson College in Boston in the Writing, Literature, and Publishing Department and an associate professor at the University of Houston-Victoria in Texas and at Fort Valley State University. He received his Ph.D. in English from the University of Toronto in Ontario, Canada, specializing in postcolonial literature and theory.
"The breadth of Uppinder's experience—including overseeing programs at both liberal arts institutions and public state schools as well as his work with online and hybrid degree offerings—will benefit the College as he guides the development of new graduate and certificate programs here," says AJ Lemheney, Vice President and Executive Director of Wescoe School. "We're excited to welcome him to the Muhlenberg community."
Mehan's current scholarly work focuses on the literary representation of life under conditions of post-scarcity. His earlier research on neoliberalism has led to the publication of two books and several articles. Throughout his critical writing, he has explored contemporary fiction by writers of color and has established himself as one of the pioneers of postcolonial science fiction studies with a ground-breaking co-edited collection of short stories titled So Long Been Dreaming: Postcolonial Science Fiction and Fantasy.
Muhlenberg College Wescoe School of Continuing Education is the adult education division for Muhlenberg College. Educating adult students since 1910, Muhlenberg College is located in West Allentown, PA. Muhlenberg College's continuing education program offers more than 25 programs of study including Accelerated Degrees and Certificates, Traditional Liberal Arts Degrees, Major Certificates, and Teacher Certification. For more information about the College's graduate and continuing education programs, please call 484-664-3300, email [email protected] or visit the website.
Founded in 1848, Muhlenberg is a highly selective, private, four-year residential, liberal arts college located in Allentown, Pennsylvania, approximately 90 miles west of New York City. With an undergraduate enrollment of approximately 2,200 students, Muhlenberg College is dedicated to shaping creative, compassionate, collaborative leaders through rigorous academic programs in the arts, humanities, natural sciences and social sciences as well as selected preprofessional programs, including accounting, business, education and public health. A member of the Centennial Conference, Muhlenberg competes in 22 varsity sports. Muhlenberg is affiliated with the Evangelical Lutheran Church in America.