Muhlenberg Announces New Minor in Environmental Science
The minor complements an existing major in the discipline and provides greater flexibility for interested students.
By: Bill Keller Tuesday, May 7, 2019 08:19 AM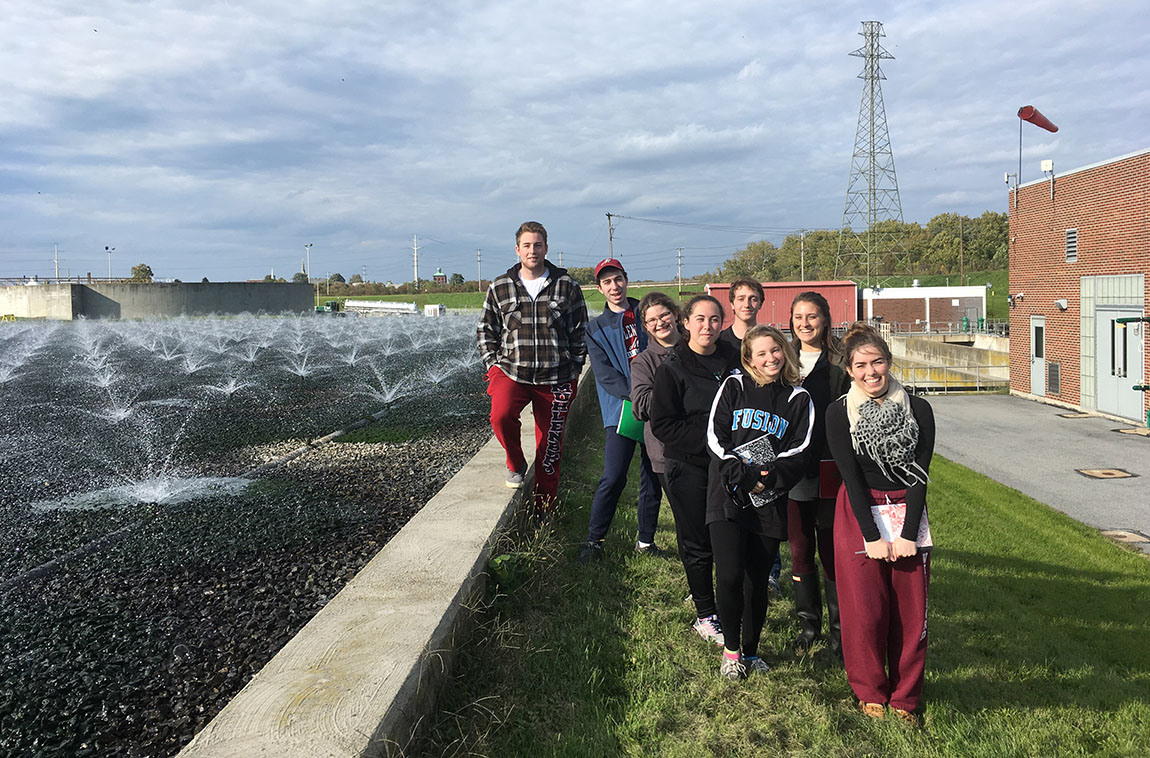 Environmental science students travel off-campus to observe operations at the Allentown Wastewater Treatment plant. Photo courtesy of Professor Jason Kelsey.
Environmental science began as an optional interdisciplinary course of study within the natural sciences and mathematics program at Muhlenberg in 1974. The discipline first became available as a major in the 1993-1994 academic year and remained a part of the College's nationally regarded physical science programs. Its curriculum includes a robust foundation in the sciences, including biology, chemistry, physics, mathematics, environmental science and sustainability studies, and benefits from exposure to the College's broad-based liberal arts course of study. Graduates of the program are well-prepared to tackle the challenges associated with a changing global environment.
The new minor provides opportunity for students to pursue studies in environmental science while completing major requirements in other fields. The interdisciplinary nature of the discipline allows for particularly strong collaboration in the fields of economics, international studies, languages, political science, public health and sustainability studies as well as prehealth and prelaw.
A distinction of the existing major—and a key function of the new minor—is the presence of a broad scientific program core and the ability for students to customize elective course selection to support their career and research interests. This inherent flexibility has long appealed to Muhlenberg students, who frequently expressed interest in pursuing the discipline as a minor.
"Muhlenberg has a tradition of environmental advocacy, conservation and sustainability," says Jason Kelsey, professor of chemistry and director of the environmental science program. "Many of our students, across all academic disciplines, are passionate about earth's natural systems and seek to enrich their understanding of important phenomena affecting environmental quality, conservation and advocacy."
Recent environmental science graduates enjoy careers as diverse as engineering, education, public policy, research, communications, underwriting, finance and nonprofit work. They are employed by the United Nations, the Environmental Protection Agency, the White House, the U.S. Coast Guard, the University of Michigan and the National Park Service and are pursuing graduate and medical studies at Columbia University, Johns Hopkins University, Lehigh University, Drexel University, the University of Vermont, the University of Washington and more.
"Environmental science students are well prepared for a wide variety of post-graduation paths," says Kelsey. "Many seek immediate employment in environmental consulting, governmental regulation, education and advocacy, and others pursue advanced study in fields such as environmental management, toxicology, geology, public health and medical and law school."
The minor will be available for students beginning in the 2019-2020 academic year. To complete the minor requirements, students must enroll in seven courses, including five required environmental science and biology courses, a course in environmental microbiology, chemistry or toxicology and an additional course from select biology, chemistry, communication, economics, history, philosophy, political science or sustainability studies options.
About Muhlenberg College
Founded in 1848, Muhlenberg is a highly selective, private, four-year residential, liberal arts college offering baccalaureate and graduate programs. With an enrollment of approximately 2,200 students, Muhlenberg College is dedicated to shaping creative, compassionate, collaborative leaders through rigorous academic programs in the arts, humanities, natural sciences and social sciences; selected preprofessional programs, including accounting, business, education and public health; and progressive workforce-focused post-baccalaureate certificates and master's degrees. Located in Allentown, Pennsylvania, approximately 90 miles west of New York City, Muhlenberg is a member of the Centennial Conference, competing in 22 varsity sports. Muhlenberg is affiliated with the Evangelical Lutheran Church in America.