Muhlenberg College Receives STARS Gold Rating for Sustainability Achievements
The College earned the highest level of recognition received by any Lehigh Valley higher education institution.
By: Kristine Yahna Todaro Tuesday, January 15, 2019 01:06 PM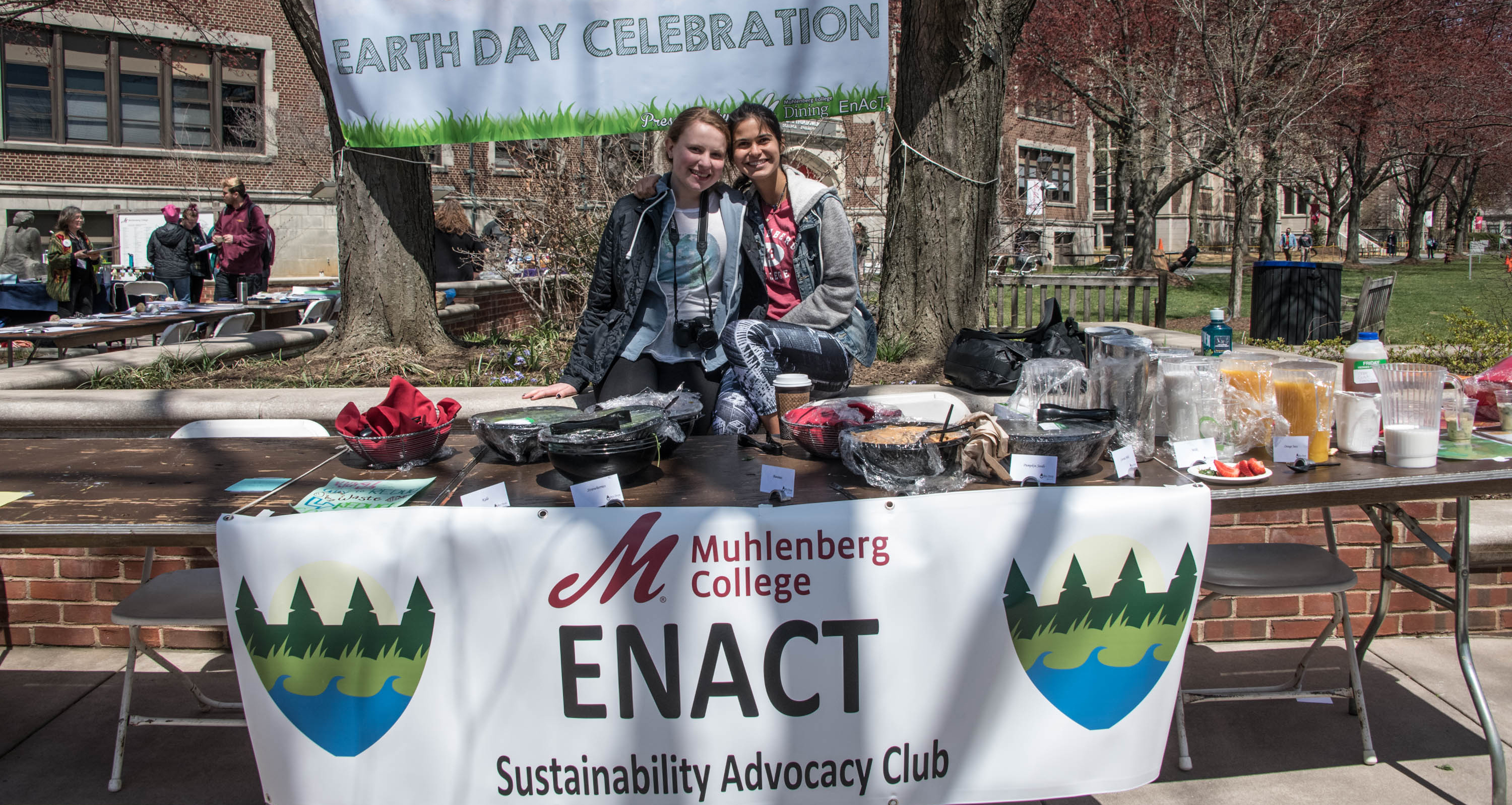 Fifteen College and community groups participated in Muhlenberg's Earth Day 2018, sharing information about organic farming, climate change action, animal rights, divestiture and a variety of sustainability efforts on campus.
Muhlenberg College has earned a STARS Gold rating in recognition of its sustainability achievements from the Association for the Advancement of Sustainability in Higher Education (AASHE). STARS, AASHE's Sustainability Tracking, Assessment & Rating System, measures and encourages sustainability in all aspects of higher education. Muhlenberg had previously received a STARS Silver designation.
Read the full Muhlenberg STARS report here.
With more than 800 participants in 30 countries, AASHE's STARS program is the most widely recognized framework in the world for publicly reporting comprehensive information related to a college or university's sustainability performance. Participants report achievements in five overall areas: academics, engagement, operations, planning and administration and innovation and leadership.
"The Gold rating is the product of a tremendous amount of work on campus over the last 10 years and we're very proud of our recognition as one of the leaders in college sustainability," says Kalyna Procyk, Muhlenberg's sustainability coordinator and an adjunct professor of sustainability studies. "We began with a Bronze rating in 2013 and have improved our sustainability efforts over multiple categories each year to reach Gold."
"What has allowed Muhlenberg to progress so successfully in the area of sustainability is the seamless collaboration among students, faculty, operations staff and administrators who are truly committed to furthering a culture of campus sustainability," says Richard Niesenbaum, professor of biology and director of sustainability studies at Muhlenberg.
"Our sustainability efforts are continually growing," adds Procyk. "This spring, for example, our students, faculty and staff will be enjoying a brand-new Muhlenberg bike share program, which is also open to the entire community."
Unlike other rating or ranking systems, this program is open to all institutions of higher education, and the criteria that determine a STARS rating are transparent and accessible to anyone. Because STARS is a program based on credits earned, it allows for both internal comparisons as well as comparisons with similar institutions.
"STARS was developed by the campus sustainability community to provide high standards for recognizing campus sustainability efforts," says AASHE Executive Director Meghan Fay Zahniser. "Muhlenberg College has demonstrated a substantial commitment to sustainability by achieving a STARS Gold rating and is to be congratulated for their efforts."
About Muhlenberg College:
Founded in 1848, Muhlenberg is a highly selective, private, four-year residential, liberal arts college located in Allentown, Pennsylvania, approximately 90 miles west of New York City. With an undergraduate enrollment of approximately 2,200 students, Muhlenberg College is dedicated to shaping creative, compassionate, collaborative leaders through rigorous academic programs in the arts, humanities, natural sciences and social sciences as well as selected pre-professional programs, including accounting, business, education and public health. A member of the Centennial Conference, Muhlenberg competes in 22 varsity sports. Muhlenberg is affiliated with the Evangelical Lutheran Church in America.
About AASHE:
AASHE is an association of colleges and universities that are working to create a sustainable future. AASHE's mission is to empower higher education to lead the sustainability transformation. It provides resources, professional development and a network of support to enable institutions of higher education to model and advance sustainability in everything they do, from governance and operations to education and research. For more information about AASHE, visit aashe.org. For more information about the STARS program, visit stars.aashe.org.