Climb Aboard: Muhlenberg Provides Free Valley-Wide Bus Service for All Students and Employees
Muhlenberg College and the Lehigh and Northampton Transportation Authority (LANTA) are partnering to provide bus service at no cost to students, faculty and staff.
By: Kristine Yahna Todaro Wednesday, January 16, 2019 08:30 PM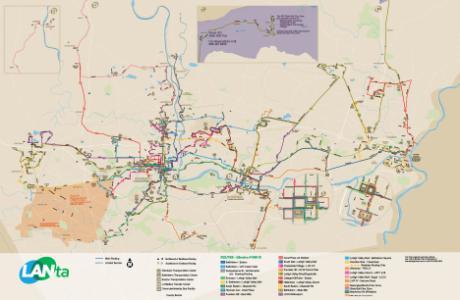 A new, free bus service program will allow all Muhlenberg students and employees to jump on any LANTA bus, swipe their College ID card and ride throughout Lehigh and Northampton counties, seven days a week.
The program, which began January 7, includes two new Chew Street bus stops on Muhlenberg's campus: westbound in front of the walkway near Wescoe School of Continuing Education and eastbound in front of the Baker Center for the Arts.
The Muhlenberg/Chew Street bus stops include easy access to:
A few blocks away, an existing LANTA bus stop at 22nd and Chew Streets provides access to Route 218, which includes stops in downtown Allentown and the Village West Shopping Center (Route map).
LANTA offers four convenient ways to use the myStop bus tracker to find the real-time status of a bus, including iPhone and Android apps. With their College ID cards, Muhlenberg students and employees can also transfer buses at no charge throughout the Lehigh Valley.
The free LANTA bus service is replacing Muhlenberg's Cardinal Shuttle service, which was previously operated by College staff. The Grey Shuttle service will continue during the Spring 2019 semester.
"The College is pleased to offer this new partnership with LANTA which will provide free, convenient and environmentally-friendly transportation for our students, faculty and staff," said Muhlenberg College President John Williams. "This service will make it easier for our students to connect more extensively with the Allentown community as well as the Lehigh Valley more broadly and it will be a great option for our employees to travel to and from work."
Muhlenberg College also recently partnered with the Allentown Parking Authority on a Zagster Bike Share program for both campus and community members.
Download full LANTA map: PDF (5mb) | JPG (600kb)
About Muhlenberg College
Founded in 1848, Muhlenberg is a highly selective, private, four-year residential, liberal arts college offering baccalaureate and graduate programs. With an enrollment of approximately 2,200 students, Muhlenberg College is dedicated to shaping creative, compassionate, collaborative leaders through rigorous academic programs in the arts, humanities, natural sciences and social sciences; selected preprofessional programs, including accounting, business, education and public health; and progressive workforce-focused post-baccalaureate certificates and master's degrees. Located in Allentown, Pennsylvania, approximately 90 miles west of New York City, Muhlenberg is a member of the Centennial Conference, competing in 22 varsity sports. Muhlenberg is affiliated with the Evangelical Lutheran Church in America.