New Sustainability Studies Major Announced at Muhlenberg College
The new major and the newly revised sustainability studies minor offer students an interdisciplinary approach to understanding complex environmental challenges and developing solutions to effect real change.
By: Kristine Todaro '84 Tuesday, February 19, 2019 02:13 PM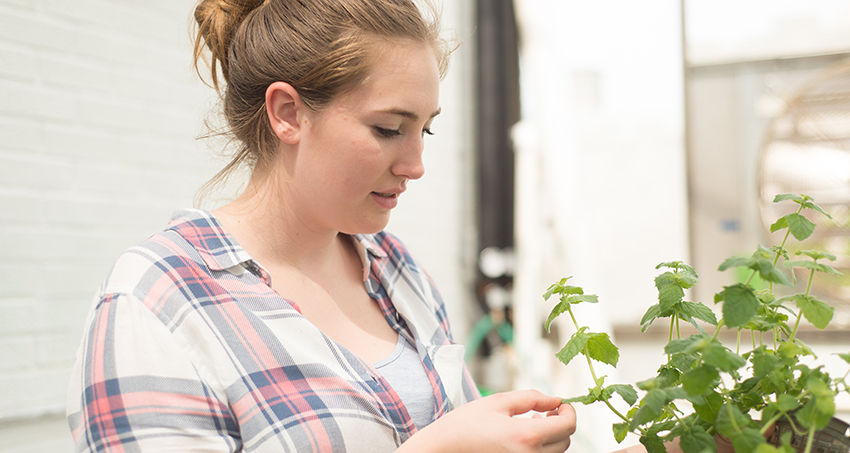 Caroline Erb '18 conducted sustainability research in the summer of 2016 with Professor Richard Niesenbaum to learn whether green roofs support insect biodiversity.
Beginning in fall 2019, Muhlenberg College will offer a new sustainability studies major, an interdisciplinary program with the goal of instilling understanding, appreciation and thoughtful problem-solving skills with regard to the relationships and interactions of humans and the environment.
The College has offered a sustainability studies minor since 2007 but recently revised the existing minor in response to the rapid growth of this interdisciplinary academic field and increasing student and prospective-student demand.
Sustainability is often defined as meeting the fundamental needs of the present generation without compromising the ability of future generations to meet their own needs. Muhlenberg's new major will explore effective ways to do this that will also generate economic opportunity and equitable development while ensuring social justice and wellbeing.

"The new major in sustainability studies not only puts the College on the cutting edge of sustainability education, it also reaffirms our broader commitment to integrative learning and the liberal arts," says Biology Professor Rich Niesenbaum, director of sustainability studies, noting that integration among disciplines is needed to understand many of the most serious challenges facing our world. "The program will equip students with the skills required to develop solutions to these problems, whether through the action of individuals, through innovation or through policy or social movements."

Focus areas include study of the environment in relation to human needs, wants, and activity; social justice and social movements; economics development and business; and policy and practice. The program explores and integrates issues broadly related to sustainability, and how they impact and are addressed at local, national, and global levels, and specifically addresses the intersectional nature of environmental and social issues in relation to human difference, power relations and equity.
Founded in 1848, Muhlenberg is a highly selective, private, four-year residential college located in Allentown, Pennsylvania, approximately 90 miles west of New York City. With an undergraduate enrollment of approximately 2,200 students, Muhlenberg College is dedicated to shaping creative, compassionate, collaborative leaders through rigorous academic programs in the arts, sciences, business, education and public health. A member of the Centennial Conference, Muhlenberg competes in 22 varsity sports. Muhlenberg is affiliated with the Evangelical Lutheran Church in America.