Provost Kathy Harring to Serve as Interim President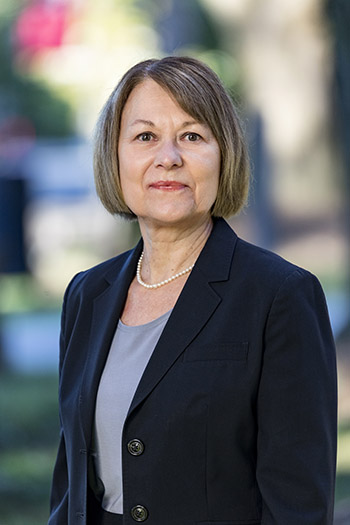 John I. Williams Jr. departs the College after four years as president. Provost Kathleen Harring has been appointed interim president by Muhlenberg's Board of Trustees.
By: Bill Keller Wednesday, June 19, 2019 02:15 PM
Provost since April 2017, Harring previously held senior leadership roles as vice president and dean of institutional effectiveness and planning and as dean of institutional assessment and academic planning. She joined Muhlenberg as a faculty member in the Department of Psychology in 1984.
"Kathy has been a valuable guide for the College and the Board," said Board Chair Richard Crist in a statement to the Muhlenberg community. "She has strong relationships on campus, in academia and with the Board, and we look forward to working with her to strengthen the institution."
Harring's service to the College has included terms as psychology department chair, as a founding member of the College's Faculty Center for Teaching, as co-chair of the College's 2017 strategic planning process, as a contributing member of the College's first Diversity Strategic Plan and as a member of numerous faculty and staff committees. She has led accreditation activities, overseen student learning and research and acted as the architect of internal assessment systems at Muhlenberg.
"The progress we've made in moving the College forward has been done as a community, working together. It's a community that I am proud to be a part of," says Harring. "Muhlenberg is in a strong position, in no small part due to our collective commitment to evolve in ways that strengthen and integrate the academic and student life experiences. I am honored to serve in this new role, leading this great College on a path our community has set into motion through our strategic plan and through our everyday service."
Harring completed a bachelor's in psychology from Franklin & Marshall College and a master's and Ph.D. in social psychology from the University of North Carolina at Chapel Hill.
Distinguished both on campus and in broader academic circles, Harring has been named a recipient of the Chairman's Award, the Lindback Award for Distinguished Teaching and the Paul C. Empie Memorial Award for Teaching and Service. She has developed and led workshops on campus, including November 2018's Expanding and Welcoming a Diverse Professoriate, and frequently presents nationally on topics as diverse as teaching and learning, outcomes assessment, the role that music plays in developing group identity, professional development and gender identity and gender roles.
A statement from the Board of Trustees recognized Williams' leadership of the liberal arts institution saying, "We hired John to be a change agent, and he has moved the College forward in numerous key areas. Under his leadership, the College adopted a new strategic plan and a compelling campus master plan, strengthened student pathways to powerful outcomes and established new relationships with graduate and professional schools. John championed a stronger and expanded Career Center and initiated the effort to unify the College's global community through TheMuhlenbergNetwork.com."
Harring is committed to continuing progress on the College's strategic plan. "We remain dedicated to our priorities to strengthen our value as a premier educational institution and to fortify the financial strength of Muhlenberg for future generations," says Harring. Additional accomplishments of the strategic plan under Williams' leadership include increasing support for faculty and student scholarship, investments to improve enrollment operations, a revision of the curriculum to focus on integrative learning and strengthening the College's capacity to improve digital literacy.