Seven Former Students Are Co-authors on Newly Published Tick Research
The work of the team, led by Professor of Biology Marten Edwards, can be found in "The Journal of Medical Entomology."
By: Meghan Kita Wednesday, July 31, 2019 04:08 PM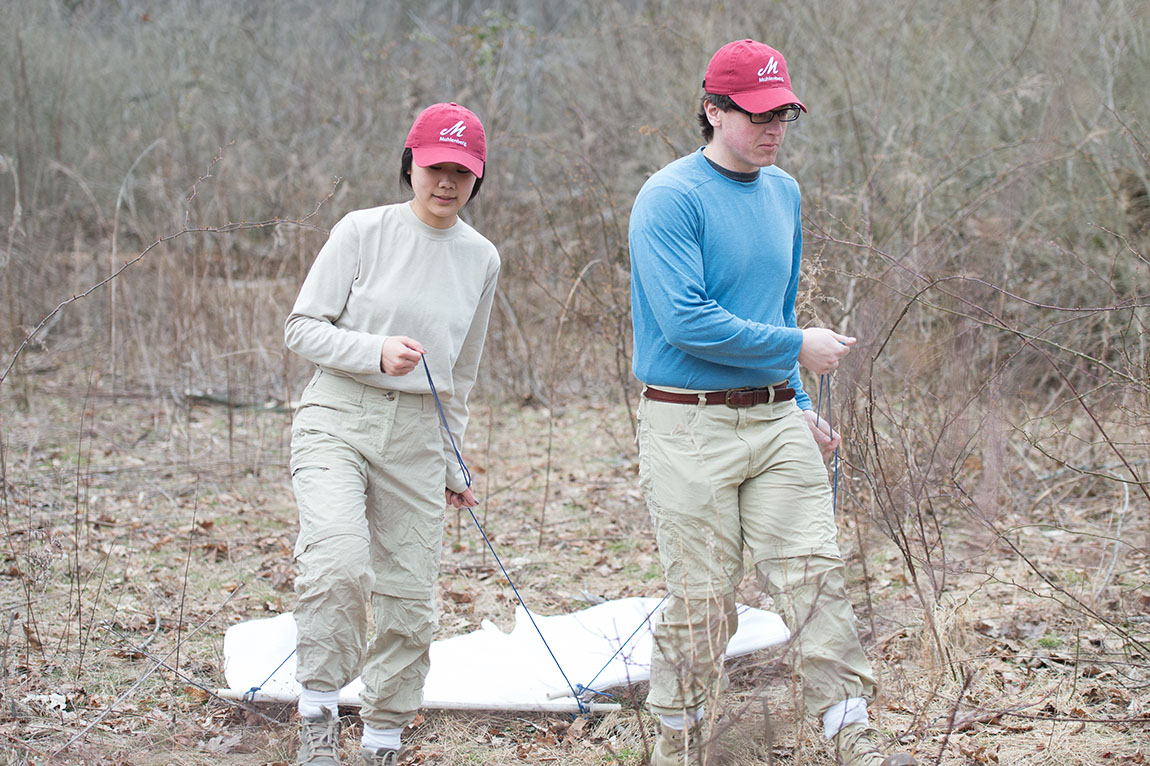 Bess Fleischman '17 and Thomas Yanushefski '18 worked with Professor of Biology Marten Edwards to document tick prevalence and the pathogens the invertebrates carry.
Professor of Biology Marten Edwards and his student team are easy to spot in the field: They're wearing long-sleeved shirts tucked into pants tucked into socks, plus hats and hiking boots—in the heat and humidity of late spring and early summer. As they drag sheets of white corduroy over leaf-littered ground in forested areas, the runners, walkers and disc golfers using the nearby trails sometimes stare. A few even ask, "What are you doing?"
They're dragging for ticks, which may cling to the warm, soft corduroy because it feels similar to a mouse. And the researchers are covered from head to toe (in specially treated clothing) because the most common species of tick in the area—Ixodes scapularis, also known as blacklegged or deer ticks—can carry the bacteria Borrelia burgdorferi. Humans who are bitten by an infected tick may develop Lyme disease, a condition that often starts with flu-like symptoms. When untreated, Lyme can lead to many long-term health problems including joint swelling, stiffness and pain.
Hear more about safely navigating tick encounters from Edwards in "Avoiding Ticks: Tips on how to stay safe while exploring the great outdoors."
Edwards's latest paper, "A Four-Year Survey of the Range of Ticks and Tick-Borne Pathogens in the Lehigh Valley Region of Eastern Pennsylvania," features seven co-authors who participated in the research as students: Emily Davidson '18, Rita Esposito '17, Bess Fleischman '17, Rachel Heist '16, Julia Leep-Lazar '18, Samantha Stuppi '18 and Thomas Yanushefski '18. Assistant Professor of Mathematics James Russell, another co-author, developed the study's statistical analysis.
"When I first entered the lab, [getting published] wasn't my goal. I started on this journey to grow my skills and knowledge and to learn more about research," says Fleischman, a public health major who now works in healthcare policy research. "It was icing on the cake to see us get published and put information out there for others to read about."
From the Field to the Lab
The tick dragging periods of the research took place between late May and the middle of July, when blacklegged tick nymphs are most active. A nymph is a poppyseed-sized adolescent tick—it has already taken one "blood meal," possibly on an animal carrying pathogens, and it's looking for its next feast. This is when humans are most at risk: While adult ticks may also carry Lyme-causing bacteria, they're easier for humans to see and remove quickly, before transmission can occur.
After dragging, researchers would go home and shower (as an added layer of caution) before heading to the lab. There, they'd extract DNA from the ticks and store the samples in the freezer. Throughout the school year, students would work on analyzing the samples.
In the end, Edwards and his researchers collected more than 6,000 blacklegged ticks at 11 sites across the Lehigh Valley. Samples positive for B. burgdorferi were found at all 11 sites. Nearly a quarter of the samples the team tested carried the bacteria.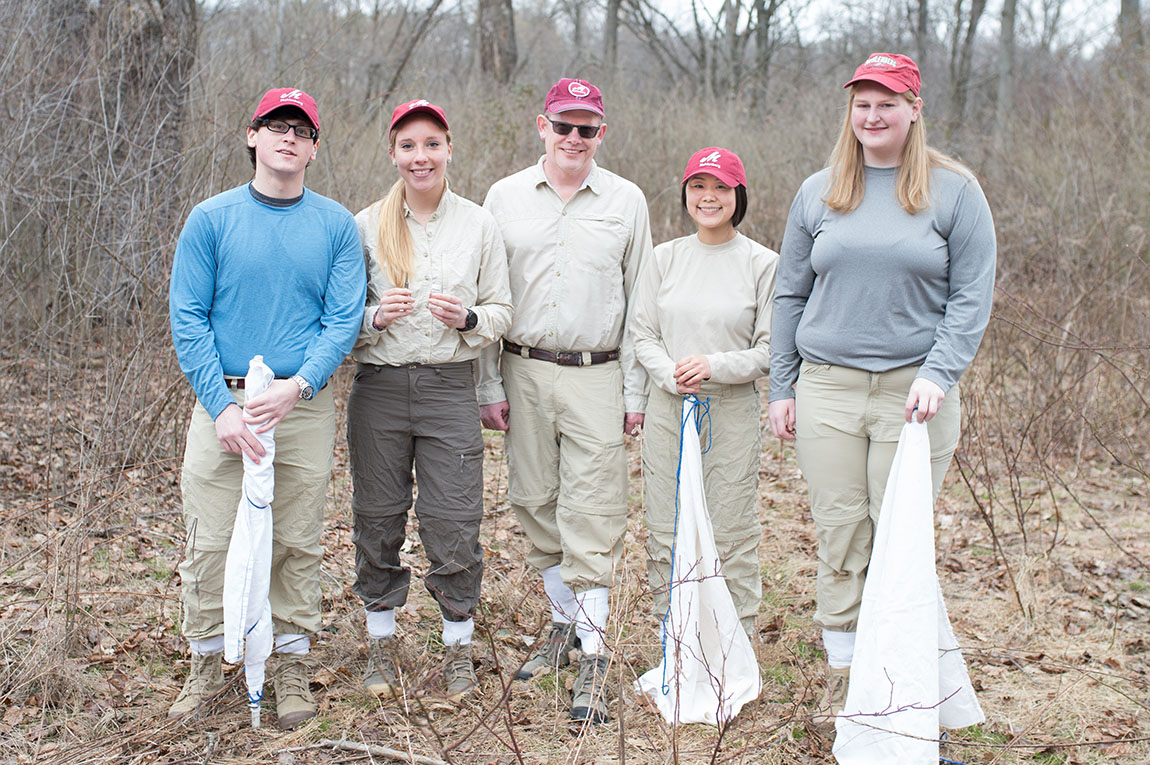 From left: Researchers Thomas Yanushefski '18, Emily Davidson '18, Professor Marten Edwards, Bess Fleischman '17 and Julia Leep-Lazar '18 complete a field study.
"Knowing we have almost a 25 percent tick infection rate in our area, if someone has a tick on them, doctors are going to prescribe antibiotics," says Heist, a biology major and public health minor who's now a fourth-year medical student at West Virginia University. "A project like this gives people more solid evidence that this is an important issue they have to protect themselves against."

The Work 'Drags' On
Edwards had previously collaborated on a study with three students, published in 2015, to select the sites and determine the methods he and the next crop of students would use in this study. And, the work is set to continue: Edwards receives funding from Lehigh Valley Health Network's Luther Rhodes Endowment for Infectious Disease Research, which will support him and his students as they continue to visit these sites to track how tick populations and pathogens change over time.
"It's unusual to be able to do a long-term study like this," Edwards says. "A lot of times you do a study, publish it, that's it. You don't go back to the same place and look how things have changed. That's what's going to be really important 10, 20, 30 years from now."
Going forward, Edwards would like to examine the prevalence of different strains of B. burgdorferi, because some cause more serious cases of Lyme than others. He'll also be searching for an increase in the pathogens that cause babesiosis and anaplasma disease, serious tick-borne illnesses that can be transmitted by ticks in the Lehigh Valley region, but that are more prevalent in the Hudson River Valley. And, he'll watch for a change in the species of ticks found. For example, his team dragged for 187 miles and didn't collect any longhorned ticks, which have the potential to cause disease in humans, but their invasion was recently confirmed in neighboring New Jersey.
"It's probably here, but it's not common or widespread here," Edwards says. "If we go out next summer and find it everywhere, that's going to be a really important discovery. Sometimes not finding something is just as important as finding it."