An 'Earnest' Approach to a Comedic Classic

Muhlenberg Theatre & Dance to present Oscar Wilde's masterwork, featuring all-female cast, Sept. 26-29
By: Clarissa Shirley '22 Friday, September 13, 2019 10:25 AM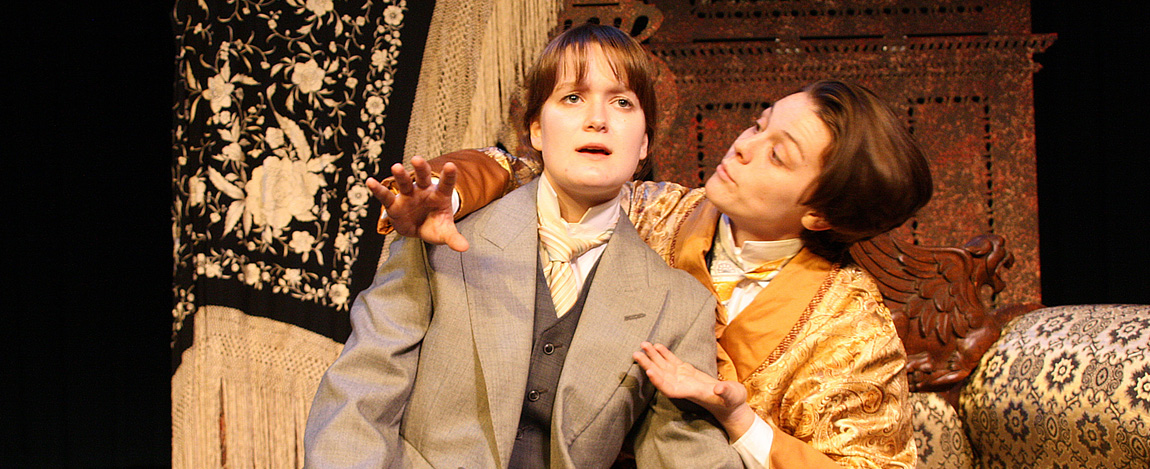 "The Importance of Being Earnest," Sept. 26-29, features Melanie McCoy (left) as Jack and Heather Dutton as Algernon.
The Muhlenberg College Theatre & Dance Department season opens Sept. 26 with Oscar Wilde's classic satire "The Importance of Being Earnest." The beloved 1895 farce follows the adventures of two young bachelors leading double lives to win the hearts of those they love. The production will feature a cast composed entirely of women.
Wilde's masterpiece is celebrated with a delicious wit, a comic playfulness, and an affection for all things "Bunbury," says the play's director, Jim VanValen, a visiting faculty member in the department. VanValen says the production's all-female casting was in part thematic, in part practical.
"I wanted to tap into the demographics we have on campus," he says. "We have a lot of people who identify as female. I wanted to create opportunities — and also challenges — for some of our actors. We're actors, and as actors we can play any part. That's our job."
Cast members say they have found the process to be both energizing and interesting.
"It's a lot of energy that's exciting to be around," says Posie Lewis, a senior theater and English major. "It's been fascinating to see the ways that having an all-female cast enlightens the play."
The production runs Sept. 26-29 in Muhlenberg's Baker Theatre, Trexler Pavilion for Theatre & Dance. Tickets and information are available at muhlenberg.edu/theatre and 484-664-3333.
The show also features a Faculty Spotlight Performance by acting professor Holly Cate in the role of Lady Bracknell. Cate has previously performed on Broadway in an Oscar Wilde play: "An Ideal Husband," in 1996.
"She's a great mentor to the cast, and yet she's one of the cast," VanValen says. "She jumps right in with everything. She's fearless, and she allows herself to be vulnerable with them."
In this classic comedy, the characters pursue true love until mistaken identities entangle their intentions, leading to an amusing eruption of chaos within their Victorian home. The men and women strive to create their ideal life in a world in which social status is their driving force.
"It's playful, it's a comedy, and it's earnest," says VanValen. "Well, it's sort of earnest — from a certain perspective. It's certainly a comedy — and Wilde's wry, withering sense of humor holds up amazingly well."
VanValen says his approach to rehearsals and to helping his cast find the comedy of the play came from a childhood spent watching Looney Tunes — the Saturday morning cartoon classics featuring Bugs Bunny, Daffy Duck, the Road Runner, and friends.
"Some people know opera," he says." I only know opera because it was a Bugs Bunny cartoon."
"Earnest" marks VanValen's directorial debut at Muhlenberg; he appeared as an actor in this summer's Muhlenberg Summer Music Theatre production of "Anything Goes," as Elisha J. Whitney, an over-the-top captain of industry looking for love.
"He's such a generous collaborator," Cate says. "There are things we have done in rehearsal where he makes me laugh so hard I cry."
Heather Dutton is a senior with a dance major and a minor in women's and gender studies. She portrays Algernon Moncrieff, a male role. She has brought both of her fields of study to bear in this production process.
"I am fascinated by gender, and the way it was forced upon people in Victorian society," Dutton says. "And the way it's still forced onto people by society."
Dutton has always had an affinity toward classic plays but is often frustrated with how female characters are portrayed.
"In most of these great plays, there's not really anything to sink your teeth into," Dutton says. "I'm getting an unusual opportunity to own and inhabit this really complex character."
Posie Lewis, who plays Gwendolyn Fairfax, has enjoyed her time unraveling the complications of playing a traditional Victorian woman.
"She is now experiencing a new level of education, worldliness, awareness, and societal action," Lewis says. "She has inherited her mother's quick wit and smart sophistication, but she's not confined to societal expectations. She's interested in getting what she wants in a perfect way. She is trying to create her ideal life."
Dutton and Lewis have both brought their non-traditional and wide-ranging training to their rehearsal process. Dutton says that her dance studies help her to manifest Algernon's emotional shifts and unique physicality.
"My character takes on different personas throughout the show," Dutton says. "There are a lot of physical demands. My dance background has given me an understanding of how to physically release, since I practice every day putting my body to its limits."
Lewis studied abroad at the physical theatre program in Arezzo, Italy, during the fall of 2018, and likewise brings this experience to her performance.
"This is a very stylized piece," Lewis says. "It features many heightened physical and vocal choices. Everything I was trained to do in Arezzo is completely informing everything that I am doing in rehearsal for Earnest."
Written in 1895, the play ran on London's West End alongside his other work "An Ideal Husband," and established his career as a successful playwright — albeit briefly. Events during opening night of "Ernest" led eventually to Wilde's homosexuality being revealed and to his criminal persecution. He was imprisoned, and both plays were summarily closed. He never wrote another word.
This production features costumes designed by Rebecca Lustig, an assistant professor in the Theatre & Dance Department, inspired by the style of Victorian England: corsets, hats, topcoats, and "layers on layers on layers," she says.
"The costume on this tell such a story," VanValen says.
The actors playing female characters wore corsets during rehearsal to become familiar with how to move in them. VanValen even got in on the action by getting fitted for a corset himself and wearing it alongside his performers.
Like all of Wilde's work, "The Importance of Being Earnest" skewers the absurdities of Victorian society and the pomposity of the upper-class socialites with whom he kept company.
"His characters become a sort of funhouse mirror of values in their own society," Cate says. "He was the Saturday Night Live of his era."
"The play is wicked smart and also really funny," says Lewis. "It's this really satisfying combination of the intellectual and the ridiculous."
"The Importance of Being Earnest" plays Sept. 26-29. Showtimes are Thursday through Saturday at 8 p.m., and Sunday at 2 p.m. Regular admission tickets are $15. Tickets for youth and LVAIC students and staff are $8. All ages are welcome.
Tickets can be purchased online at muhlenberg.edu/theatre or by phone at 484-664-3333. Performances are in the Baker Theatre in Trexler Pavilion for Theatre & Dance, Muhlenberg College, 2400 West Chew St., Allentown.
About Muhlenberg College
Founded in 1848, Muhlenberg is a highly selective, private, four-year residential, liberal arts college offering baccalaureate and graduate programs. With an enrollment of approximately 2,200 students, Muhlenberg College is dedicated to shaping creative, compassionate, collaborative leaders through rigorous academic programs in the arts, humanities, natural sciences and social sciences; selected preprofessional programs, including accounting, business, education and public health; and progressive workforce-focused post-baccalaureate certificates and master's degrees. Located in Allentown, Pennsylvania, approximately 90 miles west of New York City, Muhlenberg is a member of the Centennial Conference, competing in 22 varsity sports. Muhlenberg is affiliated with the Evangelical Lutheran Church in America.