Entrepreneur and Veteran Kenneth Keitt to Deliver 2020 Raker Lecture
Keitt, founder and CEO of health and fitness company ParaPer4mance, will present "Strength Beyond Limitations" for the biannual speaker series.
By: Bill Keller Friday, February 14, 2020 09:36 AM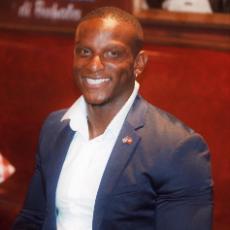 The lecture will take place on Tuesday, February 18, at 7 p.m. in Miller Forum, Moyer Hall, on Muhlenberg's campus. The event is free and open to the public.
Kenneth Keitt is the founder and CEO of ParaPer4mance, a health and wellness fitness company focused on individuals with limited mobility. After completing his service in the United States Marine Corps, Keitt sustained an injury in an automobile collision that paralyzed him from the waist down. He received treatment at Good Shepherd Rehabilitation Network.
In 2017, Keitt, then a Penn State Lehigh Valley student, received entrepreneurial funding to pursue the development of what would later become ParaPer4mance. Launched in 2019, ParaPer4mance serves as a community, a digital platform and a fitness and nutrition resource for wheelchair users. The organization seeks to empower and inspire people through health, wellness and community and has been recognized for its work by local and regional media.
About the Conrad W. Raker '34 Lecture Series and Good Shepherd Rehabilitation Network
The Conrad W. Raker Lecture Series was established by the Board of Trustees at Good Shepherd in honor of the anniversary of the ordination of The Reverend Dr. Conrad W. Raker, son of the founder of Good Shepherd, as a Lutheran pastor. Raker, a 1934 graduate of Muhlenberg College, was an administrator at Good Shepherd until 1980. He served as administrator emeritus and was an active member in the Good Shepherd family until his death in 2002.
Good Shepherd Rehabilitation Network, based in Allentown, Pennsylvania, is a nationally recognized rehabilitation leader, offering an unmatched continuum of care for people with physical and cognitive disabilities. Good Shepherd provides compassionate care at more than 70 locations in nine Pennsylvania counties. Good Shepherd Rehabilitation Network is the eighth-largest rehabilitation provider in the country, according to Modern Healthcare magazine. Learn more at GoodShepherdRehab.org.
About Muhlenberg College
Founded in 1848, Muhlenberg is a highly selective, private, four-year residential, liberal arts college offering baccalaureate and graduate programs. With an enrollment of approximately 2,200 students, Muhlenberg College is dedicated to shaping creative, compassionate, collaborative leaders through rigorous academic programs in the arts, humanities, natural sciences and social sciences; selected preprofessional programs, including accounting, business, education and public health; and progressive workforce-focused post-baccalaureate certificates and master's degrees. Located in Allentown, Pennsylvania, approximately 90 miles west of New York City, Muhlenberg is a member of the Centennial Conference, competing in 22 varsity sports. Muhlenberg is affiliated with the Evangelical Lutheran Church in America.