A Bittersweet End to a Strong Season
Centennial Conference Coach of the Year Jason McLean '01 was in Iowa with the first three Muhlenberg wrestlers to qualify for the NCAA Championships since 2009 when COVID-19 shut down collegiate sports.
By: Jeremy Fuchs '14 Tuesday, September 8, 2020 11:28 AM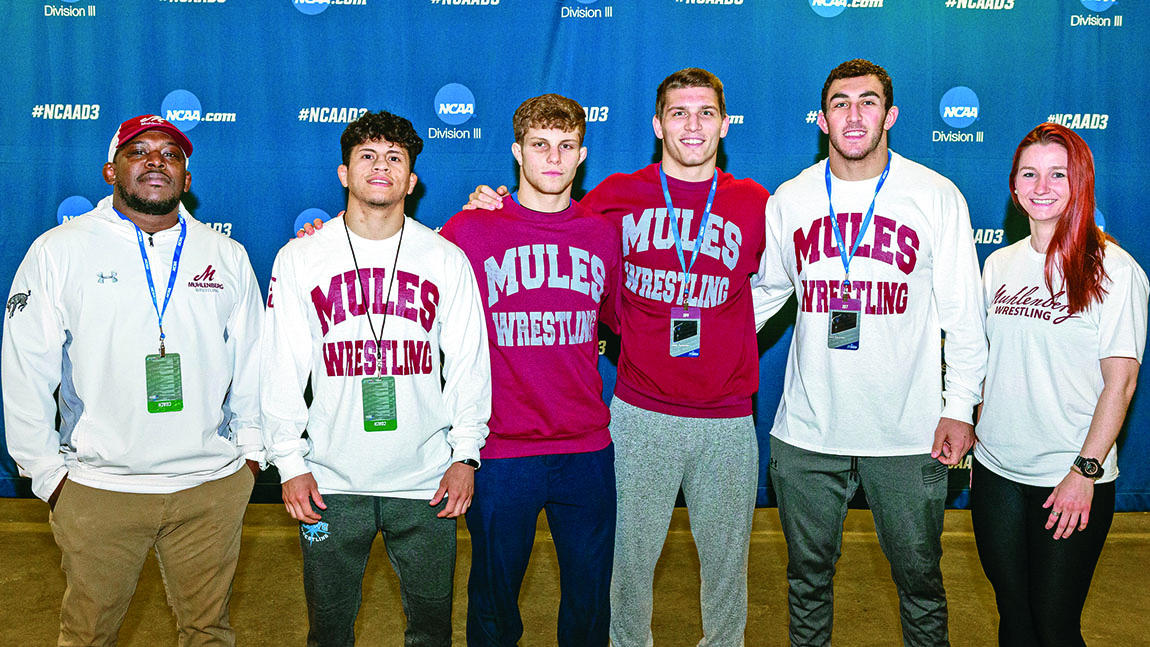 From left to right: Head Coach Jason McLean '01; Assistant Coach Guesseppe Rea; national qualifiers Austin Sherman '20, Jimmy Fratantoni '20 and Luca Colestock '22; and Assistant Athletic Trainer Chelsea Bortz.
This article originally appeared in the Summer 2020 issue of Muhlenberg Magazine.
It was a few minutes before his athletes were scheduled to arrive at the U.S. Cellular Center in Cedar Rapids, Iowa, on March 12 when head wrestling coach Jason McLean '01 got the news: The Division III wrestling tournament, along with all other NCAA winter and spring championships, would be canceled due to the COVID-19 outbreak.
When his three qualifying wrestlers showed up for what was supposed to have been a workout, they did what they were all there to do: They wrestled. On the floor of the arena, McLean and his athletes wrestled against each other, an empty stadium their background. There were tears, yes, but there were also laughs and smiles. Austin Sherman '20 walked around the mat, raising his arm in triumph.
The team went to dinner that night in Cedar Rapids. They stayed a final day, going to visit the wrestling powerhouse University of Iowa, even getting a tour of its facility from National Wrestling Hall of Famer Mark Ironside, who happened to be in the building. Then they flew home, the athletes scattered across the northeast. McLean went straight to campus. He went to the locker room, cried for a bit. And then he walked home to his family.
It's more than wrestling. Wrestling is just a vessel. It's changing these students' lives.
Jason McLean '01
For someone who never planned to coach, McLean certainly excels at it. McLean, Muhlenberg's first All-American wrestler, was named the 2019-2020 Centennial Conference Coach of the Year in his third season with the College. The three athletes who qualified for the NCAA Championships under his leadership this year were the first Mules to be eligible for the national meet since 2009.
McLean graduated from Muhlenberg in 2001 as one of the best wrestlers in College history. He earned All-American honors that year after finishing eighth in the 141-pound division at the NCAA Championships. The Centennial Conference champion that year, he won 34 matches, the second-most in program history.
After his wrestling career ended, McLean worked in contract jobs, traveling the country, teaching people about software and hardware.
But home came calling. McLean, who began high school at Scotch Plains-Fanwood in New Jersey, was recruited to volunteer at nearby New Brunswick High School for the 2006-2007 season. The father of a Muhlenberg friend of McLean's (Carl SanFilippo '03) was principal there. He knew McLean had wrestled, and he asked for McLean's help while the school tried to reboot a wrestling program that had been defunct for 25 years. They started with kids who had been cut from the football or basketball teams. There would be younger siblings hanging around practice, which had to be held in hallways or at other nearby schools—there was no available, dedicated practice space. In the program's third year, McLean became head coach.
"I built such a relationship with the kids," says McLean. "It was about the experience. I've fallen in love with the process. That just makes me want to get people that I'm responsible for to their full potential. I'll do whatever I can to show people you believe in them and they'll believe in you."
In 2016, McLean was named the Greater Middlesex Conference Blue Division Coach of the Year. The team that once practiced in hallways won 20 matches under his leadership. He was building a real program, one that had community buy-in. The fourth-graders that originally stopped by his hallway practices were now on the team.
But the call of his alma mater was too strong.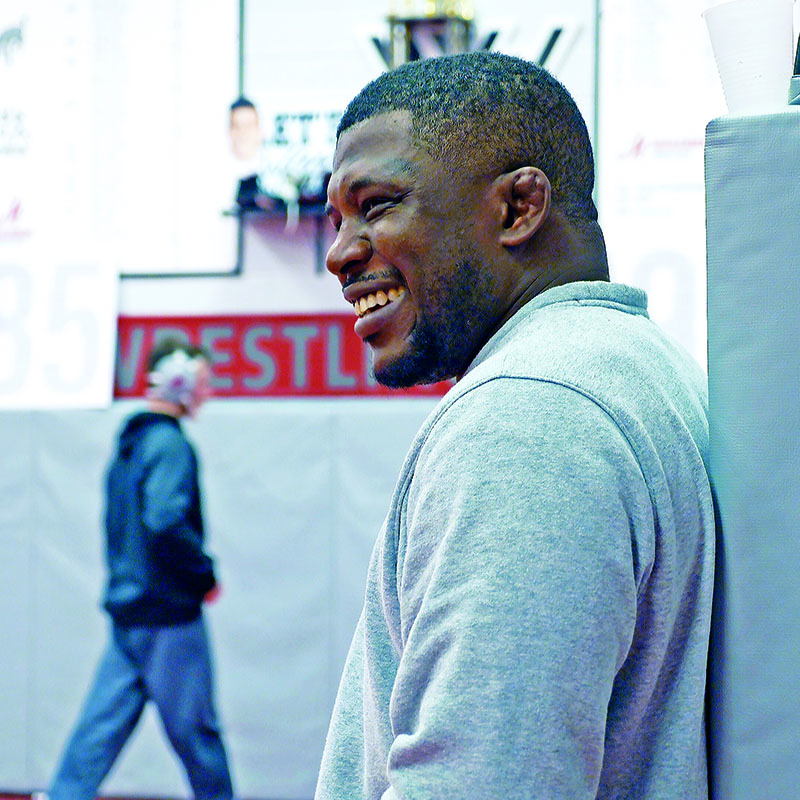 When McLean left New Brunswick for Muhlenberg, he was sure to always keep the city in mind.
"In New Brunswick," says heavyweight Ramiro Osuna '22, a political science and media & communication major, "people usually just graduate high school. He wanted us all to go to college. And now that he has the title at Muhlenberg, he's created a funnel. I'm now one of three from New Brunswick."
Osuna, a captain of the football and wrestling teams in high school who also won a district wrestling title, was offered a full scholarship to play at The College of New Jersey. He chose Muhlenberg— which, like all DIII institutions, does not offer athletic scholarships—to be with McLean. "He sacrificed that to come to Muhlenberg," says McLean. "Whoever thought being a rinky-dink wrestling coach in New Brunswick that you can have enough of an effect on people that they want to change their home."
A few years ago, McLean got a call from Jeorcy Peña '23, one of his former team members in New Brunswick. McLean recounted the conversation:
Peña: "I want to go to Muhlenberg."
McLean: "Why?"
Peña: "To change my life."
McLean: "If you want to do your part, I'll do my part."
"And I told him," McLean recalls, "'this is what I need academically,' and he did it. He didn't apply to any other college. For a student to put that much faith in me, it's pretty phenomenal. I don't know if he realizes it. I'm choking up just talking about it."
Osuna finished third at the Northeast/Mideast Futures Tournament and was 11-7 on the season. Peña, a 133-pound freshman, was 4-8 in his first season at the College.
The wrestling team saw major success at the NCAA Mideast Regional in Ithaca, New York— qualifying more than two wrestlers for the national meet for the first time since 2007—and McLean is still bringing his intensity and obsession to every facet of the program. But he is also able to look beyond the mat to see the bigger picture: "It's more than wrestling," he says. "Wrestling is just a vessel. It's changing these students' lives."