A Virtual Collective of Artists
Alison Cummins '21 and Sarah Gordin '21 started Berg Originals to help students, alumni, faculty and others share and receive feedback on their work remotely.
By: Meghan Kita Tuesday, November 17, 2020 02:14 PM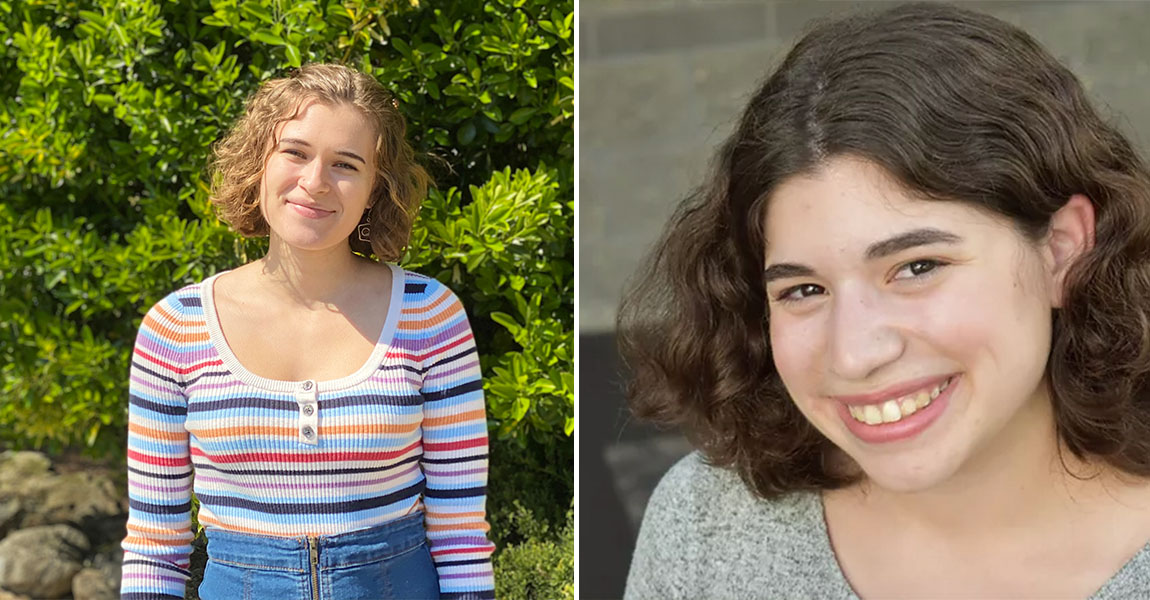 Alison Cummins '21 and Sarah Gordin '21
Both Alison Cummins '21, a sociology major with English and creative writing minors, and Sarah Gordin '21, a theatre major, had their spring semesters abroad cut short due to COVID-19. They continued to create—both are writers—but they missed the workshopping opportunities that come with physically being around other artists. Together, they decided to launch a virtual substitute, and Berg Originals was born. Since May, they've hosted 11 Zoom sessions for students, alumni, faculty and others to share their work.
Muhlenberg Magazine How did your first event, a play reading and workshop, go?
Alison Cummins '21 We received seven play submissions from Muhlenberg students and alumni and put out a call for Muhlenberg actors. At the event, the actors read the play for the first time aloud together. Then, the playwrights received feedback in the chat. The turnout really surprised us—we had 50 people show up to have their plays performed, act in a play or watch and provide feedback.
MM Which event are you most proud of and why?
Sarah Gordin '21 Our Pride event, which we co-hosted with S.Qu.Ad. (Students for Queer Advocacy) and MTAC (Muhlenberg Trans Advocacy Coalition). We were able to have a guest speaker come and talk about their artwork and experience. Additionally, the event had original plays, dances, short documentaries, art and poetry, all surrounding Pride. It was such a great way to celebrate people's identities and experiences through creation.
MM What have you heard from participants?
SG Feedback has been really good. The best comment we received was from a playwright who said, "I would not hesitate to trust Berg Originals with my art again." It is very vulnerable to put your art into the world. This comment let us know that we are creating a safe space in our events.
MM What have you learned about your own art from Berg Originals?
AC First drafts are not as bad as you may think they are! Berg Originals has helped me be kinder to myself during my writing and editing process. Audience members ask questions that really make you think about what you've created and how you can improve. I think the best way towards improvement is support and generosity, and Berg Originals has shown us just how many artists, in the Muhlenberg community and beyond, embody these ideals.