A Virtual Success
The Phi Sigma Sigma sorority, in an effort coordinated by Philanthropy Chair Sophie Capobianco '22, sent hundreds of winter coats, pairs of gloves and sets of headphones to students at an Allentown elementary school.
By: Meghan Kita Monday, November 23, 2020 09:01 AM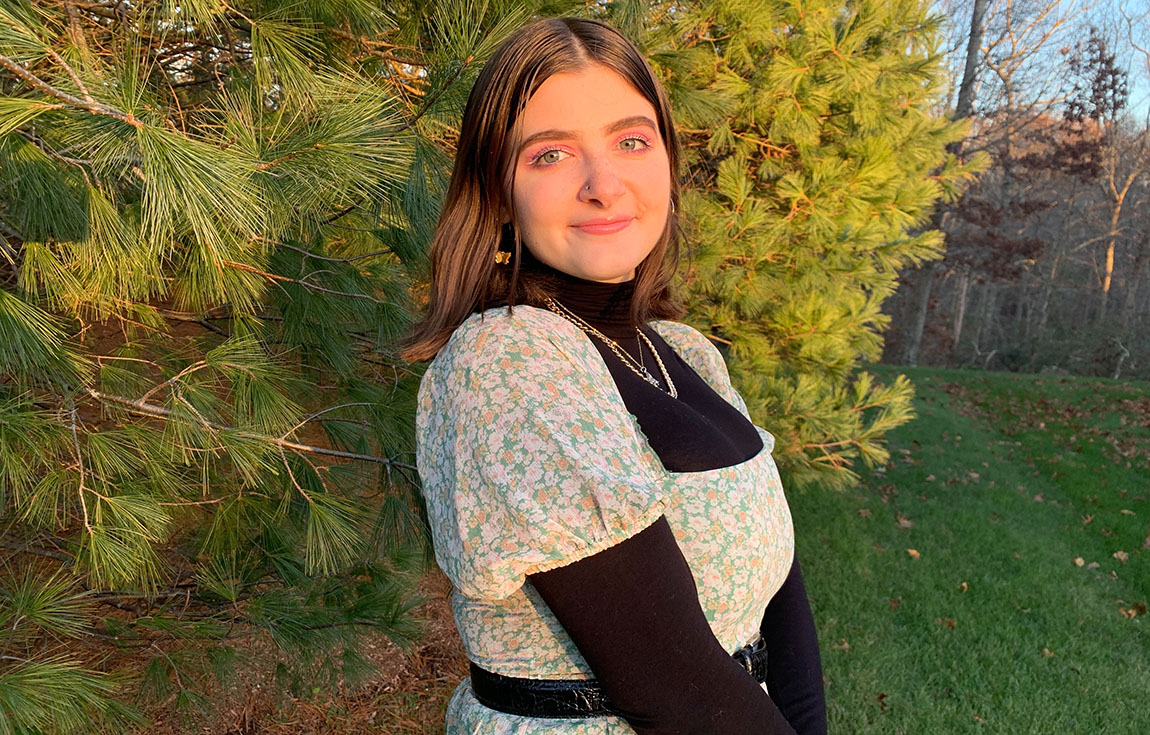 Sophie Capobianco '22
Would you pay $10 to see someone you know crack an egg over their head on Instagram? Two friends of Sophie Capobianco '22 did. The $20 the philanthropy chair of Phi Sigma Sigma raised from doing this messy stunt twice was enough to supply two Allentown elementary school students with headphones for virtual learning as well as winter coats. The unusual effort was just one way that, over three weeks, the sorority raised $7,850 and bought 320 coats, 204 pairs of gloves and 350 sets of headphones for Brigadier General Anna Mae Hays Elementary School in downtown Allentown.
Capobianco, a music and theatre double major, knew their sorority needed to approach philanthropy differently this fall. Most of Phi Sig's past fundraising efforts involved tabling in Seegers Union to sell tickets to events that would benefit the national Phi Sigma Sigma Foundation, which focuses on school and college readiness. Because most members were not on campus this fall, all efforts would need to happen online.
Capobianco saw this time of change as an opportunity to shift the target of the sorority's philanthropy: "It's so much harder to feel the direct effects when you're sending your money off to a national organization," they say. "This was really special to people because it was a direct, material way to benefit a community we care a lot about."
Capobianco approached the Office of Community Engagement about conducting a supply drive on behalf of a local school. Associate Director of Community Engagement Eveily Freeman connected them to an existing drive to support students at Hays Elementary. The school was asking for winter gear as well as headphones. (Allentown School District opted to go fully remote this fall due to the pandemic.)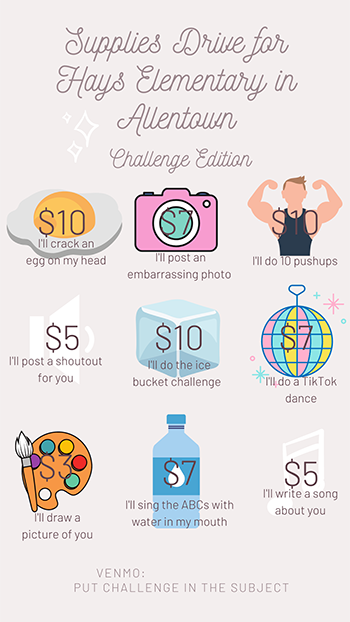 The fundraising effort took place primarily via social media. Capobianco wrote a script Phi Sig members could share on Facebook to target relatives and family friends and asked another member of Phi Sig to translate it into Spanish to broaden the message's reach. For Instagram, Capobianco created a shareable "bingo board" (pictured) with different challenges (like the aforementioned egg stunt) people could pay to see members of the sorority complete. Later in the fundraising effort, Phi Sig members started offering goods and services (digital portraits, friendship bracelets, virtual art lessons) in exchange for donations.
"It was a chance for friends and acquaintances to get something in return for their donation. A lot of members donated to each other, paying each other for their work," Capobianco says. "It generated a ton of support within the chapter."
Once the fundraiser ended, Capobianco needed to buy the coats, gloves and headphones and ship them to the contact at Hays. This was a lesson in bargain-hunting and buying in bulk, they say, to ensure the money raised went as far as possible. Next year, Capobianco will assume the role of vice president of Phi Sig, but they're already looking forward to working with the incoming philanthropy chair on future projects that will directly benefit local schools and students.
"It was super validating to do something I'm passionate about and have it work out," Capobianco says. "It was inspiring to know that I was in charge of this and the only people working with me were a board of women who are my peers. I'm always amazed when my chapter gets something really big done."