A Welcoming Place for All Religious Traditions
A new integrative learning partnership between the Department of Religion Studies and the Office of Housing & Residence Life helps resident advisors develop religious literacy.
By: Meghan Kita Tuesday, February 25, 2020 09:04 AM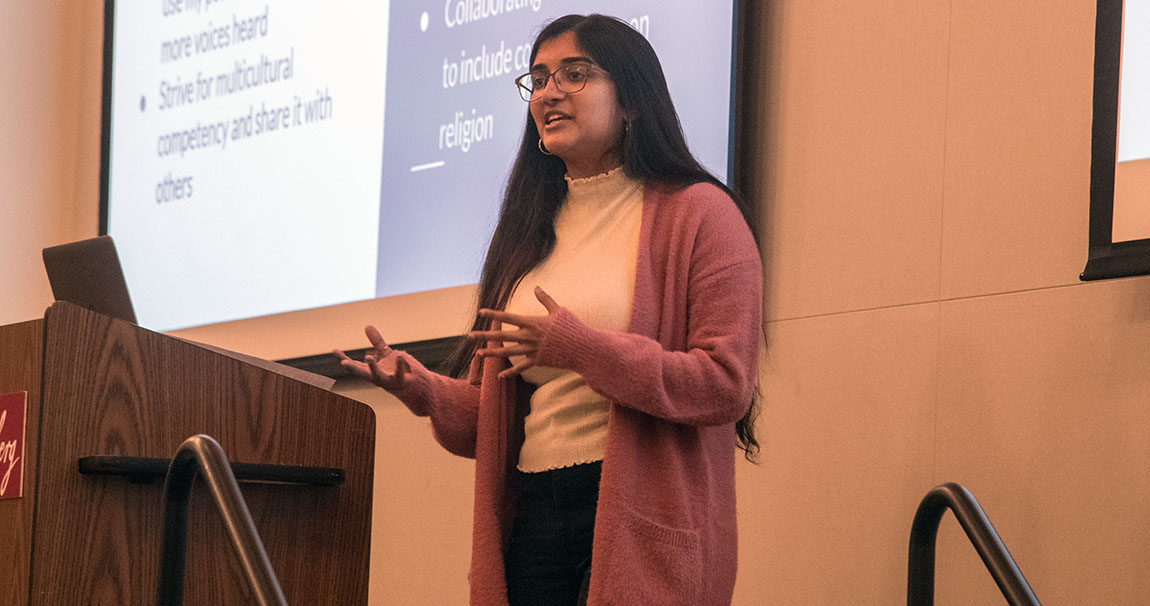 Michelle Rajan '21 gives a presentation to fellow RAs before the start of the spring semester. Photos by Tom Amico
Associate Director of Residential Education Katy Mangold attended a Catholic high school. For one assignment, one of her teachers there, a priest, gave each of his students a different religion to research. Part of the project involved interviewing actual practitioners about their faith: "That was so powerful," Mangold says. "Here's a devout man who dedicated his life to his religion, who didn't want us to graduate thinking Catholicism was all we should know or understand."
She's carried that memory with her all these years, and it's part of what inspired her to collaborate with Sharon Albert, senior lecturer of religion studies and co-director of integrative learning, to develop the Religion in Residence integrative learning course. In its first iteration last fall, six resident advisors (RAs) took one of three religious traditions courses in the Department of Religion Studies in addition to attending biweekly sessions with Mangold.
"Because we have such a diverse religious campus and we want to expand on that diversity, we really want students who come here to be able to feel like they have a space on this campus," Mangold says. "Our RAs are often that first window into students feeling like they belong here."
Albert teaches Islamic Traditions; students could opt to take her class, Jewish Traditions (with Assistant Professor of Religion Studies Dustin Nash) or Religions of China (with Associate Professor of Religion Studies Kammie Takahashi) as the weekly religion studies component.
Albert says she and her colleagues' goals align with those of the Office of Housing & Residence Life: "We're not teaching people to be practitioners. We're teaching people to be observers, to be detached scientists, in a way, even if they are practitioners," she says. "People expect we're about religious advocacy and we're not. It's really about religious literacy and, in this case, how that could strengthen what residential systems are able to do."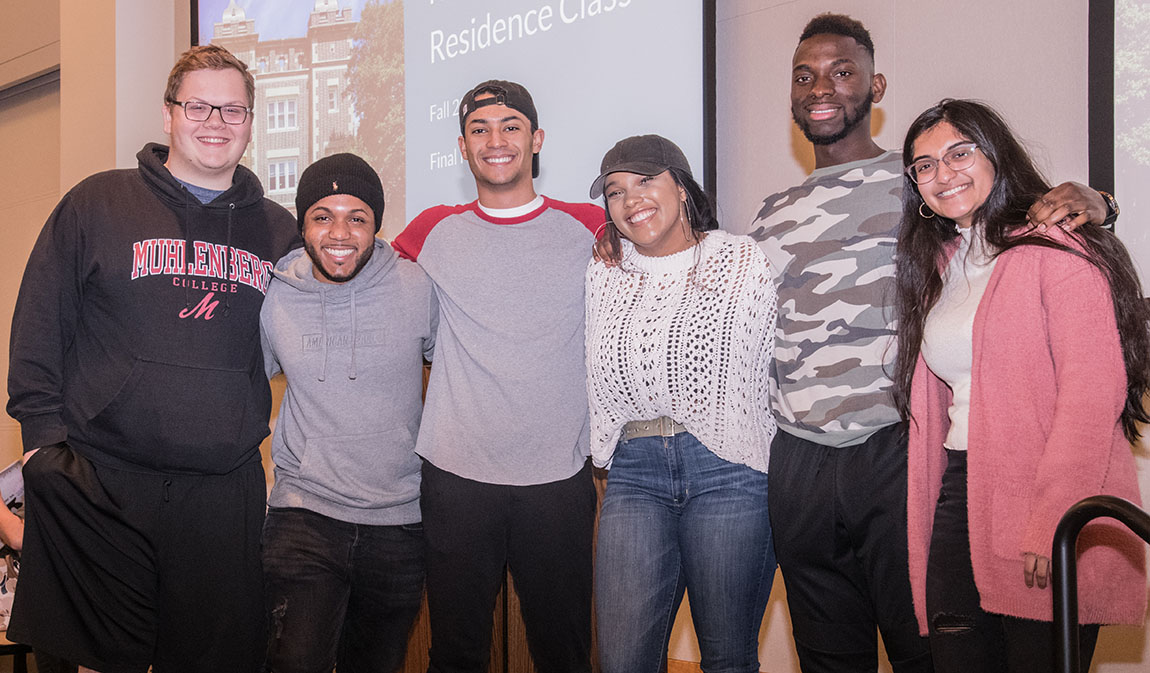 The RAs who took Religion in Residence, from left: Jeff Varrone '22, Henry Giwa '21, Matt Polanco '20, Nicole Morris' 21, DK Karbah '20, Michelle Rajan '21

When the six RAs got together with Mangold, they were asked to apply what they'd learned from their religion studies courses. For example, they examined Muhlenberg's fire safety policy (open flame is prohibited in residence halls) and its implications for Jewish students interested in lighting menorahs during Hanukkah. The students researched how other institutions handle this and discussed their findings with the group.
There may not be a perfect compromise, Albert says, but that's not necessarily the point: "By having religious literacy, you can ask, 'Why do people want to do this? Are there other ways people have done this?' Not to make any determinations or judgments, but to really understand why Jewish students would be concerned about this."
Mangold adds that an important part of the Religion in Residence experience was the opportunity for RAs to explore their own religious identities to aid them in their interactions with all students, whose religious identities may be similar to or different from their own.
The RAs' final project was a presentation to their colleagues before the start of the spring semester about what they'd like to do in the residence halls to make students of all faiths feel at home. Michelle Rajan '21, who opted to take Religion in Residence after seeing two Muslim friends navigate fasting during Ramadan last spring, felt like she found a like-minded group that's passionate about supporting residents' religious practices.
"I've always loved being an RA, but it feels like this course gave a different layer to my position. I'm now equipped with tools and knowledge of how I can be more inclusive," she says. "Now we have this little network of RAs who've taken this class. The other RAs seem just as excited to do more of this. Getting to talk to them and knowing it's not just me, it really moves me."