Dentistry During the COVID-19 Crisis
Dr. Jordan Strott '07 can provide emergency care, but a shortage of protective equipment makes such work incredibly risky.
By: A.C. Shilton Tuesday, April 21, 2020 02:10 PM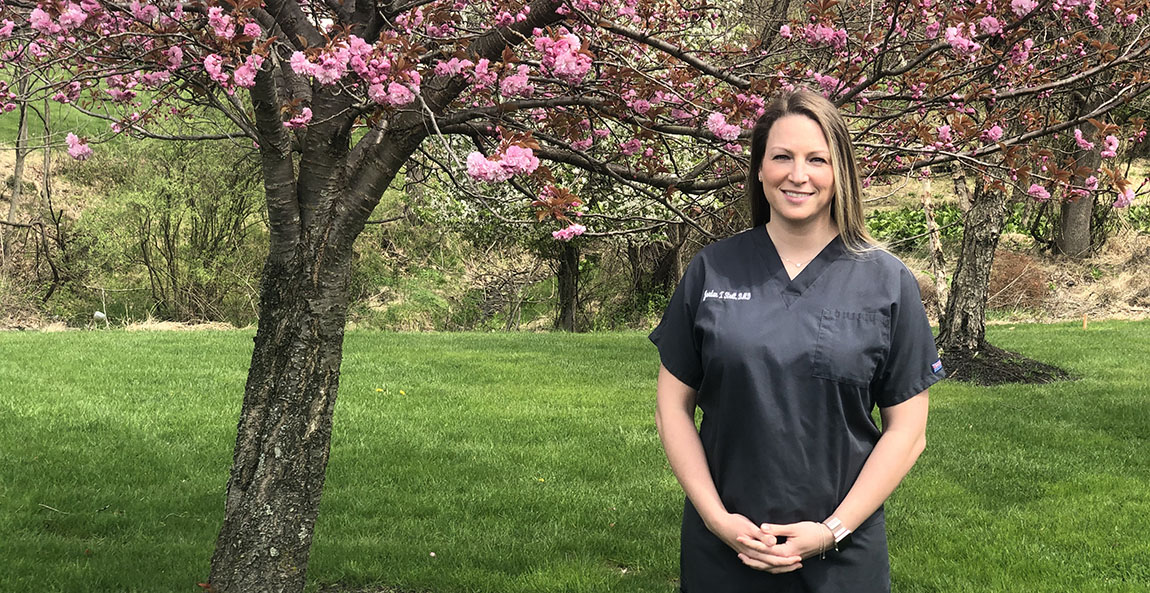 Dr. Jordan Strott '07, a general dentist who practices in Philadelphia
For Dr. Jordan Strott '07, a general dentist who practices in Philadelphia, the first hint that things were about to change was when she began receiving incomplete supply orders. "It was very clear the federal government was starting to prepare for something. When the nurses would place an order with a medical supplier, the practice might receive a partial order or no order at all," she says. By mid-March, it was hard for her dental practice to find certain supplies like surgical masks.
At Muhlenberg, Strott was a biology and neuroscience major with a minor in religion studies. She graduated from the University of Pennsylvania School of Dental Medicine in 2011. Even though she is a general dentist, she specializes in treating a high-risk population: special needs patients who require general anesthesia. Her practice is like a miniature operating room, and for the safety of her team and her patients, she needs personal protective equipment (PPE) such as masks, gloves and gowns. "As you can imagine, a large portion of my patient population has several [chronic illnesses] and are medically compromised," she says.
Dentists may not seem like they are on the front lines of COVID-19, but a New York Times story using data from the Department of Labor ranks dentists as most likely to come into close contact with the novel coronavirus. While the virus may not be airborne, spraying water and air into a patient's mouth creates aerosols. "That's concerning because, in theory, those aerosols can stay in the air longer and could infect me, my colleagues or even the next patient who comes into the room," Strott says.
Citing the risk of aerosols, on March 16, the American Dental Association suggested dentists postpone all non-emergency work. Strott complied, but it was a tough decision. On the one hand, dental practices are small businesses. From a business perspective, Strott knew the staff would have to be furloughed (although the practice has committed to continuing to pay for staff members' healthcare coverage). However, she also knew that closing the practice was the right thing to do as many of her patients live in residential facilities. If one patient got sick, many others might get sick.
Of course, dental emergencies don't stop during a pandemic, and specific emergencies—like severe abscesses, swelling or bleeding—can become critical if not treated promptly. On March 24, Pennsylvania Governor Tom Wolf ordered dentists to cease all care, even emergency treatment, unless they worked in a negative pressure room with a HEPA filter along with the required PPE. Strott was shocked, as were most dentists in the state. "There are hospitals that don't have negative pressure rooms," she says. "They effectively shut down every dental practice in the state of Pennsylvania, requiring anyone with a dental emergency to go to a hospital or out of state for care."
After consulting with dental professionals, organizations and institutions, the guidelines were changed. That's a good thing, says Strott. "If dentists can take care of those patients, then hospitals can remain focused on taking care of patients battling COVID-19, thereby mitigating the need for unnecessary emergency room visits."
Since the closure, Strott has not yet needed to perform emergency treatment—because of the multiple risk factors of her patient pool, she is trying very hard to prevent having to bring someone in. It's not clear how long practices will remain closed or what dentistry will look like when they can reopen. She expects there will be a lot of required screenings involved, and that the standards for PPE and infection control will be higher than ever before.
"While not every dental practice may be able to adhere to these new guidelines, at the moment, there are some that can," she says. "Dentists can then do their part to help relieve some of the unnecessary pressures on their medical counterparts. We too take an oath to care for those in need, and we are here to do our part. After all, we are all in this together."