How the New Pandemic Affects All Doctors and Patients
While vascular surgeon Dr. Meryl Simon Logan '09 hasn't treated anyone with COVID-19 yet, she has had to make difficult decisions about other patients' care.
By: A.C. Shilton Thursday, April 16, 2020 08:13 AM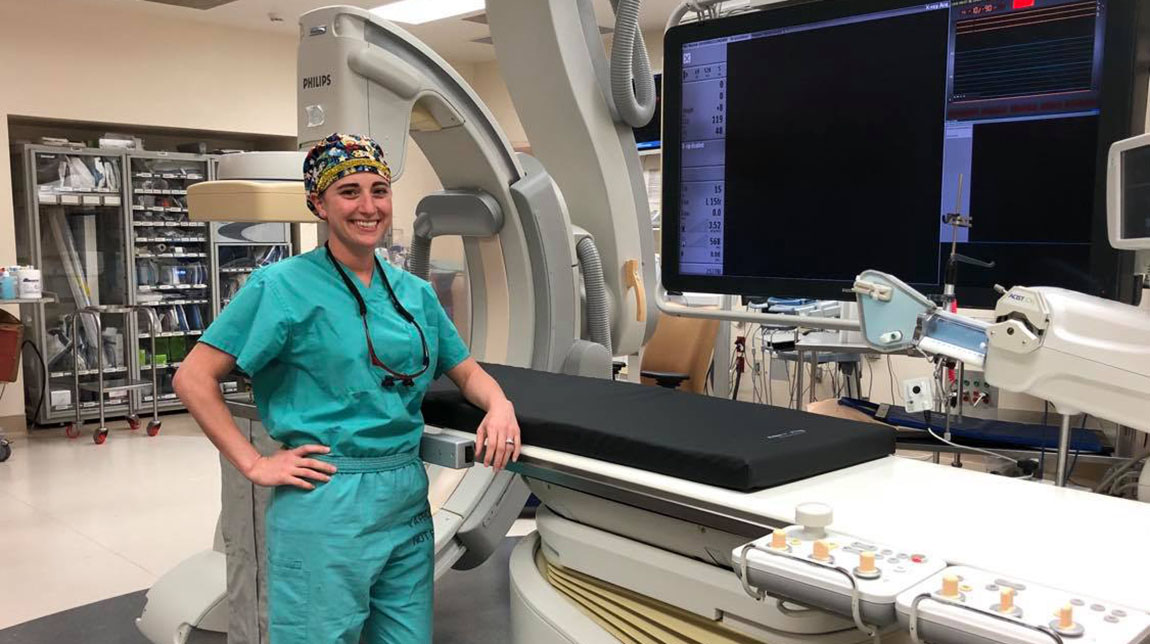 Vascular surgeon Dr. Meryl Simon Logan '09 in an operating room
Intensive care unit physicians are not the only doctors making tough choices about who gets care during the COVID-19 pandemic. Since mid-March, Dr. Meryl Simon Logan '09, a vascular surgeon at the Veteran's Affairs Hospital in Temple, Texas, and a major in the U.S. Air Force, has weighed the risks of bringing patients in for surgery against what might happen if their conditions go unchecked.
In an effort to preserve gloves, masks and gowns, "we have turned down anything elective," says Simon Logan, who was a biology major at Muhlenberg. However, the line between what is and isn't elective is not always clear, especially when it comes to things like treating aneurysms that haven't ruptured and repairing arteries. "Who do we treat and who do we wait on—that's something that weighs really heavily on every surgeon right now," she says.
Making Simon Logan's job even more difficult is the VA's patient population. "The typical vascular patient is 60 to 80 years old, and they tend to have comorbidities," meaning other chronic conditions like heart disease or diabetes, she says. Furthermore, because they're veterans, they're mainly men. Unfortunately, older men with comorbidities are most at risk of becoming critically ill from the novel coronavirus. Even asking them to come into the clinic presents a risk, says Simon Logan, but "disease doesn't care that there's a pandemic going on."
So far, the county where Simon Logan works has relatively few (107) COVID-19 cases, and she says her hospital doesn't yet have any confirmed coronavirus patients. But that may change. When it does, Simon Logan will be standing by. "We'll be ready 24/7 with surgical services," she says. Simon Logan anticipates helping to place lines in veins for dosing medicines and placing tubes into chests to help drain fluids.
While Simon Logan finds herself thinking about the next few months with a bit of trepidation, she can't help but look at the past and realize how well her time at Muhlenberg prepared her for this future. As an undergrad, Simon Logan's favorite classes were medical history courses. That's where she learned about other pandemics and about the U.S. military's role in advancing medical knowledge. "That was part of what helped me decide to join the military," she says.
"I am definitely concerned. It's hard because I have a family at home," she says. Every night she worries about what she might bring back with her. But she has an oath to uphold and patients to care for—and she plans to do both.