A Humanistic Approach to Remote Teaching and Learning
Inside Higher Ed and Philadelphia Inquirer highlighted Muhlenberg's pivot to all-digital learning during this challenging time.
By: Kristine Yahna Todaro Monday, April 6, 2020 05:21 PM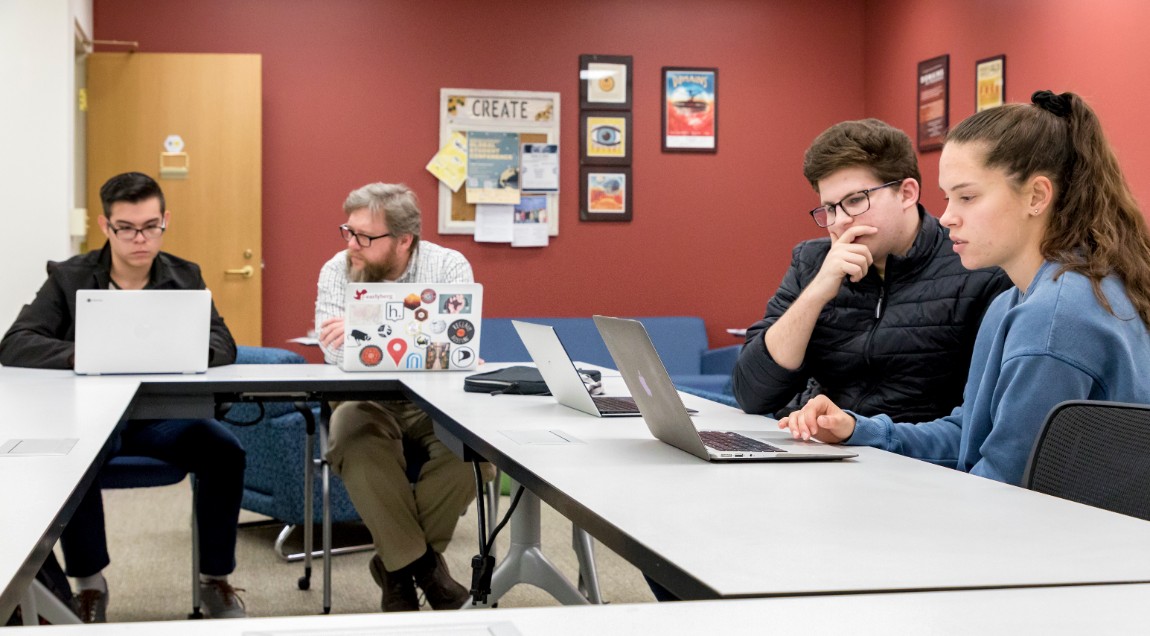 Student digital learning assistants work with Senior Instructional Designer Tim Clarke (second from left), on campus last fall.
"Online learning is a human—not a technological—endeavor. We lose sight of that central reality at our own peril," said Lora Taub, professor of media & communication and dean for digital learning, in a recent Inside Higher Ed article. She was one of ten experts asked to weigh in on how higher education institutions can keep community and engagement in the forefront of their teaching, despite the sudden dependence on remote learning this semester due to COVID-19.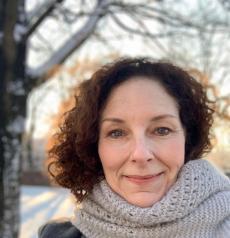 Digital learning guidelines from Taub (pictured) are also part of a recent Philadelphia Inquirer article that looks at the challenges of remote learning, including how to duplicate science labs and art studio courses online.
"Muhlenberg had the advantage of moving some classes online six years ago and professors who know how to do it. Every department has a local expert to provide peer support," Taub said in the article. "That faculty leadership in a transition has made all the difference."
Taub describes how a sculpting professor asked students to use materials at home to "use their creativity and capacity as artists to interpret the world as it is in the moment and then to offer their creations to help others make meaning in uncertain times." She also suggests that faculty limit their use of Zoom for classes, instead using it "for shorter periods to build a sense of presence, and then rely on other technology, including email, Google Docs and discussion boards."
"Online learning is a human—not a technological—endeavor. We lose sight of that central reality at our own peril," said Lora Taub, dean for digital learning.
Taub outlined the College's efforts more expansively in Inside Higher Ed's article, The Shift to Remote Learning: The Human Element. Here are excerpts of her comments:
We began cultivating the environment and practices for learning online in the liberal arts six years ago. Forty faculty have completed our faculty development program for online course design and pedagogy. In nearly every department on campus, there is a faculty member who has experience teaching online, and our culture of peer learning and mentorship runs deep. This collective wisdom, and a culture that values and practices peer mentoring, is more important than the particular technologies we are invoking for remote learning.
We also have a culture of peer support among students and an award-winning digital learning assistantship program for students. Eight digital learning assistants...are now holding remote virtual drop-in hours daily, from 2 to 6 p.m. This culture of peer support for digital learning links up with the expertise of our digital learning team—designers, technologists and librarians—who have ensured training and support through the initial transition and continue to offer sustained guidance and support as we all move forward.
Equitable and inclusive access for learners is an ongoing conversation and commitment at Muhlenberg, and faculty recognize that this conversation extends critically into the spaces and practices of our remote experience now. The dean of students, together with senior leadership, have ensured the resources and a process by which students can request funds, items, equipment and other support they might need to participate fully in their remote learning. The digital learning team has encouraged faculty to prioritize asynchronous activities that aim to lower barriers to access and inclusive participation—that afford student flexibility in their schedules, in modes of participation, in ways of connecting. This has helped a great deal.