ICU Doctor Manages Care for COVID-19 Patients in Delaware
Dr. Mike Benninghoff '95 credits preparation and collaboration for his team's treatment successes.
By: Heather Mayer Irvine Friday, May 1, 2020 08:34 AM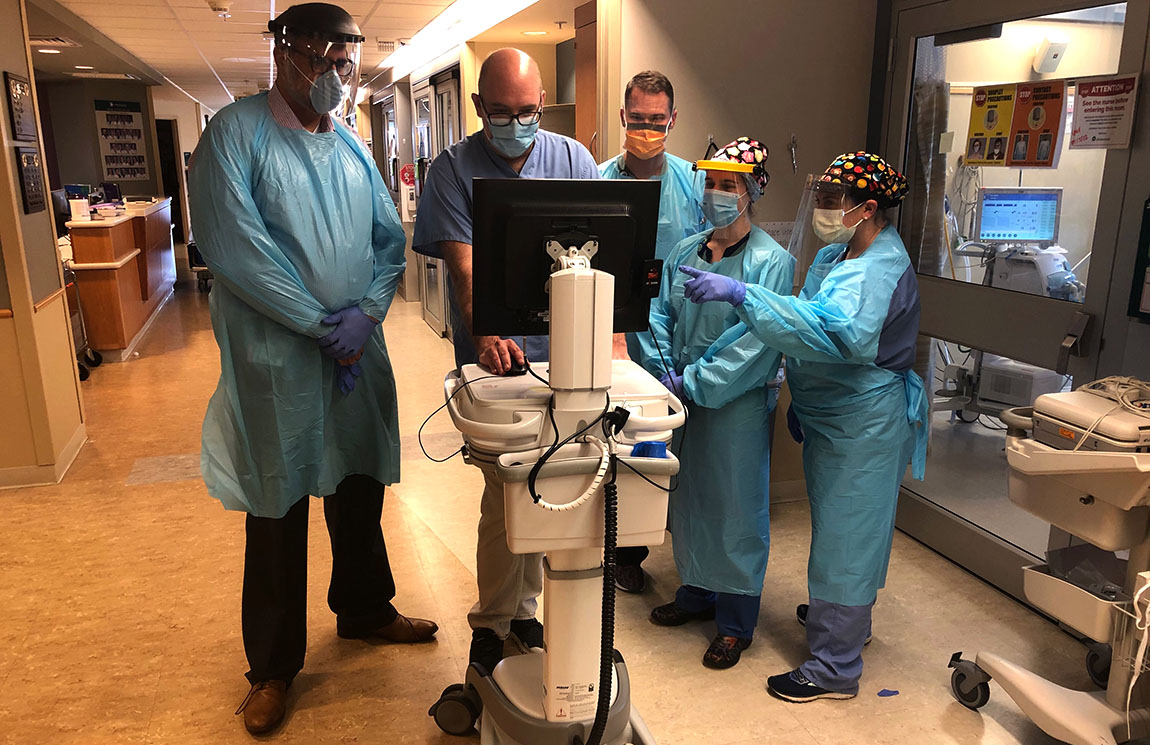 Dr. Mike Benninghoff '95 (at left) with his team in the ICU
Dr. Mike Benninghoff '95 has been working around the clock with this team at Christiana Hospital in Newark, Delaware, to oversee the treatment of its COVID-19 patients.
For the past six weeks, Benninghoff, section chief for critical care, has treated numerous patients in the intensive care unit. Benninghoff, who was a biology and natural science double major at Muhlenberg, relies heavily on evidence-based approaches and the experiences from other medical institutions—largely from New York—to help him decide the best course of action to take in his own hospital.
"By and large, we've gotten it right," he says.
Despite these unprecedented times, Benninghoff says the biggest difference in how he normally practices medicine is a lack of contact with patients' families—hospitals generally are not allowing loved ones to visit COVID-19 patients. That, and having meetings at all times of the day and night, he says.
"From a leadership standpoint, our care guidelines and workflows are similar," he says. "We've had good outcomes, which is good for morale."
The challenge, he says, is not knowing what exactly needs to be done when it comes to treatment and safety protocols, because the evidence and guidance change so frequently.
"Our goal is to get patients home and healthy, but we're not dealing with robust evidence to recommend one treatment over another, for example," Benninghoff says.
But because guidelines for preventing the transmission of and treating COVID-19 are so in flux, it presents a unique opportunity to call upon the global healthcare network.
"With listservs and social media blogs, there is so much information. We spend hours every day communicating with providers across the world," he says. "It's a neat time to practice [medicine]. That's the most unique thing about this pandemic."
Benninghoff acknowledges that life may not return to normal, at least for the foreseeable future, but has faith that if people follow evidence-based guidelines, the virus can be managed.
"I suspect that life will be different for some period of time to come," he says. "It's important that we use evidence-based science for decision-making regarding social distancing. Let the epidemiologists, governors, scientists and frontline healthcare workers do their work, and don't rush to open things back up."