In Memoriam: Irvin Schmoyer '63
He taught biology at the College from 1976 to 2005.
By: Meghan Kita Friday, February 14, 2020 02:20 PM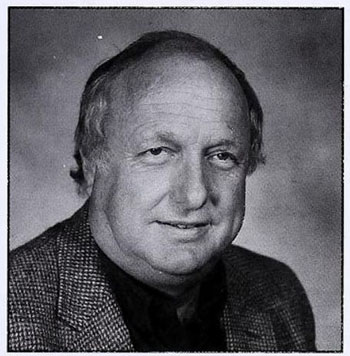 Irvin Schmoyer '63 of Emmaus, Pennsylvania, died February 5, 2020. He spent nearly three decades teaching biology at the College before his retirement in 2005.
As a student at Muhlenberg, Schmoyer was a natural science major and a member of the Phi Kappa Tau fraternity and Omicron Delta Kappa honor society. After graduating, he earned his master's and doctorate degrees from Purdue University. He taught at Purdue, the University of Pittsburgh and the State University of New York at Fredonia and worked at Air Products before his mentor, the late James Vaughan '52 P'80 P'86 P'89, convinced him to return to the College to teach in 1976.
During his time as a Muhlenberg professor, Schmoyer taught genetics and collaborated with students on research. In the classroom and the lab, he introduced students to tissue culture, a method many peer institutions were not offering at that time. This advanced, hands-on experience enabled many of Schmoyer's students to secure prestigious internships and research positions and to be well-positioned to move on to medical, veterinary or graduate school. In 1989, Schmoyer and Vaughan co-authored a book called Laboratory Exercises in Cell Biology, a testament to their continued collaboration as colleagues.
Schmoyer held various faculty leadership positions, including chair of the Department of Biology from 1996 to 1999. Sarkis Acopian Professor of Ornithology and Conservation Biology Daniel Klem Jr., a colleague of Schmoyer's for more than 25 years, recalls how skillfully Schmoyer led his colleagues through challenging moments. His finesse and ability to deal with different personalities enabled him to navigate difficult circumstances with grace.
Among students, Schmoyer was well-liked for his sense of humor and his personal attention. His office was always filled with students, Klem recalls. And his connection with those students didn't stop at graduation: Alumni frequently invited Schmoyer and his wife, Jean Yockey Schmoyer '85, to be their guests at reunion dinners during Alumni Weekend. The Schmoyers continued returning to campus for these events until Irvin became too ill to attend.
Despite facing a number of serious personal challenges over the years, he always put his best foot forward and remained a positive force for his colleagues and his students, Klem says. Schmoyer was preceded in death by two sons, Richard I. and Todd M. Schmoyer. He is survived by his wife; his daughter, Janine Clarke, and her husband, Richard; his brother, Ronald Schmoyer; and his grandson, Michael Clarke.