International Relations
After returning from France, Kaelyn Kappes '21 took an internship with the organization that facilitated her study-abroad experience.
By: Meghan Kita Thursday, July 9, 2020 02:23 PM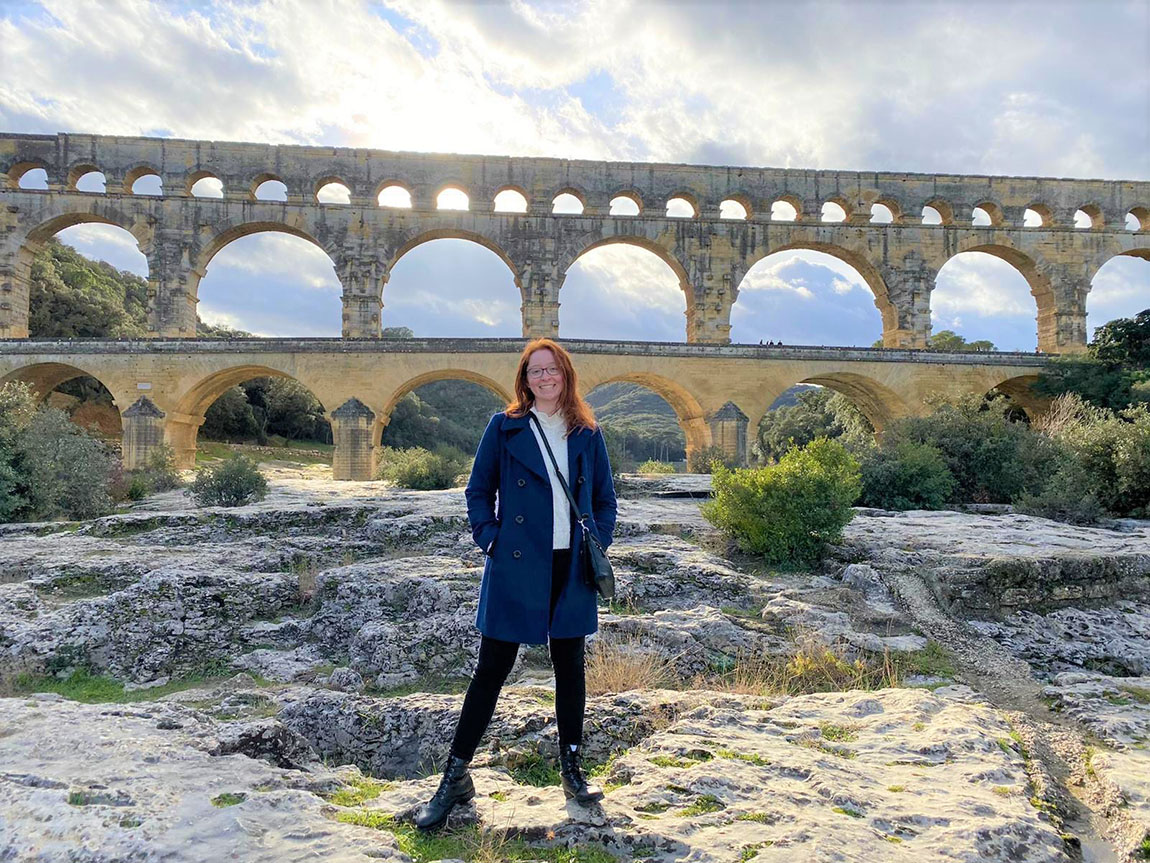 Kaelyn Kappes '21 at the Pont du Gard, France
When Kaelyn Kappes '21 was exploring options for the summer, she was thinking about her extracurricular interests as much as her academic ones. The psychology and theatre double major with a French minor is also a tour guide, campus delegate and orientation leader.
"It's a lot of speaking with other people, representing an organization—interpersonal stuff," she says. "Since I really enjoy that part of my Muhlenberg experience, I wanted to take a position closer to that field, just to see if I liked it more or differently."
She began searching for these types of roles while studying in Aix-en-Provence, France, with the Institute for American Universities (IAU). She stayed with a host family, took all but one class in French and had an internship with a local art museum. The experience was so powerful, she applied for a university relations internship with IAU near her home in California.
"I really felt like I was pushing myself by going to a place where I was going to have to speak French pretty much the whole time," she says. "I learned so much about the world and myself, even though I was only there for two months."
After she returned home in mid-March, she received an offer for the IAU internship, which, due to the pandemic, would now be remote and unpaid. However, she also received a stipend from Muhlenberg's Alumni Board, which annually offers funds to students who are interested in low-paid or unpaid summer internships. That helped make it possible for her to accept the role, which involves communicating with colleges and universities that partner with IAU, crafting social media messaging and doing a variety of other marketing and outreach tasks
It's been interesting to work with IAU amid a pandemic, Kappes says—all their summer programming is virtual, and while in-person study-abroad is being offered this fall, it's for a shorter length of time (so students don't need to secure visas, which allows their plans to be more flexible). Despite the uncertainty, her team is trying to keep enthusiasm for IAU's programs high. For example, Kappes was recently tasked with emailing IAU alumni to encourage them to write reviews of the program.
"It just was cool to be bridging the gap between students like me, who have done the program and know what an amazing experience it is, and incoming students who may be feeling pretty unsure of whether they want to do the program," she says.