Kathleen E. Harring Named 13th President of Muhlenberg College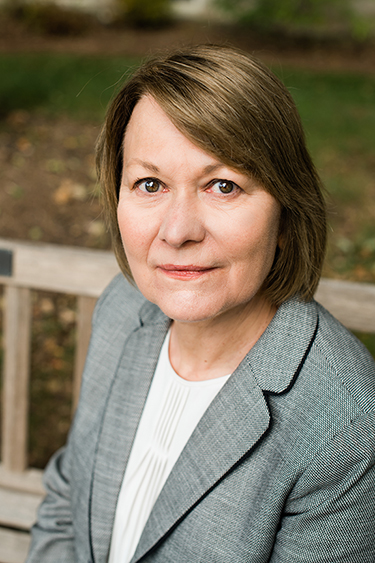 Harring is the first woman to hold the position.
Friday, June 26, 2020 10:14 AM
The Muhlenberg College Board of Trustees has unanimously elected Kathleen E. Harring, Ph.D. as the next president of the College, as announced by Board Chair Richard C. Crist, Jr. '77 P'05 P'09 to the college community today.
Board Chair Crist stated: "Kathy Harring is truly the right woman at the right time to lead our great institution. She has the wisdom, experience and energy to guide the College through these challenging times and into a bright future. When Dr. Harring was named interim president a year ago, none of us could have imagined what the next 12 months would hold. Kathy's performance in real time during unprecedented conditions made it clear to the Board that Kathy was the best possible candidate to lead Muhlenberg College."
Harring had been serving as interim president at the College since June 2019. In the first year of her leadership, she is leading the College through a global pandemic that has required prudent leadership and difficult decisions about how to adapt college life to rapidly evolving conditions.
Harring expressed her commitment to Muhlenberg, and added, "While these past months have not been normal by any means, the strength of our College emerged in so many ways. I am excited to take on the challenges and opportunities of this position, to lead with mind and heart, and to work with our community to move our institution forward."
As co-chair of Muhlenberg's 2017 strategic planning process, Harring has continued to advance the College's strategic plan. Efforts include the announcement of the new Muhlenberg College School of Graduate Studies programs in February as well as the continued expansion of the Muhlenberg College School of Continuing Studies.
A member of the Muhlenberg College faculty since 1984, Harring also served as the College's provost. During her tenure as provost, Harring was instrumental in guiding a number of important initiatives, including implementing procedures to support the College's diversity initiatives and overseeing development of the integrative learning curriculum.
Harring has also held the roles of vice president and dean of institutional effectiveness & planning and dean of institutional assessment & academic planning. Her service to the College has also included terms as psychology department chair, as a founding member of the College's Center for Teaching & Learning and as a member of numerous faculty and staff committees. She has led accreditation activities, overseen general education reform and acted as the architect of internal assessment systems at Muhlenberg.
Harring completed a bachelor's in psychology from Franklin & Marshall College and a master's and Ph.D. in social psychology from the University of North Carolina at Chapel Hill.
Distinguished both on campus and in broader academic circles, Harring has been named a recipient of the Chairman's Award, the Lindback Award for Distinguished Teaching and the Paul C. Empie Memorial Award for Teaching and Service. She has developed and led workshops on and off campus, including November 2018's Expanding and Welcoming a Diverse Professoriate Conference and frequently presents nationally on topics as diverse as teaching and learning, outcomes assessment, leadership development and shared governance.
About Muhlenberg College
Founded in 1848, Muhlenberg is a highly selective, private, four-year residential, liberal arts college offering baccalaureate and graduate programs. With an enrollment of approximately 2,200 students, Muhlenberg College is dedicated to shaping creative, compassionate, collaborative leaders through rigorous academic programs in the arts, humanities, natural sciences and social sciences; selected preprofessional programs, including accounting, business, education and public health; and progressive workforce-focused post-baccalaureate certificates and master's degrees. Located in Allentown, Pennsylvania, approximately 90 miles west of New York City, Muhlenberg is a member of the Centennial Conference, competing in 22 varsity sports. Muhlenberg is affiliated with the Evangelical Lutheran Church in America.