Muhlenberg Alum Cares for COVID-19 Patients in Tennessee
Amid a global pandemic, Courtney Graetzer '14 is proud to be an ICU nurse.
By: Heather Mayer Irvine Friday, April 10, 2020 09:24 AM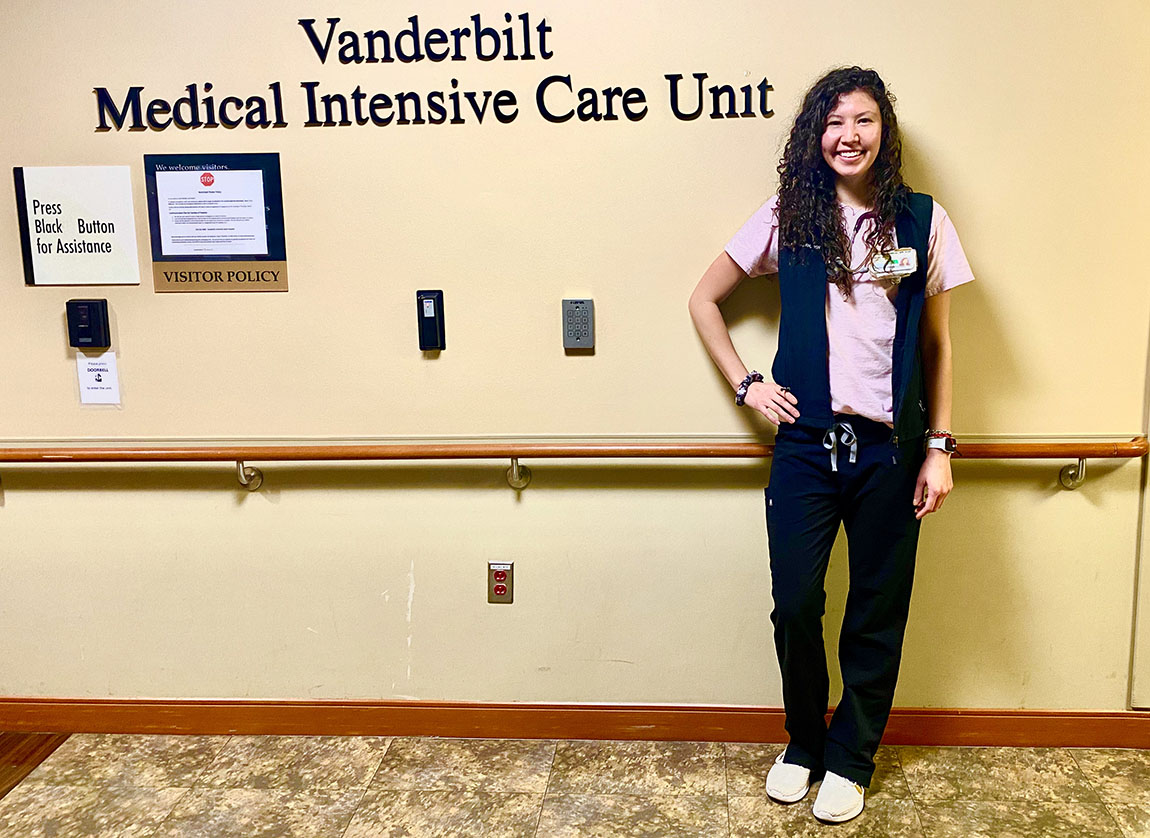 Courtney Graetzer '14, a registered nurse in the medical ICU at Vanderbilt University Medical Center
Courtney Graetzer '14 doesn't turn away from a challenge. In fact, she heads right toward it. The day after the biology major and public health minor graduated from Muhlenberg College, she started an accelerated nursing program at DeSales University. Fifteen months later she was caring for the sickest patients at Lehigh Valley Hospital Cedar Crest.
Today, Graetzer, a registered nurse, is on the frontlines of the COVID-19 pandemic at Vanderbilt University Medical Center in Nashville, Tennessee. She works in the medical ICU, which has become the COVID-19 unit.
"I'm kind of an adrenaline junkie," she says. "When critical situations happen, I thrive. I always knew I wanted to be in the ICU from when I was in nursing school, and my clinical [rotation in the department] confirmed that."
Until just a few weeks ago, the most stressful part of Graetzer's job was flu season, when her unit would be filled with sick patients. This pandemic brings a different type of stress: the unknown.
Right now, there are fewer than 30 COVID-19-positive patients, with nine in critical condition, at Vanderbilt University Medical Center.
"I feel really lucky," Graetzer says. "Our unit has been eerily empty. We are normally so full, even without the pandemic."
But the current projection of Tennessee's peak is April 18, according to the Institute for Health Metrics and Evaluation.
"Is this the calm before the storm?" Graetzer wonders.
Graetzer and her coworkers have their temperatures taken before setting foot into the unit for every shift. They "gown up" in personal protective equipment (PPE) and place equipment like IV pumps and dialysis machines outside patients' doors to limit how many times they have to go inside.
"We're dressing in basically HAZMAT suits before going into a patient's room, and that's an added stress to our daily routine," she says. "You have to take a few minutes to put on PPE before you go in to give a patient a glass of water."
Despite the uncertainties of this pandemic and not knowing whether she has been exposed to the virus, Graetzer loves her job and continues to appreciate the support from her coworkers.
During her free time, Graetzer works out on her empty rooftop, goes for runs and connects with her friends from the College virtually.
"A lot of my Muhlenberg friends are working from home so I can FaceTime with them," she says. "It's been great to catch up with people."
To the public, Graetzer emphasizes the importance of social distancing and staying home.
"Nobody is invincible [to COVID-19], which is really sad. You don't feel symptoms for a week or so, and if you go about your daily life you could be spreading it to people who might have COPD or asthma, and that can really affect their lives," she says. "Don't be selfish. Staying at home isn't just for you. It's for everybody else."