Muhlenberg College Hosts LVAIC Campus Sustainability Conference
Participants will learn about the innovative programs and practices that are changing the face of sustainability across the Lehigh Valley's higher education campuses.
Thursday, January 30, 2020 02:55 PM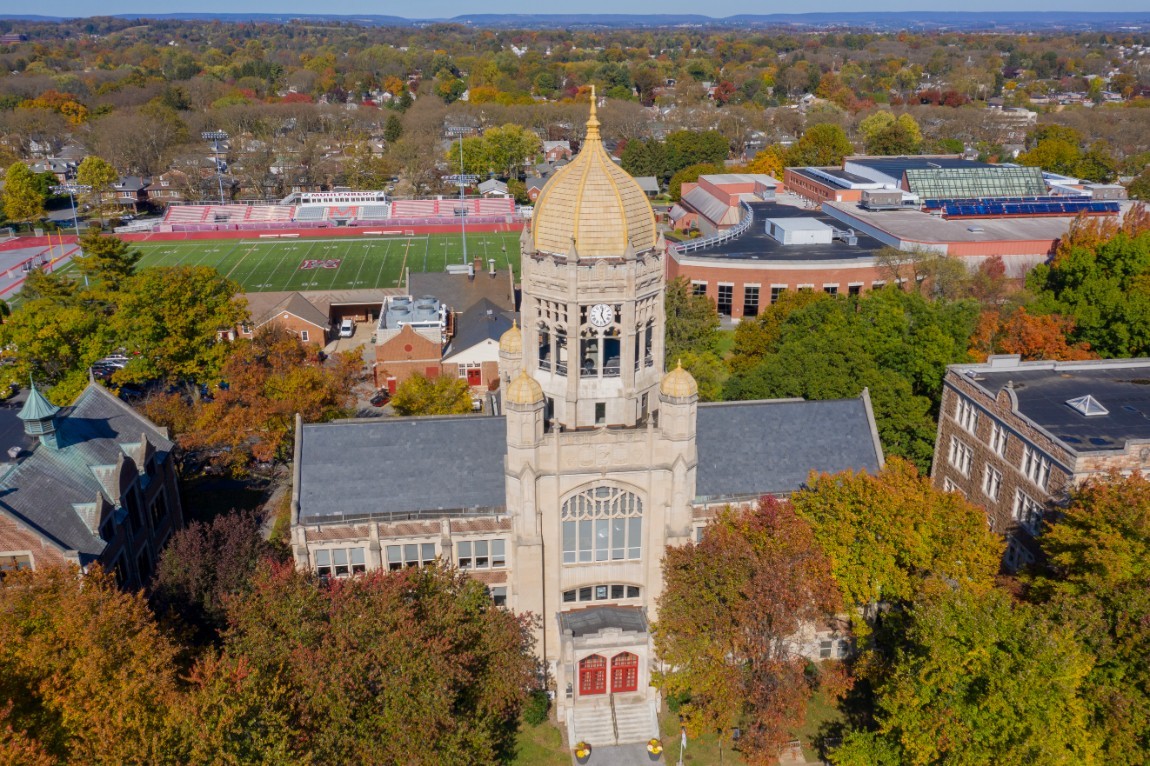 Aerial view of Muhlenberg's campus includes Haas Belltower and Life Sports Center solar array. Photo by Shaun MacWilliams.
Muhlenberg will host this year's Lehigh Valley Association of Independent Colleges (LVAIC) Campus Sustainability Conference 8:30 a.m.–4 p.m, Saturday, February 15, in the College's Seegers Union.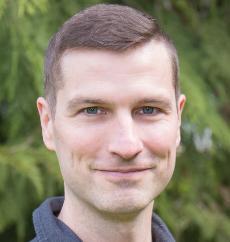 Students, faculty, staff and Lehigh Valley residents are welcome to attend the free conference which will feature keynote speaker Michael Gagné (pictured left), an environmental leader, educator and facilitator dedicated to building positive social change. Other highlights include student and faculty presentations, interactive workshops, a poster session and an exhibitor forum.
"Conference presenters will be sharing best practices, innovative programs and problem-solving solutions," said Kalyna Procyk, who oversees the Office of Campus Sustainability at Muhlenberg. "Our goal is to educate and empower students, faculty and administrators and to inspire concrete action on campuses and in communities throughout the Lehigh Valley."
The event is free and open to the public and includes a continental breakfast and lunch. To minimize food waste, registration is required by Wednesday, February 5: https://lvaic.org/event/sustainability-conference/
Attendees are strongly encouraged to carpool, use public transportation or take advantage of a campus shuttle service provided for the conference instead of driving personal vehicles. Please indicate on the registration form if transportation is needed.
The founding members of the Lehigh Valley Association of Independent Colleges (LVAIC)—Cedar Crest College, DeSales University, Lafayette College, Lehigh University, Moravian College and Muhlenberg College—alternate hosting the Campus Sustainability Conference each year.
Muhlenberg was recognized as a top performer in the 2019 Sustainable Campus Index, receiving a score of 100 percent for best practices in the area of water conservation. Muhlenberg also recently received a STARS Gold Rating for Sustainability Achievements, the highest level of recognition received by any Lehigh Valley higher education institution, for five overall areas: academics, engagement, operations, planning and administration and innovation and leadership.
For more information:
Kalyna A. Procyk, J.D.
Sustainability Coordinator
Adjunct Professor of Political Science and Sustainability Studies
Muhlenberg College
[email protected]
484-664-3290
About Muhlenberg College
Founded in 1848, Muhlenberg is a highly selective, private liberal arts college offering baccalaureate and graduate programs. With an enrollment of nearly 2,000 students, Muhlenberg College is dedicated to shaping creative, compassionate, collaborative leaders through rigorous academic programs in the arts, humanities, natural sciences and social sciences; selected preprofessional programs, including accounting, business, education and public health; and progressive workforce-focused post-baccalaureate certificates and master's degrees. Located in Allentown, Pennsylvania, approximately 90 miles west of New York City, Muhlenberg is a member of the Centennial Conference, competing in 23 varsity sports. Muhlenberg is affiliated with the Evangelical Lutheran Church in America.