Muhlenberg Named a Best Value College for 2020 by The Princeton Review
Exceptional academics, affordability and career services programs are the common denominators of the selected schools.
By: Kristine Yahna Todaro Monday, February 10, 2020 02:40 PM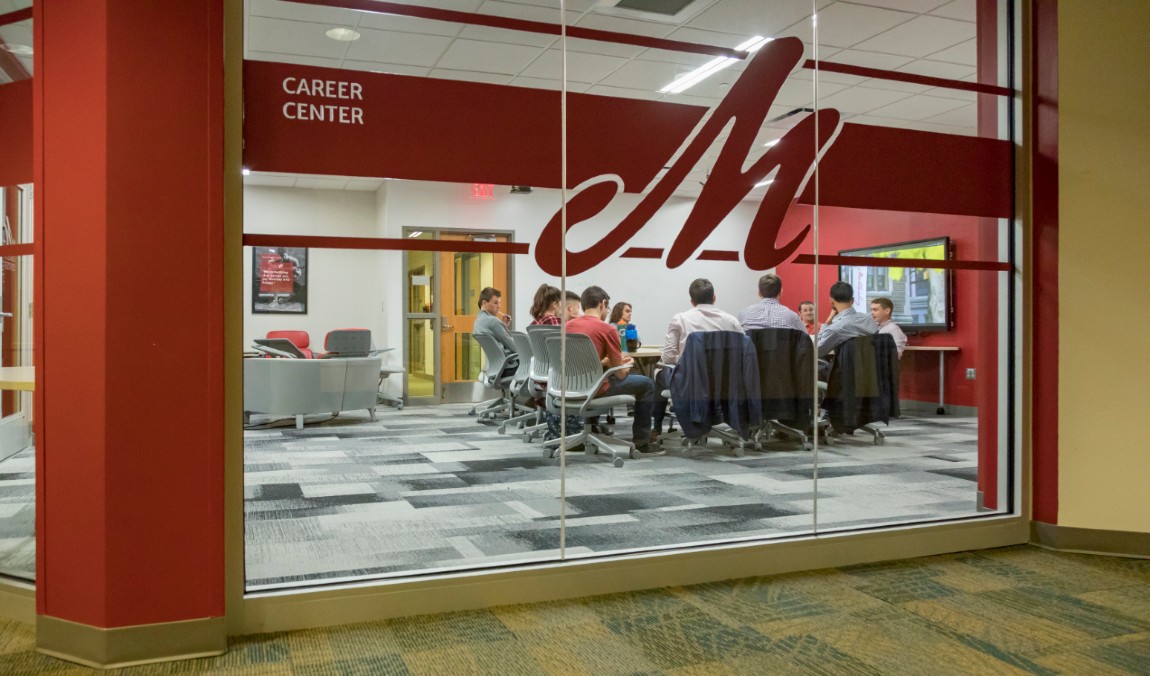 Muhlenberg students meet with visiting alumni for a career networking program.
Muhlenberg is one of the nation's top 200 colleges for students seeking a superb education at an affordable price, according to The Princeton Review.
The Princeton Review chose its 200 Best Value Colleges for 2020 based on data the company collected from its surveys of administrators at 656 colleges in 2018-19. The company also factored in data from its surveys of students attending the schools as well as PayScale.com com surveys of alumni of the schools about their starting and mid-career salaries and job satisfaction figures.
In all, The Princeton Review crunched more than 40 data points to tally return on investment ratings of the colleges that determined its selection of the 200 schools for the 2020 project. Topics covered everything from academics, cost and financial aid to graduation rates, student debt, alumni salaries and job satisfaction.
"The schools we name as our Best Value Colleges for 2020 comprise only seven percent of the nation's four-year colleges," noted Robert Franek, The Princeton Review's editor-in-chief. "They are truly distinctive and diverse in their programs, size, region and type, yet they are similar in three areas: Every school we selected offers outstanding academics, generous financial aid and/or a relative low cost of attendance and stellar career services."
Muhlenberg's reputation for transparency and honest conversation regarding affordability has received national visibility. Consumer Reports applauded the College's invitation for students to submit an appeal if they think a bigger aid package is warranted based on their family's financial situation. Muhlenberg also provides an Early Financial Read so prospective students can make an educated choice about applying Early Decision.
About the College's The Real Deal on Financial Aid page, Ron Lieber, Money columnist for the New York Times, recently wrote on Facebook: "This gem from Muhlenberg College remains one of the best things that anyone has ever written about financial aid and how it works."
Muhlenberg's Career Center team provides guidance and opportunities from the moment students step on campus. They also offer career help to alumni of all ages, including through the Career Services To Go program, which received coverage in the Philadelphia Inquirer.
The Princeton Review does not rank the colleges hierarchically on a single list, e.g. from 1 to 200.
The Princeton Review is also widely known for its college rankings in dozens of other categories, many of which are reported in its annual book, The Best 385 Colleges, published in August.
About Muhlenberg College
Founded in 1848, Muhlenberg is a highly selective, private, four-year residential, liberal arts college offering baccalaureate and graduate programs. With an enrollment of approximately 2,200 students, Muhlenberg College is dedicated to shaping creative, compassionate, collaborative leaders through rigorous academic programs in the arts, humanities, natural sciences and social sciences; selected preprofessional programs, including accounting, business, education and public health; and progressive workforce-focused post-baccalaureate certificates and master's degrees. Located in Allentown, Pennsylvania, approximately 90 miles west of New York City, Muhlenberg is a member of the Centennial Conference, competing in 22 varsity sports. Muhlenberg is affiliated with the Evangelical Lutheran Church in America.