Muhlenberg Admissions to Prospective Students: Prioritize Self-Care, Care for Others During Pandemic
Developed in collaboration with admissions officials and endorsed by leaders at more than 315 institutions across the country, the statement describes what college admissions offices value and expect—and don't expect—from students during this time.
By: Kristine Yahna Todaro Monday, June 29, 2020 02:09 PM
Hundreds of college admissions deans, including Melissa Falk '92, (pictured) dean of admissions & financial aid at Muhlenberg College, released a joint statement today that sends a clear message about what college enrollment staffs value in students during this time. The letter also aims to mitigate stressors on students and their caregivers.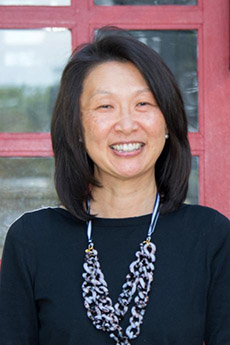 The deans came together with the Making Caring Common project at the Harvard Graduate School of Education to issue the collective statement, Care Counts in Crisis: College Admissions Deans Respond to COVID-19. It provides guidance on self-care, academic work, service to others, family contributions and extracurricular and summer activities.
"Muhlenberg has long considered the whole person every time we read an admissions application," says Falk. "Every applicant has myriad talents and experiences. We felt that at this time, it is important to raise our voice and say students should focus on taking care of themselves and their families and communities. We are here and ready to talk about college plans, but know that there might be more pressing issues."
The initiative has received national attention, including coverage on Good Morning America earlier today.
The statement underscores the following:
Self-Care

. The deans recognize that many families during this time are struggling to get by and that a wide range of students are dealing with stresses of many kinds. The statement encourages students to take care of themselves.

Academic Work. While the deans emphasize that students' academic work matters to them during the pandemic, they also recognize that many students are facing obstacles to academic work. The deans underscore that they will assess academic achievements in the context of these obstacles, and prioritize assessments of academic achievement on work before and after this pandemic. They further state that no student will be disadvantaged because "of their school's decisions about transcripts, the absence of AP or IB tests, their lack of access to standardized tests (although many of the colleges represented in the letter don't require these tests) or their inability to visit campus."

Service and Contributions to Others. The deans express that they value contributions to others and service during this time for those who are in a position to provide these contributions. They emphasize that they are not looking for extraordinary forms of service or leadership during the pandemic. They are looking for contributions that are authentic and meaningful, including contributions that respond to the many needs created by the pandemic.

Family Contributions

. The deans recognize that many students have family responsibilities, including supervising younger siblings, caring for sick relatives or working to provide family income. These duties can impede a student's capacity to engage in school and other activities, and they may have increased during this time. The deans view substantial family contributions as very important and strongly encourage students to report them in their applications, either on their activities lists or in personal statements.

Extracurricular and Summer Activities

. The deans convey that no student will be disadvantaged for not engaging in extracurricular activities during this time, and they state that students will not be disadvantaged for lost possibilities for summer involvement, including lost internship opportunities, summer jobs, camp experiences, classes and other types of meaningful engagement that have been canceled or altered.
For the full statement and additional information, visit makingcaringcommon.org.
About Muhlenberg College
Founded in 1848, Muhlenberg is a highly selective, private, four-year residential, liberal arts college offering baccalaureate and graduate programs. With an enrollment of approximately 2,200 students, Muhlenberg College is dedicated to shaping creative, compassionate, collaborative leaders through rigorous academic programs in the arts, humanities, natural sciences and social sciences; selected preprofessional programs, including accounting, business, education and public health; and progressive workforce-focused post-baccalaureate certificates and master's degrees. Located in Allentown, Pennsylvania, approximately 90 miles west of New York City, Muhlenberg is a member of the Centennial Conference, competing in 22 varsity sports. Muhlenberg is affiliated with the Evangelical Lutheran Church in America.