Muhlenberg Receives $100,000 Opioid Prevention in Higher Education Grant
The funds will be used to train students to train members of the Lehigh Valley community to administer the lifesaving drug Narcan.
By: Meghan Kita Friday, January 17, 2020 08:37 AM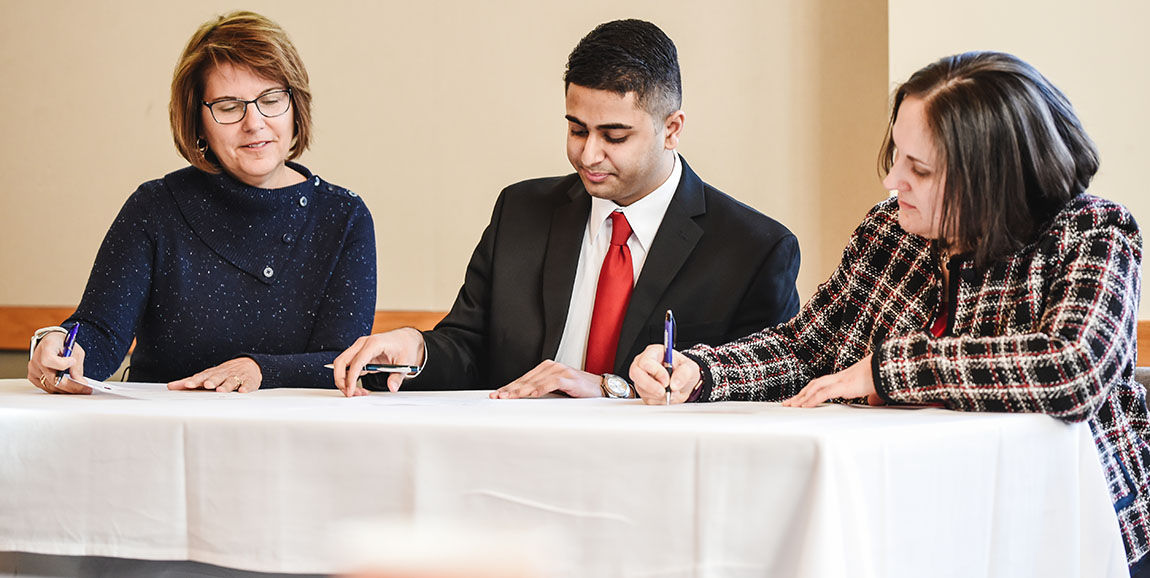 Assistant Professor and Director of Public Health Chrysan Cronin and Kevan Shah '22 participate in a grant signing with Pennsylvania Department of Drug and Alcohol Programs Secretary Jennifer Smith. Photos by Kristi Morris, Littlewing Photography
Last week, Pennsylvania Governor Tom Wolf announced that Muhlenberg would be one of 13 higher education institutions in the state receiving an Opioid Prevention in Higher Education grant from the Department of Drug and Alcohol Programs. The $100,000 grant—the largest amount awarded to any single institution—will support a program in which Muhlenberg students learn to train members of the Lehigh Valley community to administer Narcan, a nasal spray that can save the life of a person who has overdosed on opioids. Assistant Professor and Director of Public Health Chrysan Cronin and Kevan Shah '22 applied for the grant together last fall.
Cronin reached out to Shah last winter break after reading about the work he'd done prior to coming to Muhlenberg, as a contributor to a report about opioid addiction in his home state of New Jersey. "I thought, 'This student needs to be working with me,'" Cronin says.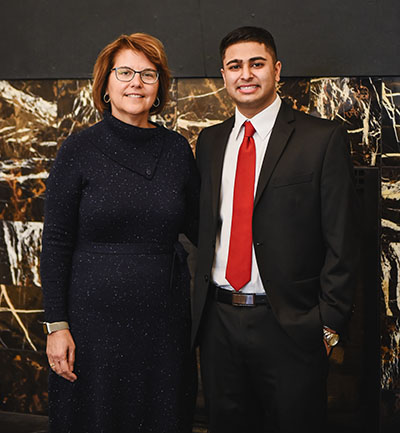 Shah, who has since declared as a public health and neuroscience major, received a grant from the College to conduct opioid research with Cronin as his advisor last summer. The data he found indicated that programs that increase access to Narcan do reduce opioid overdose deaths, but those programs don't always offer training on how to administer it.
"With that in mind, I founded a nonprofit, End Overdose Together, that recruits, trains and mobilizes students to host workshops in the community to ensure that individuals are aware, able and ready to administer Narcan when confronted with an opioid overdose," Shah says.
In the fall, he held a pilot training to teach members of Muhlenberg EMS and the Peer Health Advocates at Muhlenberg (PHAM) to train others to use Narcan. Meanwhile, Lehigh County Administrator Layne Turner—whom Shah had met with before to discuss the area's opioid crisis—contacted him to let him know Pennsylvania was making opioid prevention grant money available. A quick turnaround was required, since the application deadline was in less than two weeks. Shah wrote the grant proposal and Cronin checked it.
"The experience not only taught me how to write a grant proposal but, in a larger sense, how to translate my deep-seated desire to serve others into a compelling narrative to secure the support needed to do so at scale," Shah says.
This spring, Cronin, Shah and three other public health students (Rashida Haye '20, Meray Faragalla '20 and Brynn Cardonick '21) will act as the program's staff. The first steps, ongoing now, are to recruit about 50 Muhlenberg students to be trained to train others (they will be paid hourly, as well as for their travel) and to connect with area facilities (such as libraries, small police departments and local firehouses) with personnel who might benefit from Narcan training. By the beginning of March, trained students will begin conducting workshops at those locations and providing them with Narcan—the grant covers 1,000 doses.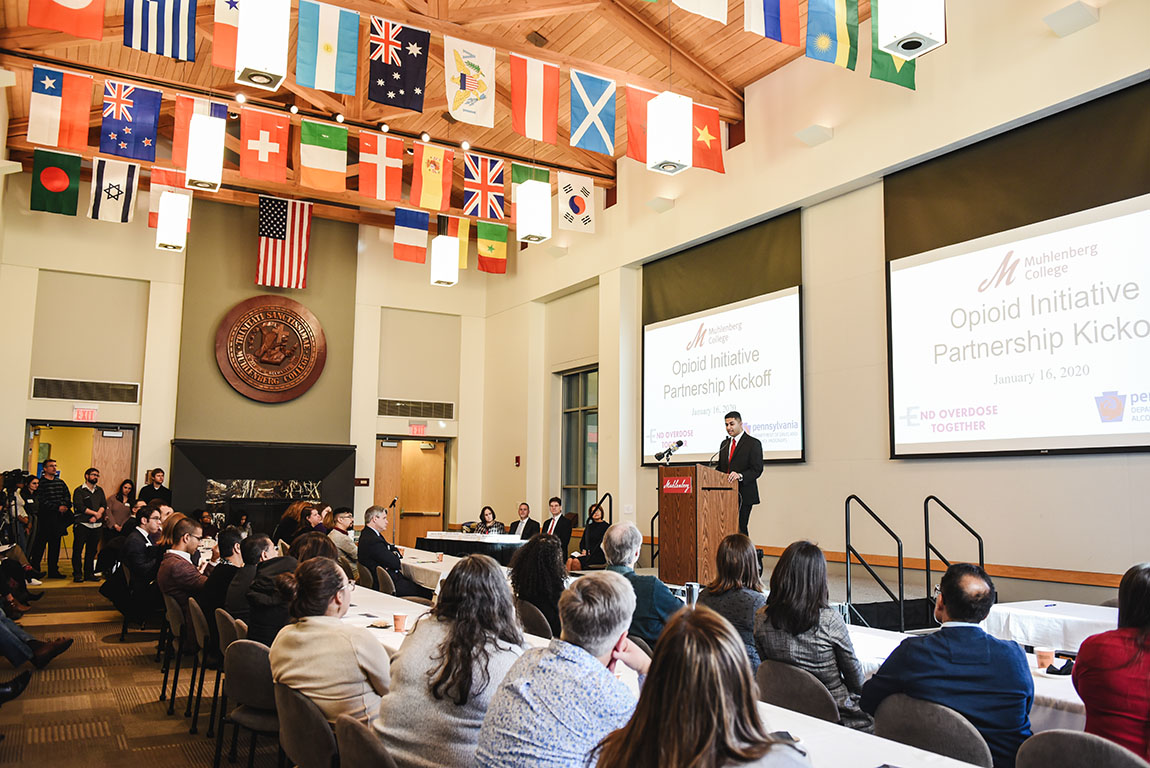 Shah and Cronin announced the grant to the community and the media at an event on Thursday, January 16.