Muhlenberg Receives $7.5M Gift in Support of Capital Projects
The pledge, made by a Muhlenberg graduate, is the largest personal gift in the history of the 172-year-old institution and will provide funding for two building initiatives.
By: Bill Keller Friday, December 11, 2020 09:15 AM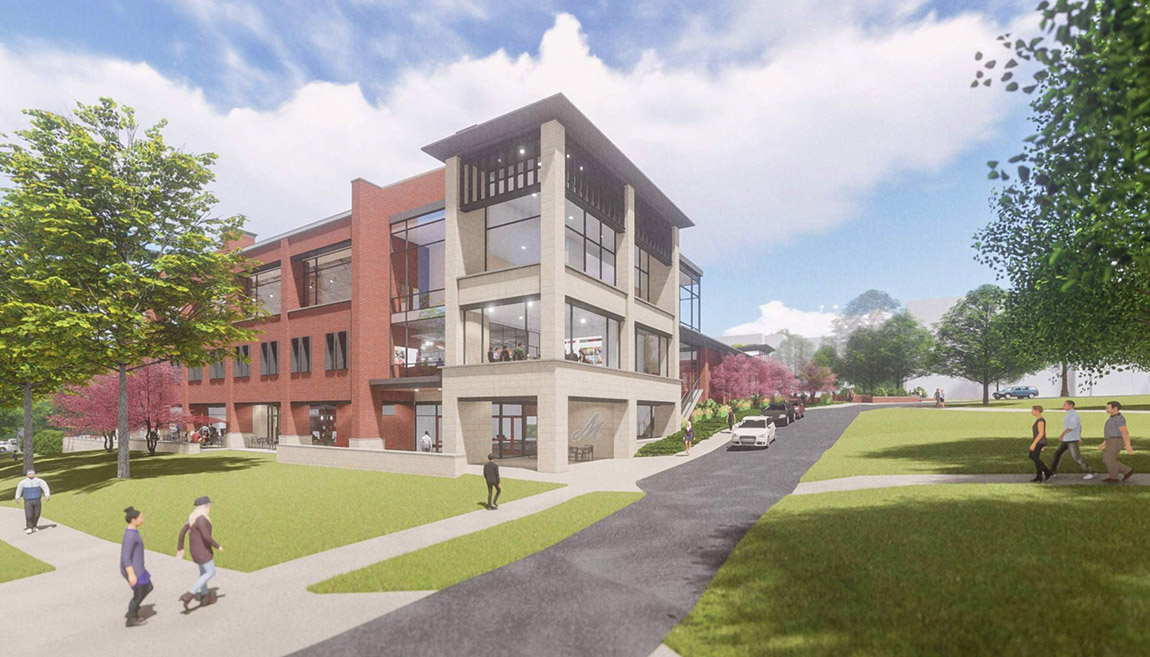 A rendering of the J. Conrad and Hazel J. Seegers Union expansion, as viewed from Chew Street. Image by RLPS Architects.
The $7.5 million gift serves as a transformative gift that will provide significant support of two capital projects at the College: the addition of a new building on the south side of Muhlenberg's campus and the expansion and enhancement of The J. Conrad and Hazel J. Seegers Union.
The donors, who wish to remain anonymous at this time, are a Muhlenberg alumnus of the 1970s and his wife. They believe in the positive impact an institution of Muhlenberg's quality can have on the lives of students. The donors acknowledge the importance of higher education and supporting the College's mission through philanthropy.
The alumnus graduated from Muhlenberg with a degree in business administration. He credits his education and the leadership opportunities he received at the College in helping him create and operate a successful business enterprise that employs approximately 200 employees. He and his wife dedicate this gift in celebration of Muhlenberg's past, present and future.
The building on the south side of campus will consist of three floors and more than 20,000 square feet of student programming and academic space. It will reside on the hillside between Chew Street and Parkway Boulevard and serve as a new home for the Innovation & Entrepreneurship Program, the Muhlenberg Institute of Public Opinion, the Division of Graduate and Continuing Studies and the Office of Community Engagement. The building will also house art studio space.
"Gifts that support Muhlenberg's academic program go to the heart of our College mission—to provide a quality educational experience for all of our students," says Bruce Anderson, interim provost and professor of chemistry. "This gift not only provides new classroom, community engagement, entrepreneurship, studio and office spaces that directly support faculty and student work, but frees additional space on campus as well that will help other areas of the College."

A rendering of the new building, which will reside on the south side of Muhlenberg's campus, located in the proximity of Trexler Library. Image by Re:Vision Architecture.
The Seegers Union expansion will consist of an additional 42,000 square feet for classrooms and will provide necessary space for career and professional development programs and advising. The three-story addition will provide a home for the College's Career Center, which has, over the last five years, been at the center of a number of initiatives that support student and alumni outcomes. Experiential programs like Career Road Trips help to introduce students to alumni-connected organizations in diverse career fields such as media, finance, sciences and the arts; expanded networking opportunities like Alumni Week connect students with alumni who studied the same majors through classroom visits; and the Career Center has greatly increased community resources through systems like Handshake, which brought an increase in the number and scope of available job and internship postings. The new space in Seegers will allow the Career Center to provide more robust programs and ongoing assistance for alumni to help them through career transitions at any stage in life.
In addition, the Seegers Union expansion will feature dedicated offices for preprofessional advising, seminar and conference rooms, an event area with seating for several hundred guests and an alumni lounge. Seegers Union has long served as a hub of campus activity, and the debut of additional community spaces and flexible classroom spaces will continue to facilitate academic, professional and social partnerships between students, faculty, staff, alumni and friends of the College. The expansion's location, adjacent to Chew Street, will serve as a prominent "front door" to campus.
In recognition of the gift, the College will dedicate and name the Seegers Union expansion and the new south campus building in honor of the donor's commitment and generosity. The College will continue fundraising for both projects in order to fully support its vision for the spaces.
"This gift is truly transformative and provides a strong statement about the enduring power of Muhlenberg's residential liberal arts education," says President Kathleen Harring. "Through their vision and generosity, our alumnus and his spouse have shown that our campus, buildings and spaces are inherently linked to a strong student experience and our College mission. We are grateful for the leadership example and the legacy that this gift will provide Muhlenberg."
"Of course a $7.5 million gift has a significant financial impact on the College, but the timing of this extraordinary support, in the midst of some of the most challenging times ever faced by higher education, may be even more important," says Richard C. Crist Jr. '77 P'05 P'09, chair of the College's Board of Trustees. "This gift has provided our community additional confidence in the value Muhlenberg provides, both today and well into the future."
About Muhlenberg College
Founded in 1848, Muhlenberg is a highly selective, private, four-year residential, liberal arts college offering baccalaureate and graduate programs. With an enrollment of approximately 2,200 students, Muhlenberg College is dedicated to shaping creative, compassionate, collaborative leaders through rigorous academic programs in the arts, humanities, natural sciences and social sciences; selected preprofessional programs, including accounting, business, education and public health; and progressive workforce-focused post-baccalaureate certificates and master's degrees. Located in Allentown, Pennsylvania, approximately 90 miles west of New York City, Muhlenberg is a member of the Centennial Conference, competing in 22 varsity sports. Muhlenberg is affiliated with the Evangelical Lutheran Church in America.