Muhlenberg Named Recipient of Air Products Foundation Scholarships
The grant will provide four scholarships for minority or women accounting majors at the College.
Friday, December 18, 2020 08:08 AM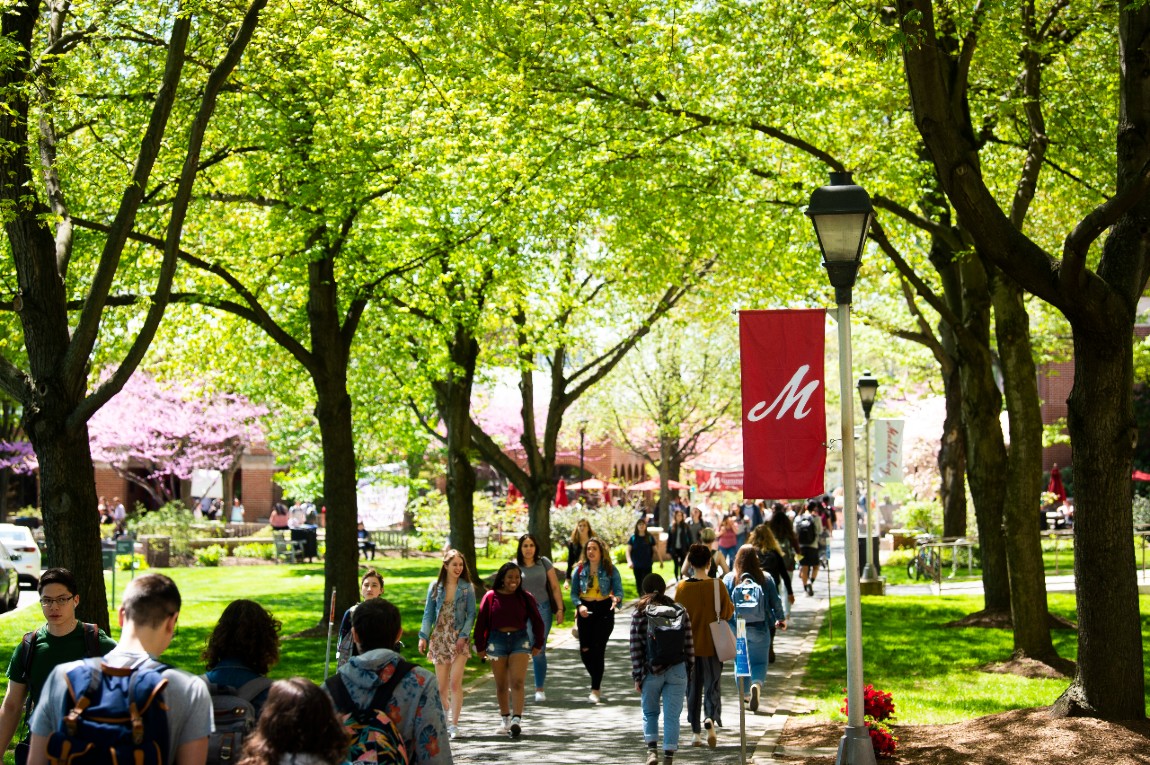 Students stroll down Muhlenberg's Academic Row in Spring 2019.
Muhlenberg will receive four scholarships from the Air Products Foundation for minority or women accounting majors over the course of the Spring 2021 and Fall 2021 semesters.
The College is one of three Lehigh Valley higher education institutions to receive the new scholarship funds from the Foundation. The total $50,000 grant award will provide 10 scholarships for minority or women students at the local colleges. Besides Muhlenberg, DeSales University will receive four scholarships for computer science majors and Kutztown University will receive two scholarships for communication studies majors.
"Muhlenberg's Accounting Program combines a comprehensive preprofessional education with the best that the liberal arts has to offer. The Air Products scholarships and internship opportunities will ensure that we continue to make that combination available to students that have been traditionally underrepresented in the accounting profession," says Trevor Knox, associate professor of accounting and director of the program.
In addition to the announced scholarships, these students may also benefit from paid internships that Air Products regularly provides. In the event COVID-19 challenges keep students from working at a physical Air Products' location, the company is prepared to continue to make internship opportunities virtual. To date, Air Products has provided 75 virtual internships since the early onset of the pandemic in March 2020.
"Beyond funding, we plan to build on the momentum of these scholarships by getting more involved with these universities to share real-world experiences to reinforce what the students are learning, and perhaps by providing mentoring opportunities as well. It's a truly worthwhile partnership, which I'm pleased to be a part of," said Erica Dessus, Director of Audit at Air Products.
Air Products recently announced new goals to further increase the percentage of females and minorities in professional and managerial roles at the company. By 2025, Air Products aims to achieve at least 28 percent female representation in the professional and managerial population globally, and at least 20 percent minority representation in that same population in the United States. These measures are increases from 25 and 17 percent representation (2020 baseline), respectively.
"One of Air Products' core values is a commitment to diversity, and education is a key focus area for the Air Products Foundation. We are always seeking ways to support the communities in which we live and work. This is a win-win opportunity to support female and minority students at a local college and two universities while deepening our relationships in the community," said Simon Moore, vice president, investor relations, corporate relations and sustainability at Air Products.
About the Air Products Foundation
The Air Products Foundation is a separately incorporated 501(c)(3) tax-exempt foundation. The mission of the Foundation is to build meaningful relationships with charitable organizations that share the values inherent in the Air Products' higher purpose and enhance the Company's positive relations with employees, communities, customers and shareholders.
About Air Products
Air Products (NYSE:APD) is a world-leading industrial gases company in operation for 80 years. Focused on serving energy, environment and emerging markets, the Company provides essential industrial gases, related equipment and applications expertise to customers in dozens of industries, including refining, chemical, metals, electronics, manufacturing, and food and beverage. Air Products is also the global leader in the supply of liquefied natural gas process technology and equipment. The Company develops, engineers, builds, owns and operates some of the world's largest industrial gas projects, including: gasification projects that sustainably convert abundant natural resources into syngas for the production of high-value power, fuels and chemicals; carbon capture projects; and world-scale carbon-free hydrogen projects supporting global transportation and the energy transition.
The Company had fiscal 2020 sales of $8.9 billion from operations in 50 countries and has a current market capitalization of about $60 billion. More than 19,000 passionate, talented and committed employees from diverse backgrounds are driven by Air Products' higher purpose to create innovative solutions that benefit the environment, enhance sustainability and address the challenges facing customers, communities, and the world.