Neuroscience Alum Wins Prestigious Award from American Psychological Association
Lauren Kenney '17 will present her research on Parkinson's disease this summer.
By: Heather Mayer Irvine Wednesday, June 24, 2020 10:58 AM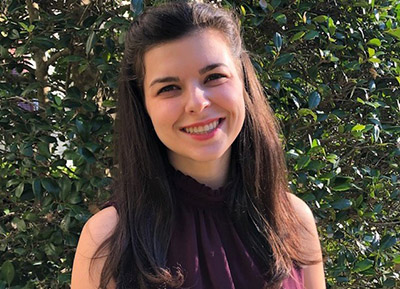 When people hear "Parkinson's Disease," they're usually familiar with the visual symptoms, including tremors and stiffness. What's less known and understood is the cognitive issues the disease can cause, including dementia.
Lauren Kenney '17, who studied neuroscience at Muhlenberg and conducted research with associate professor of neuroscience and psychology Gretchen Gotthard, has been researching how the debilitating disease can affect cognition and how to better determine who might be at risk for cognitive impairment.
Her work as a graduate student, under the guidance of Dawn Bowers, Ph.D., at the University of Florida, gained national recognition when she was awarded the Blue Ribbon in translational neuropsychology from the American Psychological Association earlier this year.
The award, Kenney explains, was specific to a retrospective study she conducted—reviewing the outcome of existing clinical studies and drawing conclusions from them—in which she found four cognitive profiles of people with Parkinson's disease.
"Four groups emerged from my findings that included those with normal cognition, mild executive function impairment, prominent executive function impairment and prominent memory impairment," Kenney says.
Executive function is responsible for certain cognitive skills, including judgment, decision-making and problem-solving.
The goal of her research is to determine which of these cognitive profiles are most at risk for developing dementia.
"The earlier we can identify the risk the better we can target interventions to stop or slow the progression [of cognitive decline]," Kenney says.
The fact that Kenney's work was recognized for "translational neuropsychology" means it may be able to move beyond the lab setting and into a clinical setting.
"My research could translate from research to clinical and at some point be applied to help actual people," she says.
While the award ceremony was canceled due to the COVID-19 pandemic, Kenney will be able to present her research virtually in August for the American Psychological Association Convention.
"If people aren't really familiar with Parkinson's disease, I hope my presentation brings awareness to the fact that there are non-motor symptoms," she says. "If people are more familiar with the literature it will bring focus on who will progress to dementia."