Public Health Alum Investigates COVID-19 Cases in New Jersey
Ashley Lafferty '18 is helping track the spread of the disease in her county.
By: Heather Mayer Irvine Friday, April 17, 2020 02:03 PM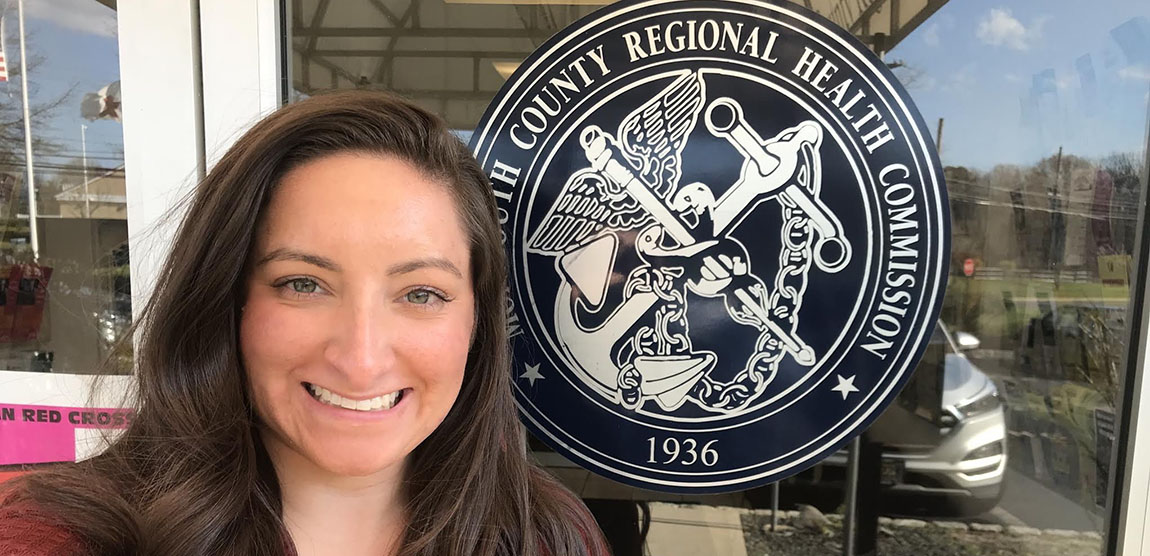 Ashley Lafferty '18 outside her workplace, the Monmouth County Regional Health Commission
At an office in northeastern New Jersey, Ashley Lafferty '18 logs every case of COVID-19 that is confirmed in the 19 towns the Monmouth County Regional Health Commission covers.
The public health alum started working as a communicable disease case investigator for the health commission in December—about three months before COVID-19 was declared a global pandemic.
"I thought flu season was busy," Lafferty says.
Under normal circumstances, Lafferty and her colleagues contact Monmouth County residents who show up in the Communicable Disease Reporting and Surveillance Systems (CDRSS) database to conduct an investigation, looking into a variety of diseases that circulate in various ways: airborne, sexually transmitted, foodborne and so on.
"We interview the patients and their doctors and ask questions about onset, symptoms, exposure and risk factors; known sick contacts; and whether they've been educated on their disease," Lafferty says.
Lafferty's reports will determine whether a case can be classified as confirmed, probable, possible or not a case at all. From there, she files her reports with the New Jersey Department of Health.
"That's what my job was for a few months," she says. "But that all took a turn with COVID-19."
When COVID-19 cases were first emerging locally, Lafferty would interview every person who tested positive for the illness and follow up with daily symptom and temperature checks. Her department also conducted contact tracing, a process designed to stop the chain of transmission of an infectious disease and slow the spread.
Lafferty, with her team and local authorities, would contact every positive case and find out with whom they'd been in contact—via a grocery store outing, a hair appointment, a party—and alert everyone who may have been exposed, advising them to self-quarantine for 14 days.
"But there are too many cases now," Lafferty says, and the department had to scale back the contact tracing. "We only ask now about their household contacts and how their household contacts are feeling, since in the state of New Jersey for the past few weeks, people should be [staying home] already unless they are an essential worker."
One thing that drew Lafferty to public health is that the field is constantly changing. This pandemic is evolving so quickly, though, that her day-to-day job has become much more stressful, she says.
"I get concerned when I see people's ages and have to call them" for an interview because they tested positive, Lafferty says. "I run the risk of calling them and they're in the hospital or they've passed away."
As Lafferty's office (and health departments across the country) gets busier and busier, she urges people to stay home.
"I hate to repeat what everyone is saying on the news, but if everyone listens and stays home and does their part, it can have a great impact on the world—especially if someone from the health department calls you and says you're positive," she says. "Take that seriously. It's the one thing you can do."
Lafferty credits much of her success so far to what she learned in her college classes, but her hands-on work during the COVID-19 pandemic will teach future generations of public health officials.
"In class, I learned about other pandemics, but now I'm actually hands-on," she says. "This pandemic will be in the textbooks years from now."