Muhlenberg College celebrates 60 years of Hansberry's classic 'Raisin in the Sun'

Emmy Award nominee Jeffrey Page directs the production, Feb. 20-23
By: Clarissa Shirley '22 Thursday, February 6, 2020 03:30 PM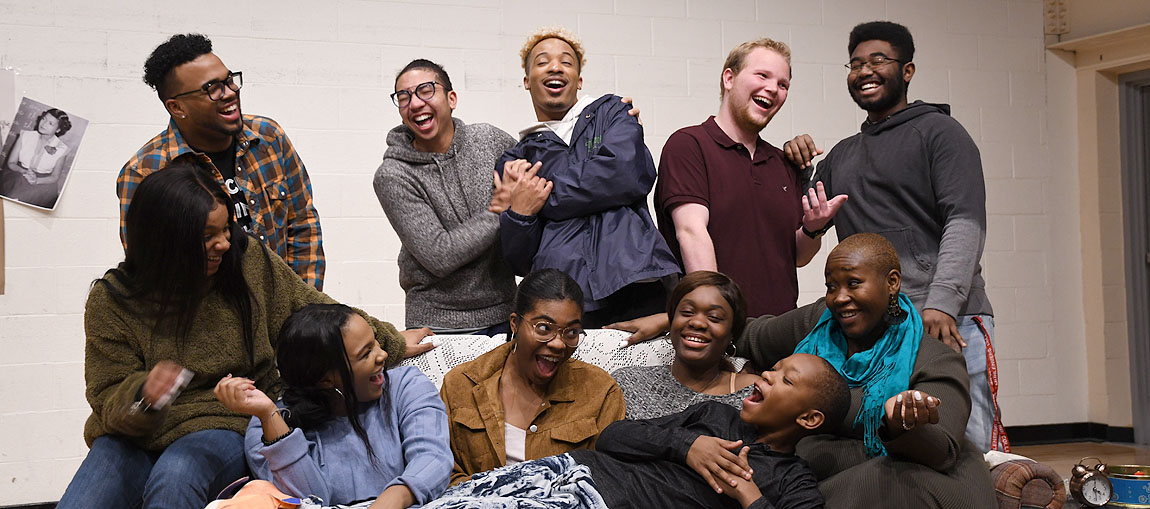 The cast of 'A Raisin in the Sun': (back, L-R) Frederick Marte '20, Zaire Carter '22, Jalil Robinson '22, Ozzy Smith '22, Austin Fleury '23; (front, L-R) Dondrea Wynter '22, Nicole Morris '21, Krystal Hall '21, Mercy Olajobi '21, Messiah James Jones '26, Kiyaana Cox-Jones. Photo by Madison Whiting '22.
Lorraine Hansberry's explosive drama "A Raisin in the Sun" takes an unflinching look at the hopes and struggles of an urban black family in 1950s Chicago. The Muhlenberg College Theatre & Dance Department presents the classic play Feb. 20-23, directed by Emmy Award-nominated guest artist Jeffrey Page.
"This piece of poetry that Hanberry created in the 1950s is very pertinent to today," Page says. "We have to see it in the light of what is happening now.
"A Raisin in the Sun" was the first play written by a black woman to be produced on Broadway. It was nominated for four Tony Awards, including Best Play. Celebrating the 60th anniversary of the play's premiere, the production headlines Muhlenberg's 2020 Black History Month celebrations.
The members of the Younger family are at a crossroads. Matriarch Lena wants to use her late husband's life insurance to move her family out of their cramped South Side apartment. Her son Walter Lee would rather use the money to start a business and become his own man. Her daughter Beneatha plans to go to medical school — but also yearns for a sense of identity, and wishes her family wasn't so desperate for acceptance.
As their simmering tensions intensify, the powerful forces of 1950s America come knocking at the Youngers' front door.
The title of the play comes from the Langston Hughes poem "Harlem," which asks the question, "What happens to a dream deferred? Does it dry up like a raisin in the sun?"
"The themes of the poem carry throughout the play," says Krystal Hall '21, a member of the cast. "This family is trying to overcome circumstances that, unfortunately, they were born into. They're trying to dream big through the struggle of 1950s American society."
Hansberry encountered discrimination firsthand while growing up in a white, upper-middle-class neighborhood. The playwright later described her experience as "hellishly hostile," as her white neighbors attempted to push them out of their home — events which served as the basis for the play and led to the landmark 1940 U.S. Supreme Court case Hansberry v. Lee — a stepping stone to the Fair Housing Act of 1968.
Page and the cast started their rehearsal process with an in-depth text analysis and research into the play's historical significance.
"The first week was a deep dive into the play," Page says. "The actors came in assuming they would be acting. We broke down the first stage direction; it took us four hours. We finally made it to page two by the end of the day. My hope is they became awake to the complexities of the language inside of the script."
Nicole Morris '21, who plays the role of Beneatha, says she remembers reading the play in high school and learning about its significance in the cultural conversations of the 1960s — but came to a whole new understanding of both the play and the time period when rehearsals got underway.
"My character Beneatha is studying to become a doctor," Morris says. "When we did research into the play I discovered that the percentage of doctors who were African-American women in the 1950s was incredibly low. It gave me a lot of appreciation for the time period."
Page is an opera and theater director of both classical and contemporary works. He is the first African-American to be named the Marcus Institute Fellow for Opera Directing at The Juilliard School. Page holds a Master of Fine Arts degree with a concentration in theatre directing from Columbia University in New York City.
As a choreographer, Page has contributed work to the television show "So You Think You Can Dance." He received an MTV Video Music Award for his work with Beyoncé, for whom he has choreographed for more than 12 years, and he was nominated for an Emmy Award for the 2005 NAACP Image Awards telecast.
Page's extensive dance background has had a significant influence on this production — and on the cast of the show, according to Jalil Robinson '22, who plays Walter Younger.
"Full-body connectivity is just as important in dance as it is for an actor on stage," Robinson says. "Jeffrey has helped me develop an awareness of every individual joint in my body and how to use it when performing."
The cast says that Page has consistently pushed them to challenge themselves and each other throughout the rehearsal process.
"I'm striving to make sure I'm always bringing my full ability and to never rely on talent," says Kiyaana Cox-Jones, who plays Mama, the matriarch of the Younger family. "Talent is no longer good enough. Work. You have to put in the work."
Cox-Jones, who holds a Bachelor of Fine Arts degree in acting from Howard University, has served as a mentor throughout the rehearsal process, says Page — a role she has taken seriously.
"Being the elder of the group of students in this production, I do not get to come to rehearsal and be 'half,'" Jones says. "All of them are my mentees; I mentor them and advocate for them outside of this space. I have to go into rehearsal ready to challenge them."
Jones is the assistant director of the Office of Multicultural Life at Muhlenberg. Her son Messiah James Jones will be also appearing in the production, as Travis.
"It has been one of the most gratifying experiences of my life so far," Cox-Jones says. "When I create I feel closest to God; to do that one thing I love the most, on a deeper level, with my son — that means a lot to me."
Though deeply rooted in the social issues of a particular era, "A Raisin in the Sun" has stood the test of time, according to the cast — who say they had no difficulty recognizing themselves and the challenges of 21st century America in the pages of the play.
"Not much has really changed," Hall says. "We still see black people struggling to go to college. We still see black people struggling to voice their dreams. We still see black people struggling to prove that what they say matters."
Curtis Dretsch designs lights and scenery for the production. Mari Taylor designs costumes. Ian Scot designs sound. Beth Schachter serves as dramaturg.
"A Raisin in the Sun '' plays Feb. 20-23. Showtimes are Thursday through Saturday at 8 p.m., and Sunday at 2 p.m. Regular admission tickets are $15. Tickets for youth and LVAIC students and staff are $8.
Tickets can be purchased online at muhlenberg.edu/theatre or by phone at 484-664-3333. Performances are in the Baker Theatre in Trexler Pavilion for Theatre & Dance, Muhlenberg College, 2400 West Chew St., Allentown.
About Muhlenberg College
Founded in 1848, Muhlenberg is a highly selective, private liberal arts college offering baccalaureate and graduate programs. With an enrollment of nearly 2,000 students, Muhlenberg College is dedicated to shaping creative, compassionate, collaborative leaders through rigorous academic programs in the arts, humanities, natural sciences and social sciences; selected preprofessional programs, including accounting, business, education and public health; and progressive workforce-focused post-baccalaureate certificates and master's degrees. Located in Allentown, Pennsylvania, approximately 90 miles west of New York City, Muhlenberg is a member of the Centennial Conference, competing in 23 varsity sports. Muhlenberg is affiliated with the Evangelical Lutheran Church in America.