Theatre Alum Who Found a Passion in Nursing Treats COVID-19 Patients in New Jersey
Marc Rogol '05 has seen his work transformed by the pandemic.
By: Heather Mayer Irvine Thursday, May 7, 2020 08:17 AM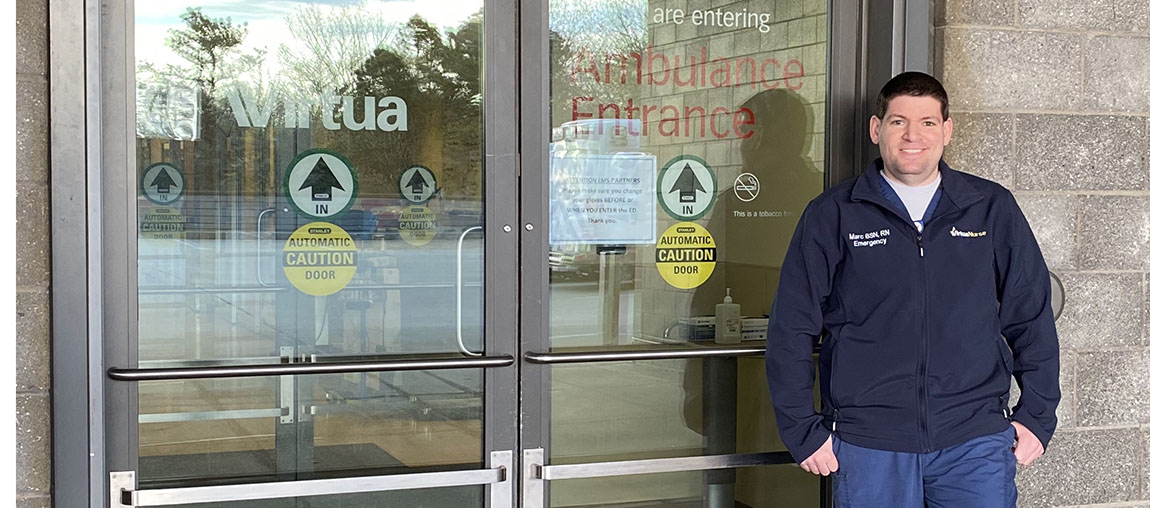 Marc Rogol '05 outside the emergency department where he works
Marc Rogol '05 studied theatre at Muhlenberg, but today he's an emergency department nurse, facing the COVID-19 pandemic head on.
Rogol served as an emergency medical technician at Muhlenberg College and worked in emergency medical services after graduating. Because he was drawn to the investigative nature in nursing, the next logical step was to go to nursing school.
"Nursing is part Sherlock Holmes—part taking things apart—and part putting them back together," he says. "We do the work that makes patients feel better and also get to investigate why something wasn't working in the first place."
Rogol works the overnight shift for the emergency department at Virtua Hospital in Voorhees, New Jersey, which is about 30 minutes outside Philadelphia. His work has changed dramatically due to COVID-19. While the emergency department has fewer patients than pre-coronavirus, Rogol says he is treating much sicker patients.
Under normal circumstances, an emergency department team might send in multiple nurses to help care for patients, but now, only one nurse can go in a patient's room at a time. That nurse might be in an isolated room for 45 minutes to an hour conducting a workup, Rogol explains.
"When I go into isolation with a patient, I wear an isolation gown, two sets of gloves, a half-face respiratory mask and fluid-proof glasses," he says.
In some cases, Rogol will be working with a COVID-19-positive patient, but in many others, the patient is only suspected to have it. In those cases, Rogol and his team will conduct the test.
"Once you're in the room, you're in there," Rogol says. "You can't leave to get anything or use the bathroom without removing all the gear and then putting it all back on again."
As a result, Rogol's team uses a nursing buddy system: One nurse goes into isolation with a patient, while his or her buddy waits outside the room to collect materials or lab samples.
"My team continues to pull together around one another," Rogol says. "If I had to describe our overnight crew in one word, I couldn't do it. There is an indescribable amount of teamwork."
Rogol credits Muhlenberg College with teaching him a strong work ethic, which he uses as a basis in his nursing career. Still, working with suspected and positive COVID-19 patients takes its toll. He goes home to his wife and two children, whom he is trying to protect. Should things get worse, a friend of Rogol's wife offered him the use of a camper van for quarantining.
In order to keep his team and healthcare teams around the world safe, Rogol encourages the use of telemedicine and urgent care visits over the emergency department when possible.
"In the meantime," Rogol says, "it's really just another day at the office."