The Home Team
Rhiannon Harwi '20 completed an externship at the Allentown campus of human resources company ADP with Deb Clay-Alston '98 P'14.
By: Meghan Kita Thursday, March 5, 2020 09:51 AM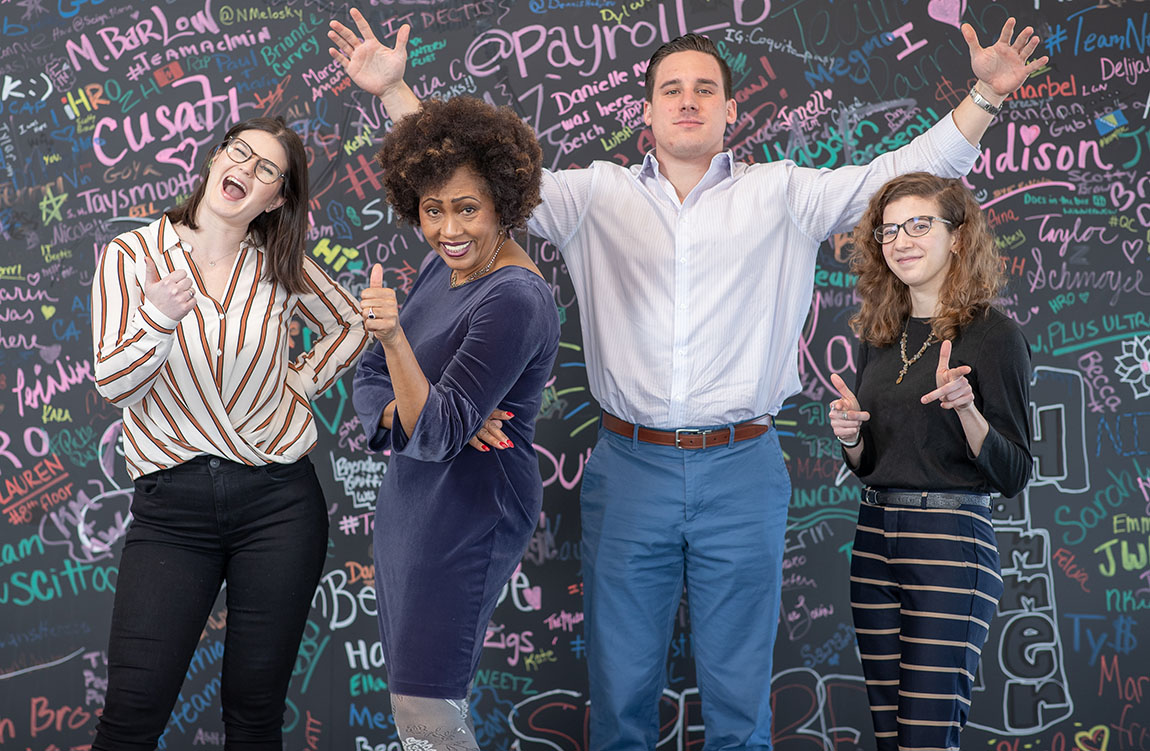 Shannon Hubert '19, Deb Clay-Alston '98 P'14, Marcus Toomey '14 and Rhiannon Harwi '20 during Harwi's externship at ADP. Photo by Marco Calderon
Rhiannon Harwi '20, a media & communication and studio art double major, is from Whitehall, Pennsylvania, minutes north of downtown Allentown. In recent years, she's witnessed the development taking place along Hamilton Boulevard in Center City. Last fall, the human resources company ADP moved 1,000 of its employees to a new office tower there.
"I was interested in what goes on at ADP—it's a pretty prominent company in the area," Harwi says. "I wanted to learn more about what they do, what kind of services they offer and what the company culture is like."
She had an opportunity to see some of that firsthand thanks to Deb Clay-Alston '98 P'14, a sales executive at ADP (and vice president of the College's Alumni Board) who hosted Harwi for a four-day externship. During that time, Harwi sat in on several meetings, including one with Shannon Hubert '19, a new employee at ADP. Afterward, Clay-Alston asked Harwi and Hubert to apply what they'd learned by researching a company and determining which of ADP's services that company might need. Harwi didn't always follow what was going on in these meetings, but Clay-Alston didn't expect her to.
"ADP is such a large, complex organization. As such, it is extremely hard for someone visiting for a short period of time to fully grasp and understand everything we do," Clay-Alston says. "Rhiannon did an awesome job trying to consume all of the information thrown at her."
During the externship, Harwi met several employees on the sales floor, many of whom had backgrounds in other fields (one had been a teacher, for example). Additionally, Clay-Alston set up a meeting for Harwi with the person in charge of managing ADP's internal employee microsite. Her job responsibilities include design, social media and storytelling—all communication roles of interest to Harwi. She left with that woman's business card, in addition to several others.
For Harwi, who transferred to Muhlenberg from Lehigh Carbon Community College and who hasn't had an internship, the externship was an opportunity to make connections and gain workplace exposure before her final semester. She already knew that every employer needs good communicators, but her externship gave her a glimpse of how those employees fit into a company. "Most jobs involve working with other people, and you have to balance what you're doing on your own and when you're collaborating with others. I saw that at ADP," she says. "There are times when you're going to be doing stuff on your own, and there are times when you're part of a team."