United as One
Muhlenberg athletes stay connected even as they're required to be physically apart.
Friday, April 24, 2020 00:37 PM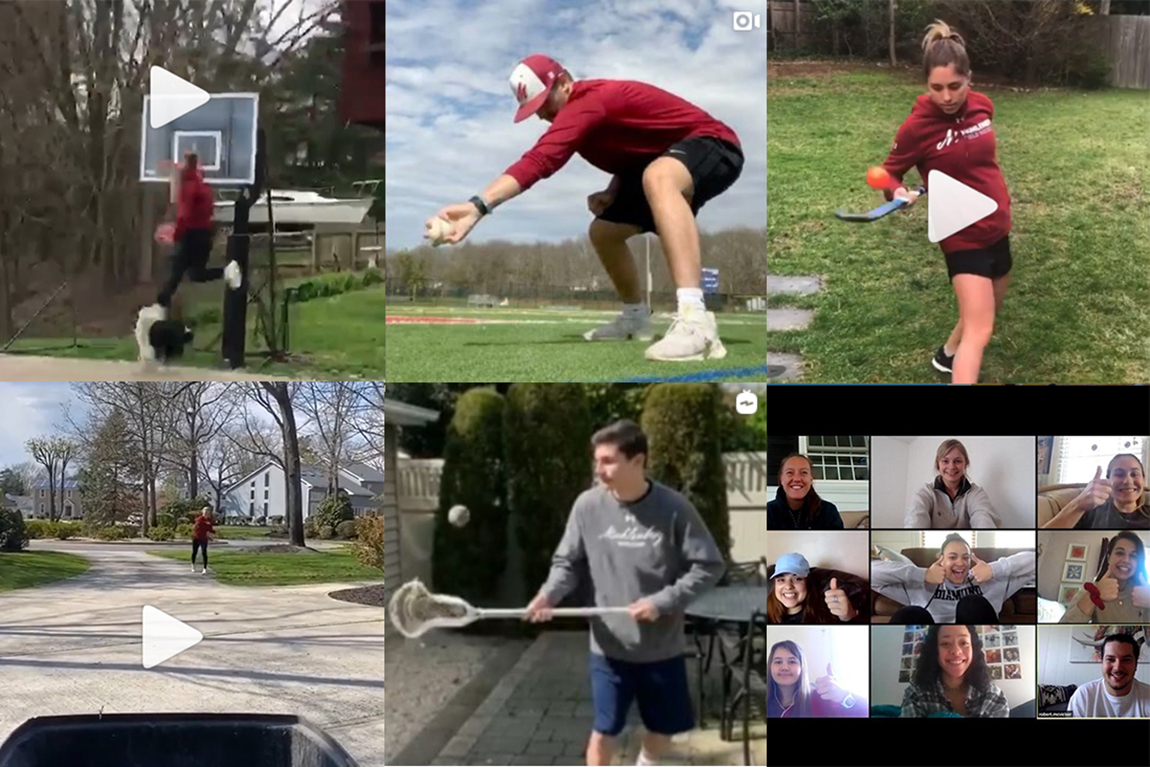 Muhlenberg athletes have been staying connected virtually.
Why were Muhlenberg women's basketball players throwing footballs? Why were wrestlers dribbling balls off the sides of lacrosse sticks? Why were field hockey players fielding baseballs?
And why was Athletic Director Lynn Tubman doing all of those things?
It was all part of Mule Duels, a successful series launched by the Muhlenberg Athletic Leadership Team (M.A.L.T.) as part of the NCAA's celebration of D3 Week. In an effort to keep all Mule athletes united while they were physically apart due to COVID-19, M.A.L.T. encouraged teams to challenge other teams to step out of their comfort zones by trying drills from another sport.
So softball challenged men's lacrosse to bunt balls into a bucket. Men's basketball challenged men's tennis to do a drive-by dunk. The golf teams challenged softball to chip a ping-pong ball into a cup.
And Tubman got into the act by doing all the challenge drills, including the all-important wrestling sock tuck.
The fun activities provided a much-needed break from reality at a time when Mule athletes were still coming to terms with the premature end of the athletic year—particularly the spring athletes, some of whom lost their entire seasons.
Teams have been staying in touch through Zoom meetings and Google Hangouts and using social media to keep engaged. Several teams, including field hockey, women's lacrosse and women's soccer, made creative team juggling videos, with athletes recording themselves at their homes and "passing" to teammates out of the video frame.
M.A.L.T. had planned a 5K to benefit the One Love Foundation on a specially designed campus course for the last day of D3 Week. The race had to be cancelled, replaced by a virtual 5K, but few of the registered runners requested a refund, resulting in a donation of more than $1,000 to One Love, which promotes healthy relationships to young people.
M.A.L.T., which won a $500 prize from the Centennial Conference for its high level of D3 Week activity, also produced an inspirational video featuring athletes from all 22 varsity sports teams pledging their unity and resolve in the face of unprecedented adversity.
The message: "No matter the sport. No matter the play. No matter the point, basket, goal or distance. We fought. We battled. And we will continue to do so. Because together, we are united. We are 22 sports, one team."