Untold Stories of Unsung Heroes
"A Century of Struggle: Women's Rights Before and After Suffrage" continued with a discussion on women of minority backgrounds that played a pivotal role in the ratification of the 19th amendment.
By: Josh Lederman '20 Friday, February 21, 2020 04:23 PM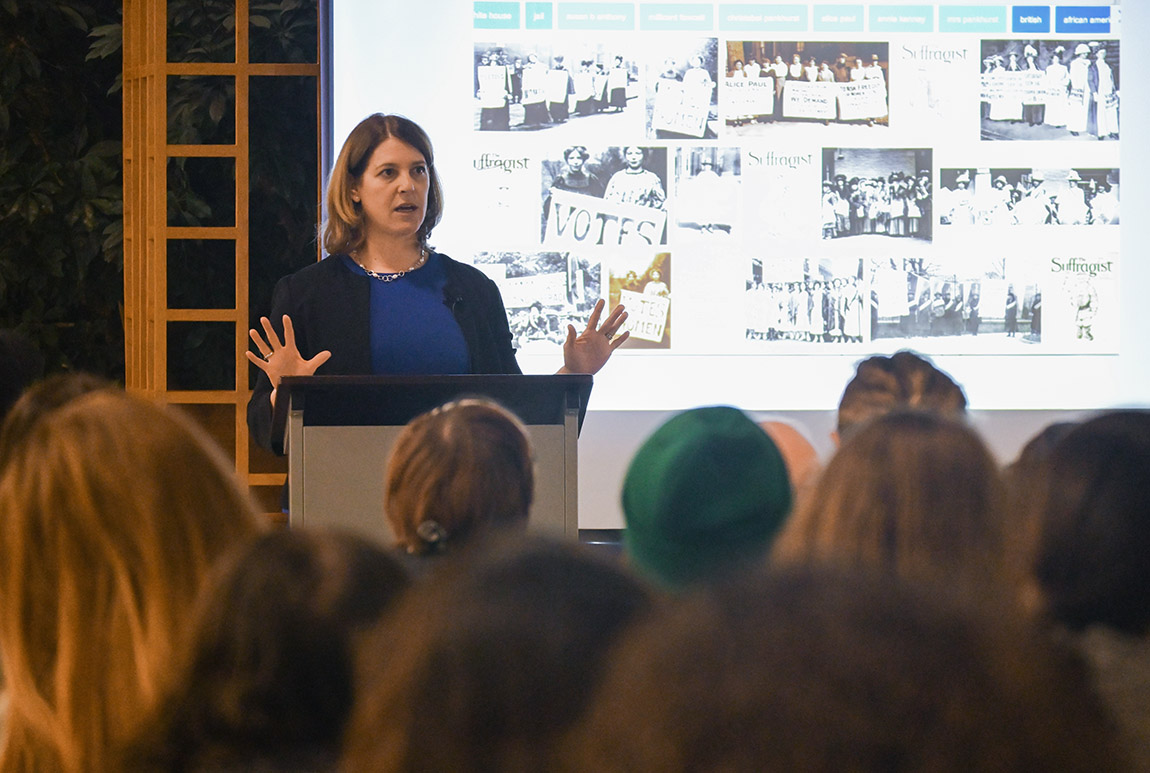 Photo by Tom Amico.
On February 11, the second event in Muhlenberg's history lecture series "A Century of Struggle: Women's Rights Before and After Suffrage" took place in the College's Trexler Library, with Cathleen Cahill, an associate professor of history at Penn State University, as the event's speaker. Cahill currently is working on two book projects: "Raising Our Banners: Women of Color Change the Mainstream Suffrage Movement" and "Indians on the Road Gender, Race and Religion Identity," both of which focus on minority populations in America and their instrumental impact on the ratification of the 19th amendment.
Cahill's lecture was inspired by a Google Image search of the term "suffragist." While Cahill acknowledges that "Google is obviously not a complete representation of the world, it gives us a good idea of what people think of certain topics." She noticed that most of the images that appeared were of white women, such as Elizabeth Cady Stanton and Susan B. Anthony, who played a major role in the Women's Suffrage Movement. While Google Images only provides the public with a microcosm of the Women's Suffrage Movement, Cahill states, "most of the public, in particular, think of it as a movement by white women."
Cahill provided the audience with three different instances and argued that "when we include the stories of women from different racial and ethnic groups, it changes our understanding of these moments and of suffrage more broadly."
Cahill believes that including stories of women from different racial changes our understanding of suffrage as "it expands our knowledge of the many communities who were having these conversations and how those conversations influenced each other, encourages us to think about women of color, not as an undifferentiated group, but rather as a group that shared some things in common and change our understanding of the debates because of the contributions and the presence of women of color."
Chronicling three influential moments of the Women's suffrage movement—the 1912 New York City Suffrage Parade, the 1913 Washington DC Suffrage Parade and the 1920 ratification of the 19th amendment—Cahill shared the stories of several women from minority backgrounds that played a pivotal role in the Women's Suffrage Movement.
The series continues on Wednesday, March 18 at 7 p.m., with two presentations: "Votes (and Birth Control?) for Women: The Suffrage and Birth Control Movements After 1915" by Lauren MacIvor Thompson, Assistant Professor of History at Georgia State University, and "Healing the Body Politic: Women Physicians and the Fight for Suffrage" by Jacqueline Antonovich, assistant professor of history at Muhlenberg College. The talks will be held on the A-Level of Trexler Library and are free/open to the public.
About Muhlenberg College
Founded in 1848, Muhlenberg is a highly selective, private liberal arts college offering baccalaureate and graduate programs. With an enrollment of nearly 2,000 students, Muhlenberg College is dedicated to shaping creative, compassionate, collaborative leaders through rigorous academic programs in the arts, humanities, natural sciences and social sciences; selected preprofessional programs, including accounting, business, education and public health; and progressive workforce-focused post-baccalaureate certificates and master's degrees. Located in Allentown, Pennsylvania, approximately 90 miles west of New York City, Muhlenberg is a member of the Centennial Conference, competing in 23 varsity sports. Muhlenberg is affiliated with the Evangelical Lutheran Church in America.