A Rom-Com for the Pandemic Era
Alumni from the Class of 2010 teamed up to create a web series about dating during COVID-19.
By: Meghan Kita Tuesday, March 9, 2021 00:32 PM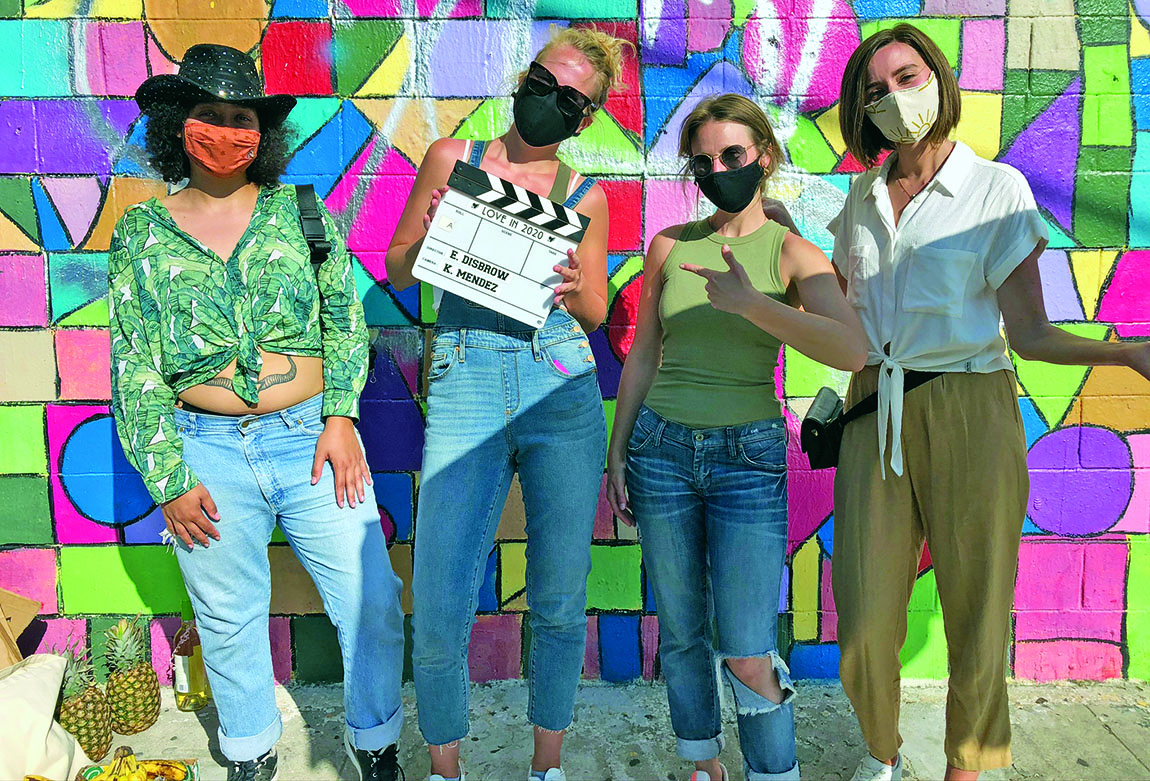 Love in 2020 producers Brandi Craig, Eirinn Disbrow '10, Christina Garofalo '10 and Anna Jaller '10 pose on set.
For years, Eirinn Disbrow '10, Christina Garofalo '10 and Anna Jaller '10 had been collaborating on a project about dating in Los Angeles, "but it never felt quite right or finished," Disbrow says. California's first COVID-19 lockdown last March provided both inspiration and time. The trio pivoted to a storyline about dating during the pandemic, and Garofalo wrote a script for a web series. Love in 2020 (directed by Disbrow) follows 28-year-old Kenna Benjamin (played by Jaller) as she endures FaceTime dates, job-related struggles and the isolation of lockdown as a single person. The rom-com series filmed over four days in August. During post-production, a fourth Muhlenberg alum, Nick LaFalce '10, joined the team as its composer. Disbrow, Garofalo, Jaller and producer Brandi Craig are currently waiting to hear from film festivals.
Muhlenberg Magazine How did you address the challenges of filming during a pandemic?
Anna Jaller '10 Our producer Brandi Craig took on the role of health and safety manager, and we had a COVID safety officer [Garofalo's husband] to ensure that all protocols [including mandatory masking of all cast and crew except actors shooting scenes, limiting the number of people on set and using fans and opening windows between takes of indoor scenes] were being followed. Ultimately, through advance planning and prep, ground rules and people specifically designated to enforcing those rules, the rest of the team was able to come to set and focus on their artistry.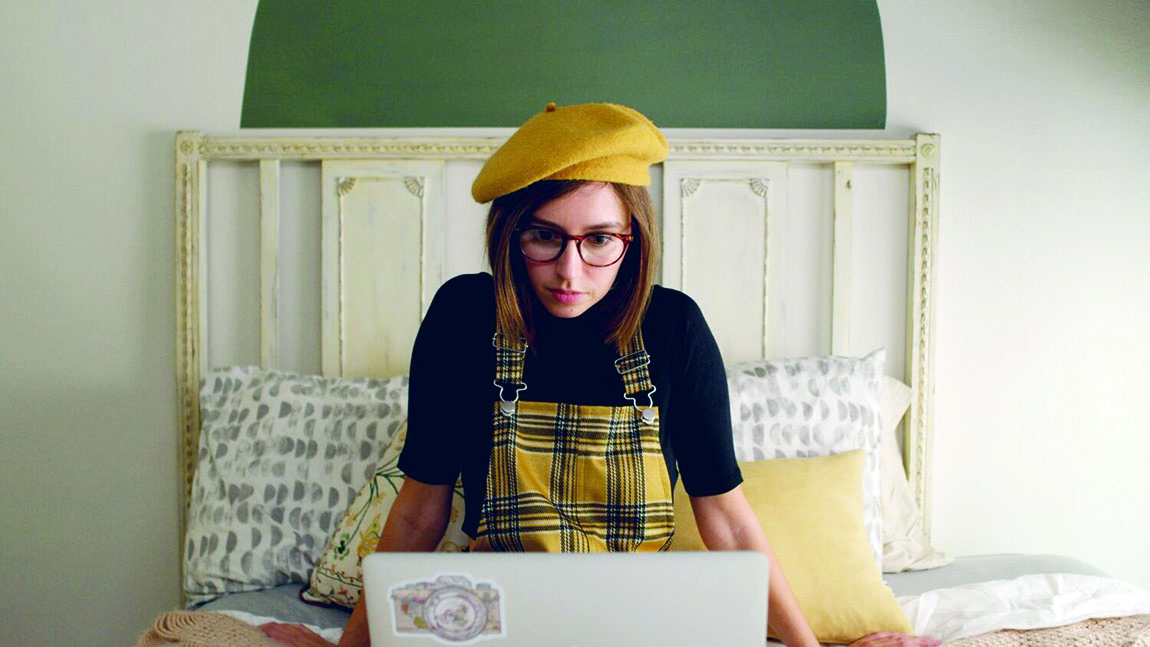 In the web series Love in 2020, Anna Jaller '10 (above) plays Kenna Benjamin, who "learns that the only way to get through quarantine is to get comfortable with who she is."
MM Why is it significant that your production team is all women?
Eirinn Disbrow '10 In 2019, women comprised 37 percent of lead characters, 26 percent of producers, 23 percent of editors, 20 percent of writers, 12 percent of directors and 2 percent of cinematographers in Hollywood. Women's experiences are important; our perspectives should shape the conversation. Things have been changing for the better, but there is still a lot of progress to be made, particularly for women of color. That is why diversity on set was non-negotiable for us and we made it a priority to give each person a voice in shaping the narrative.
MM What was it like to create a project that's a snapshot of such a specific moment?
Christina Garofalo '10 Rather than try to say something profound about a time we're still living through, we focused on the ongoing, universal challenge: What happens when you're trapped at home and you can't escape yourself?
A couple weeks after the script was finished, George Floyd was murdered. We felt it was important to address race and privilege but didn't want to wedge it into our storyline just to check a box, or to approach it in bad faith by speaking for an experience that, as three white women, isn't our own. We decided to have honest, sometimes difficult, conversations with our diverse cast of actors and Brandi and to invite each person to challenge the script and shape the dialogue to what felt true to them.
In the end, we stuck to our original timeline: The six episodes take place over the first two months of quarantine, prior to the nationwide Black Lives Matter protests. We worked with our male lead, James Tang, to call out the anti-Chinese racism that plagued the early pandemic, and we included subtle nods to the ways we have been complicit and complacent in racism, privilege and neglecting our responsibility to one another.
Kenna's story is a "light" version of all of that, of course—it is a rom-com. When we look back on 2020, no one will forget the strife; it was important to us to give people permission to find joy and laugh during this time, too.
---
Love in 2020 was recently accepted into the LA Indie Film Festival. Visit lovein2020tv.com and follow @lovein2020tv on Instagram for more information and updates.