A Season Worth Celebrating
COVID-19 protocols radically changed the sports that resumed this spring, but after a long hiatus, the teams and their coaches were grateful to be competing at all.
Tuesday, July 20, 2021 11:54 AM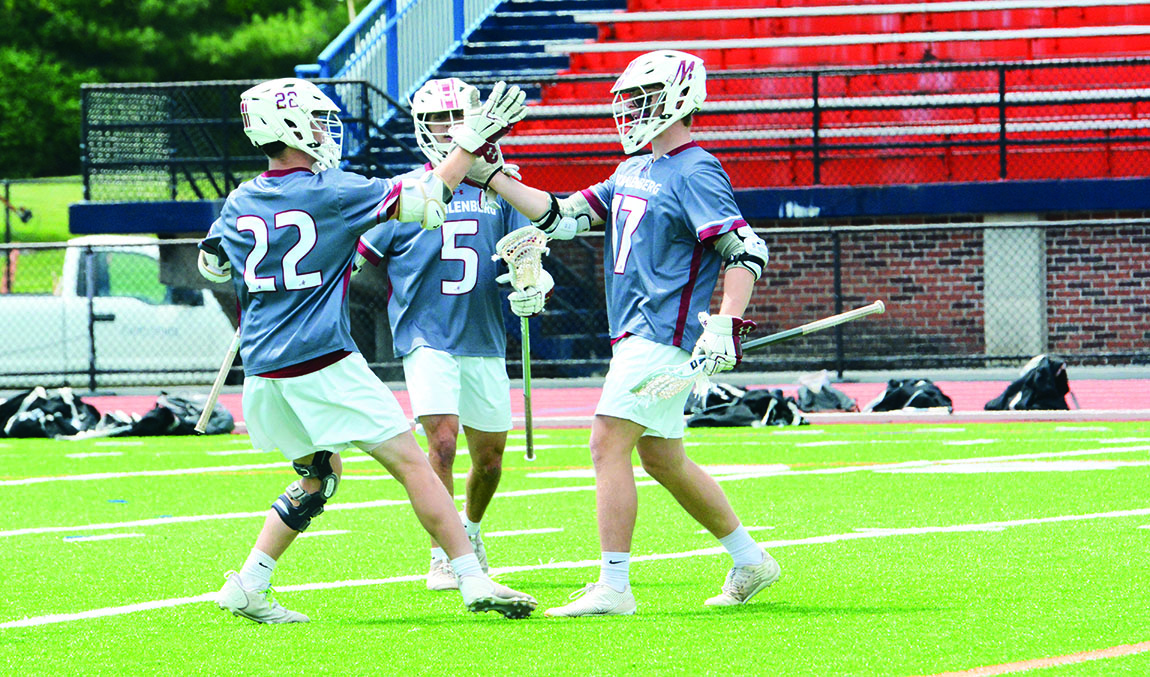 Left to right, Ethan Grossman '21, Matt Marrella '22 and Wyatt Malia '24 celebrate during the men's lacrosse team's first road win ever against Gettysburg College.
It was the middle of March, a little more than a year after the Muhlenberg men's lacrosse team had played its last game. The Mules had gone 5-0 before the pandemic ended their 2020 season. So what better way to open 2021 than with a game against Ursinus College, a team ranked fifth in one Division III preseason poll?
In the week leading up to the game, the coaching staff pored over available film of Ursinus so they could present a scouting report to the team on Thursday, two days before the game. But Thursday brought a different kind of report: Due to a rise in COVID-19 cases at Ursinus, all their athletic competitions scheduled for the weekend were postponed.
That's the kind of spring it was for the Muhlenberg athletic teams. Although they sometimes didn't know which athletes they would have available, which athletes the opponent would have available or even who the opponent would be until a day before the competition, they all completed their modified schedules, and they did it in a healthy way.
"I don't think we could be any happier than we were with our guys," says Jake Plunket, head men's lacrosse coach. "Because if we didn't follow every single protocol, and we didn't take care of what we could control, then there's no way we're playing the season. And I think they did a great job with that."
In addition to twice-weekly testing, Mule athletes and coaches had to adjust to a schedule that initially had competitions only against Centennial Conference opponents and only on Saturdays. Postgame handshakes were eliminated for all contests. Sport-specific changes occurred, too—for example, in baseball and softball, dugout capacity was limited, so players had to spread out along the foul lines, often sitting in bleachers outside the fence. Muhlenberg athletes accepted the changes, at times grudgingly, because after a rough year on the sidelines, they just wanted to compete.
In the case of the men's lacrosse team, it turned out that they were going to play Franklin & Marshall College, not Ursinus, that first weekend. The Diplomats had an opening in their schedule, so the two colleges agreed to play a non-conference game. It happened again the following week, when a late Gettysburg College scratch led the Mules to play a non-conference game at Dickinson College.
Those two hastily scheduled games showed Muhlenberg that it was ready to compete in the challenging CC. The Mules lost to F&M—the eventual conference champion—by two goals in a game that was tied late in the fourth quarter, and they lost to Dickinson in quadruple overtime. But they hadn't been close to either team in recent history, and the two games were a springboard to a successful season.
The Mules finished with a record of 5-4, with the four losses coming by a total of five goals, three of them to nationally ranked teams. They went 4-2 in the CC, and if the league had conducted a postseason tournament, Muhlenberg would have been the second seed. In their final game, the Mules won 15-10 at tenth-ranked Gettysburg, their first road win ever against the Bullets. They received 12 votes, four spots shy of the top 20, in the final Division III poll.
"It throws a wrinkle into it, for sure," said Assistant Coach Alex Stone, who coordinates the defense, of the late schedule changes. "Obviously we'd like to have a routine and stick with it. We had to cram a little bit ... Lacrosse is a free-flowing sport and I think it allows for more creativity."
Creativity was something all Muhlenberg coaches had to employ throughout the year, in keeping their teams united during the fall semester, when it was mostly first-year students on their practice fields; in conducting practices or film sessions when the team could not gather together in one room; and in shuffling starting lineups when athletes were unavailable due to isolation or quarantine.
Even so, "nobody was complaining about anything," says Plunket. "We were just happy to have the opportunity to be out there. I think our administration did an unbelievable job saying that the athletes need their games. So at the end of the day, we're just pumped to get all those games for our seniors."