Math Professor Helps Students Find a Home in Her Field
By creating a mathematical biography and a mathematical family tree, students of Truman L. Koehler '24 Professor in Mathematics Linda McGuire have an opportunity to reflect upon their mentors and personal experiences with the discipline.
By: Meghan Kita Friday, July 2, 2021 08:23 AM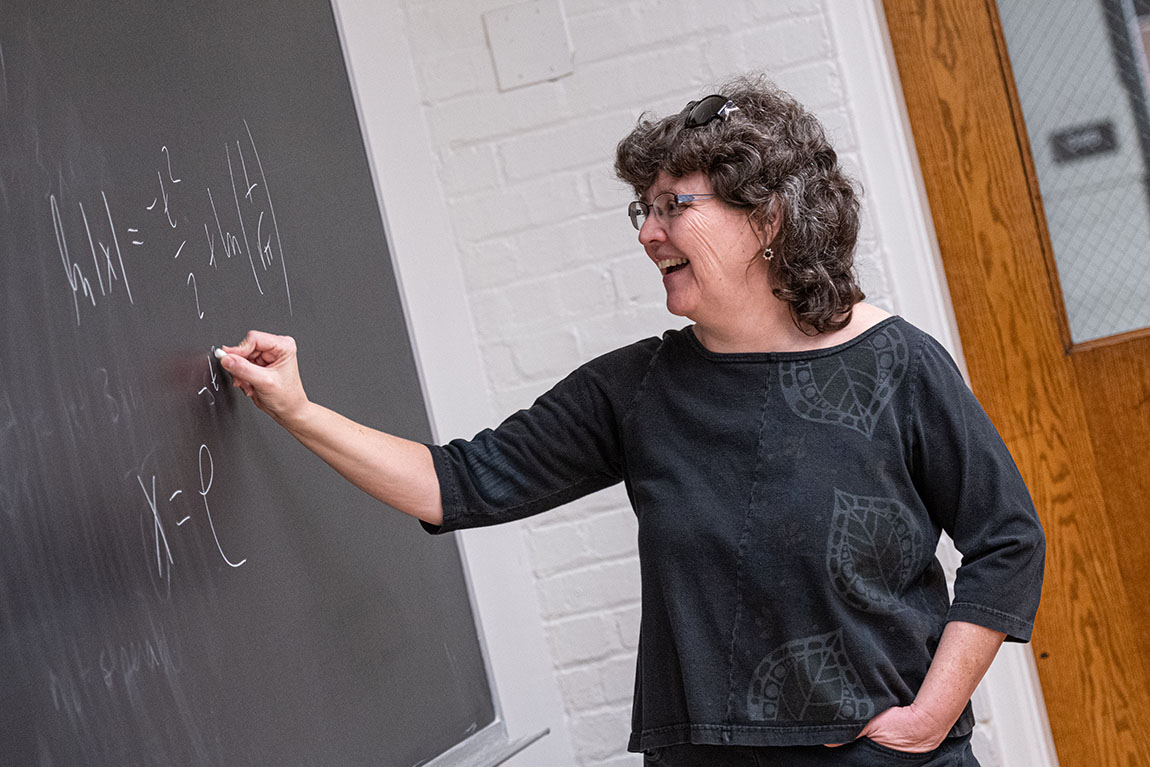 Truman L. Koehler '24 Professor in Mathematics Linda McGuire in Fall 2019. Photo by Ryan Hulvat
For every 10 students who start college interested in science, technology, engineering and mathematics (or STEM) fields, four of them will switch out before graduation. White and Asian men are most likely to stick with STEM; students outside those categories are most likely to leave. These numbers inspired Truman L. Koehler '24 Professor in Mathematics Linda McGuire to develop an assignment that asks students to reflect on their own mathematical journeys and mentors.
"Instead of a student thinking, Do I belong in mathematics?, the question becomes, Where do I belong?" she says. "That's a big shift."
McGuire presented her assignment to colleagues from across the country at the 2021 Teaching Professor Conference in early June. Her presentation, "Promoting Diversity, Equity and Inclusion by Finding Your Mathematical Roots," detailed the two major components of the assignment: a mathematical biography and a mathematical family tree.
To help guide the biography, McGuire provides prompts (such as "where have you seen mathematics play an important role in your own lived experience?") as well as articles for students to respond to in writing. For the mathematical family tree, students incorporate people from their lives who've inspired them and add well-known mathematicians, past and present, whose work they admire.
"It's the only chance in life to pick your relatives," McGuire jokes. "It's a way to reflect on what you would want to present to the world as your identity in math."
In the last five years or so, McGuire says, the question of how to make STEM fields more inviting for a broader group of people has been at the forefront of discussions among STEM academics. Those conversations got her thinking about her own identity as a mathematician. Meanwhile, she got into the PBS show Finding Your Roots, which invites celebrity guests to take deep dives into their ancestry. That inspired her to create the two-pronged assignment she first introduced in a senior-level elective course in Fall 2017.
Since then, she's also used the assignment in first-year courses for nonmajors and has borrowed elements of it—asking students to read an article and then respond to it with something from their own personal experience, for example—in first-year courses for majors.
"In courses like calculus or statistics—the more typical starter courses for students on STEM tracks—the challenge in doing a project of this magnitude is there's so much content that needs to be covered," McGuire says. "It's important to elbow a little of that aside to make room for these conversations. That's what we're trying to do—to give students a better sense of what math and science people are thinking about as a community. They don't see that early enough."
McGuire is interested in inviting students who might be interested in working on diversity/equity/inclusion-STEM initiatives with her to get in touch. Email her at lindamcguire@muhlenberg.edu.