Rising Senior Examines the Link Between Colonialism and Sustainability
Amanda Clark '22 conducted summer research exploring Indigenous perspectives on the environment and how they might be better incorporated into the field of sustainability studies.
By: Meghan Kita Thursday, August 19, 2021 04:23 PM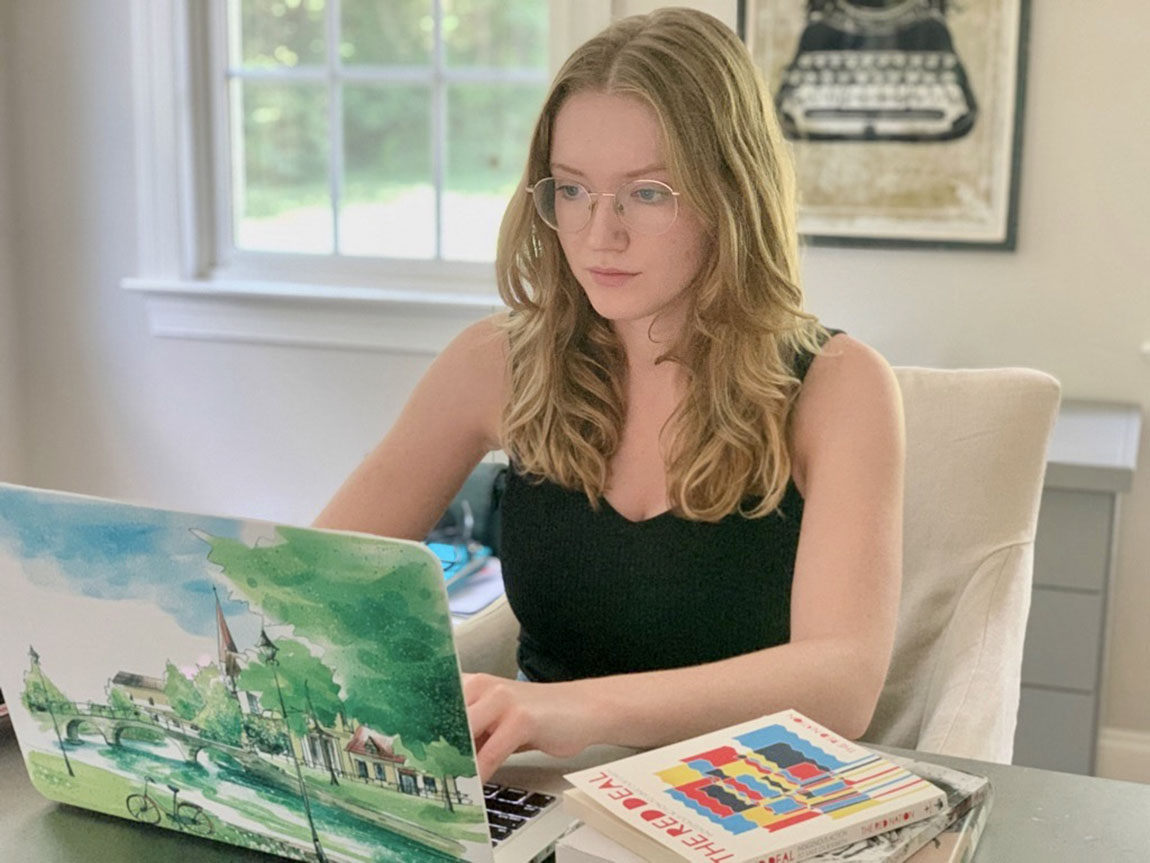 Amanda Clark '22
Amanda Clark '22 was inspired to conduct her sustainability-related summer research by a reading she was assigned in a theatre course. In Theatres of Empire/Decolonizing Theatre, which she took with Visiting Assistant Professor of Theatre Ethan Philbrick this spring semester, she read Patrick Wolfe's article, "Settler Colonialism and the Elimination of the Native."
"That text talked a lot about how colonialism is driven by a need for land in order to support extractive economies," says Clark, a theatre and sustainability studies double major. "It was the first time I'd ever thought about the relationship between colonialism, land and extractivism."
She wanted to further explore how colonialism shapes sustainability and how Indigenous peoples approach sustainability as a summer research project. She asked Assistant Professor of Anthropology Maura Finkelstein to serve as her advisor.
"I was also taking a class with her called Borders and Boundaries. We talked a lot about colonial and decolonial theory in her class," Clark says. "Because I knew this work was going to be about bridging the gap between sustainability and culture, I thought her perspective as an anthropologist would be really helpful, and it was."
Finkelstein helped Clark "decolonize [her] research process" by suggesting she expand beyond the work of Indigenous scholars and activists to also explore Indigenous poetry, fiction and art. In so doing, Clark developed a better understanding of the Indigenous relationship to the environment: "Many native cultures view the natural world with personhood and agency, which extends to the way these cultures interact with the environment that they are a part of."
Clark's research also examines the question of what ways of life different sustainability practices are meant to sustain. She notes that a forest sustained for lumber will look very different from a forest sustained for medicinal purposes, for example, and that the latter will likely have greater biodiversity.
Looking ahead, she's hoping to expand her research to include a different Indigenous population when she studies abroad in Australia next fall (she took a gap semester and will graduate next December). She also hopes her research can start a dialogue with her sustainability studies professors.
"I want to bring this conversation to Muhlenberg's Sustainability Program, because when we're studying sustainability, we're studying Western sustainability, for the most part," Clark says. "The path forward is not to appropriate Indigenous ideas into Western, white sustainability but instead to decenter white voices like mine to provide room for the voices we really need to be listening to."