Focusing on the Quality and Care of Life
When Rachel Plotke '18 was in middle school, she watched her grandfather pass away from lung cancer. Now, she's helping improve the quality of life for others with the same affliction.
By: Mike Falk Tuesday, January 12, 2021 09:43 AM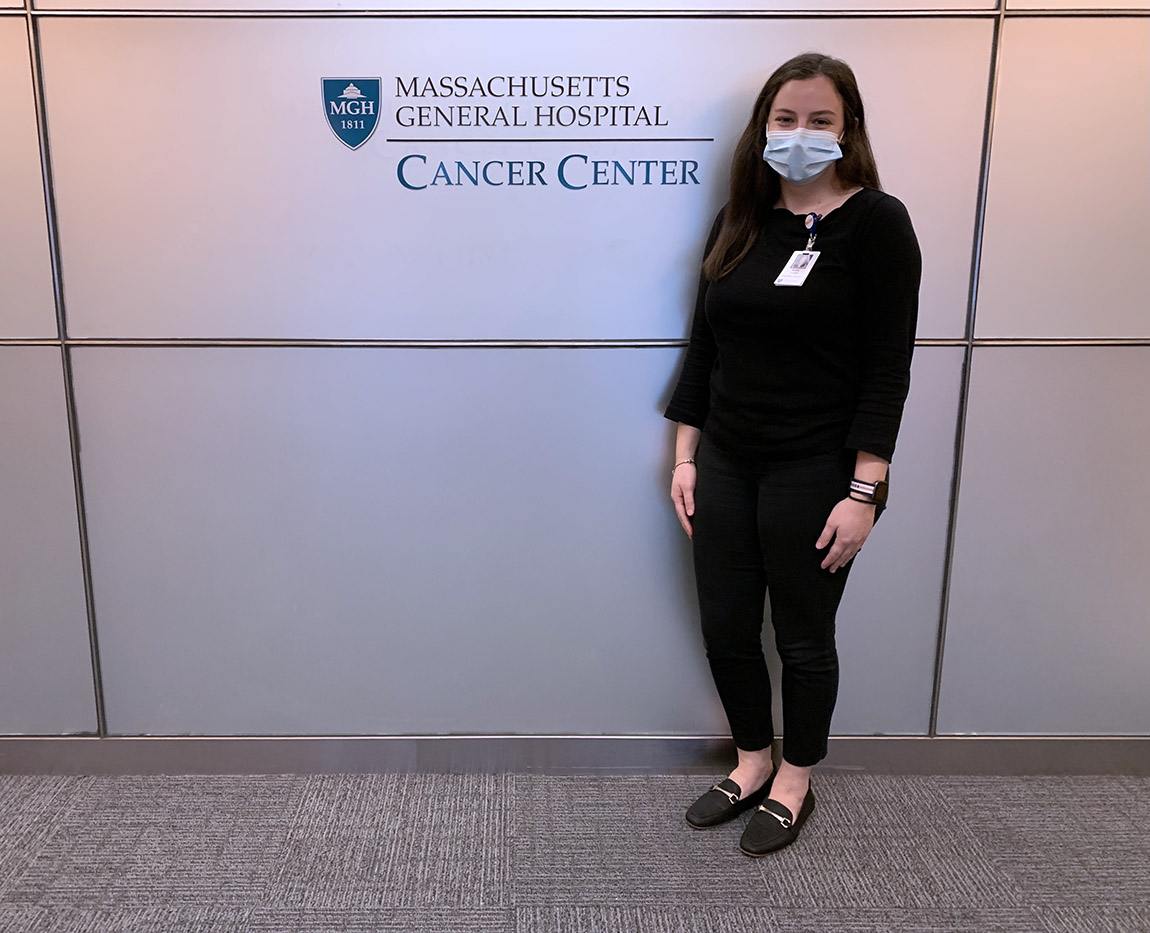 Rachel Plotke '18 works with patients who have stage IV non-small cell lung cancer through a program at Mass General. Photo courtesy of Rachel Plotke.
Plotke is a clinical research coordinator for the Cancer Outcomes Research and Education (CORE) Program run by the Massachusetts General Hospital Cancer Center. She is part of a team working on a large multi-site clinical trial studying the effectiveness of telehealth versus in-person palliative care for patients with advanced lung cancer.
Palliative care is used in concert with traditional medical treatment to maximize quality of life and reduce suffering for patients with serious medical issues. Studies have found that people who received early integrated palliative care reported better quality of life and also often responded to their treatment better, ultimately living longer.
Plotke works with patients who have stage IV non-small cell lung cancer. She enrolls patients in the study and surveys them on the quality of their care–usually from home, but she does go into the hospital about once a week. She also gets to shadow clinicians (via Zoom) and coordinate with the other 19 sites around the country involved in the study, which is led by Mass General.
When Plotke applied for the job in the pre-pandemic days of January 2020, in-person care was the norm. Since she started in April, of course, telehealth has become more prevalent.
"I didn't work in this job pre-COVID, but my sense was that it was definitely a harder transition for patients to get used to telehealth and to adopt telehealth," she said. "I guess it would say it does come with a little finesse, trying to encourage them to try it out at least."
And although Plotke's role isn't defined as a caregiver, her presence in the patients' lives does provide a measure of palliative care.
"We definitely build relationships with the patients," she said. "We're always on the phone with them, whether it's scheduling appointments or doing the surveys, and then sometimes it turns into just chatting, especially during COVID when a lot of them aren't able to be around their families. So for a lot of these patients, if they get a call from us, it's like a bright spot in their day."
Plotke, who was a psychology major and public health minor at Muhlenberg, previously worked as an assistant at Boston Medical Center, researching the public health aspect of the opioid epidemic. She applied to the CORE Program because she wanted a position where she could work with patients and have more of a psychology focus.
The role has also helped Plotke, who eventually plans to pursue a Ph.D. in clinical psychology, reconnect with her family history. "It wasn't until I was in this position and learning all about lung cancer that I wanted to know more about his experience," she said of her late grandfather. So she researched his old medical charts and found out that he had the same type of lung cancer as the patients with whom she is currently working.
"Our goal is to see palliative care early on in [our patients'] treatment and ultimately give them better quality of life," she said. "How great it would have been if he could have had palliative care."