I Made My "Broadway Debut" Through TikTok
A tiny set I built to follow a trend led to a design credit in the streaming production "Ratatouille: The TikTok Musical," which raised more than $2 million for The Actors Fund
By: Chris Routh '13, as told to Meghan Kita Tuesday, March 23, 2021 10:32 AM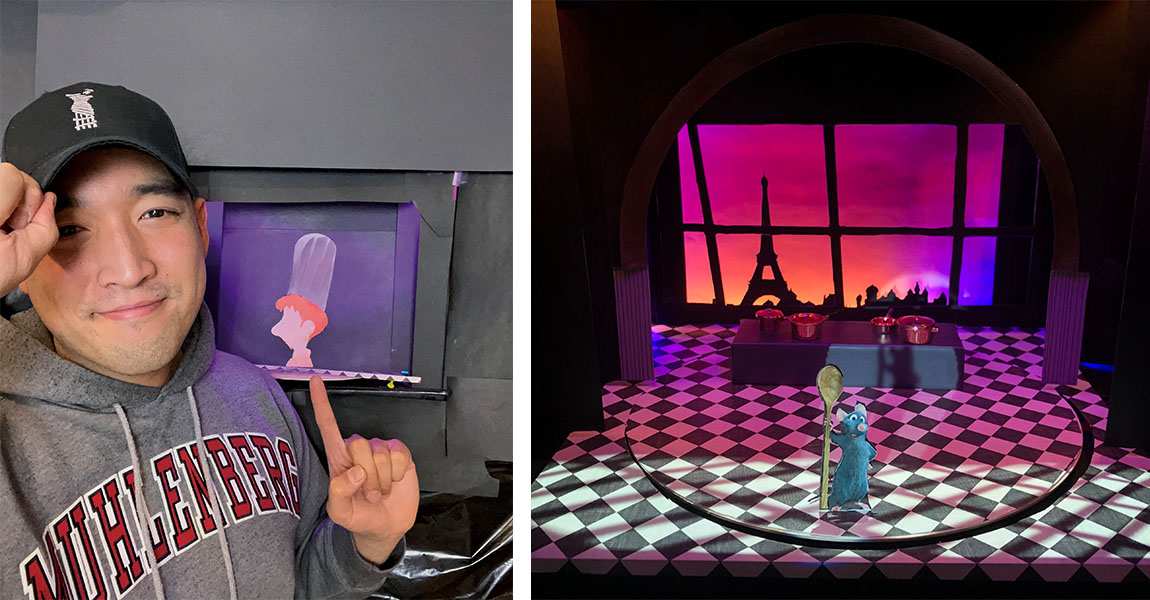 At left, Chris Routh '13 points at the pre-show set piece he designed for TikTok that was used in "Ratatouille: The TikTok Musical." At right, another of the seven total #RatatouilleMusical set pieces Routh created and shared on TikTok
Last August, TikToker Emily Jacobsen posted an ode to Remy, the rat-chef star of the movie Ratatouille. In October, composer Daniel Mertzlufft set the song to orchestration, and his video went viral. Soon, #RatatouilleMusical was trending, and artists of all stripes were contributing songs, choreography and, in the case of Chris Routh '13 (who was a theatre major at Muhlenberg), miniature set designs. The project got the attention of Broadway producers, and on January 1, a streaming version of Ratatouille: The TikTok Musical went live. The performance (featuring stars like Tituss Burgess, Wayne Brady and Adam Lambert) raised money for The Actors Fund, and one of Routh's sets opened the show. Here's how it all came about.
I've been recreating Broadway sets in a "shoebox theater" for my own enjoyment for years, but they were never very good. When the pandemic started, I moved home—I'm a photographer and I wasn't getting much work. I watched all my favorite TV shows and then I thought, "What now?"
I've always thought that Wicked has one of the most amazing sets on Broadway. I thought recreating it might be too hard, but I had all the time in the world. I spent four weeks building the model by hand. I used a projector I got for Christmas years ago and a Lego robotics kit from elementary school to light and automate the set to move on its own. Even I was blown away by what I made. I wanted to share it, so I started a TikTok, @shoeboxmusicals.
On TikTok, you have to follow trends to be seen. One of the first trends I noticed was the #RatatouilleMusical trend, with Daniel Mertzlufft's orchestration for a song about Remy. I'd just finished my Wicked set and I was like, "It would be funny if I used the sound and put this idea onto a stage." I cut out a Remy, put him in my theater and did some projections. It only took 15 minutes, but that video blew up. I suddenly had thousands of followers.
Then, the #RatatouilleMusical trend got even bigger, so I made an actual set. In the movie, Remy controls [the human chef] Linguini from inside his hat by pulling his hair. I thought, "The best pre-show curtain would be a silhouette of Linguini's hat." The hat had to be transparent so I could project the shadow of Remy through the back.
I ended up making seven set pieces total. The one that went super viral was inspired by another TikTok creator, Gabbi Bolt, who wrote the song "Trash Is Our Treasure." Patton Oswalt, who voiced Remy in the movie, shared the video of my set with her song on Twitter, and that's how everything got seen by Broadway and Disney.
From there, it was crazy. I got an email from Seaview, the Broadway production company that put [Ratatouille: The TikTok Musical] together, saying, "We love your content. We're trying to put together a benefit for The Actors Fund with a team of Broadway talent." I looked up the company and it all seemed legit. For the next few weeks, I was in contact with the director and the video designer to try to digitize my set models for a virtual space.
They used my pre-show set piece in the very beginning. I wanted it to move, but that didn't match their orchestration. I wish there had been more communication between the TikTok creators and the show's creative team, but I understand the time pressure they had. Still, all the media coverage has been amazing—talking to Playbill and Broadway World and The New York Times—and the other TikTok creators are good friends now.
When I first moved to New York after graduating, I was trying to be an actor, but then, I lost touch with theatre. Now, from TikTok, I have a lot more friends involved in theatre and talking about theatre. Being able to work with a Broadway team and getting my quote-unquote first Broadway credit, it feels like I'm doing it again. It's an amazing feeling.